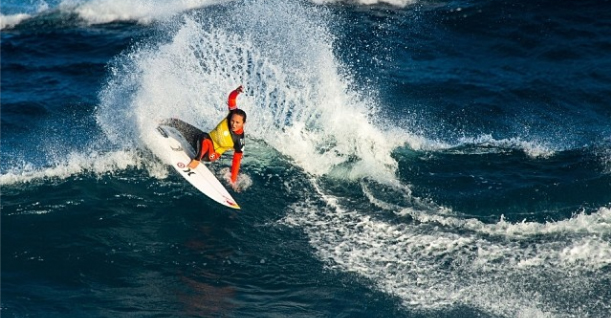 10 Event Wins & Plenty Moore to Come
If you couldn't hack the late nights or the early mornings, you've probably missed most of the Margaret River Pro. But to make sure you're not short of gab ammo when you're next in the line up or at your favourite post-surf watering hole, we've assembled the best bite sized bits from the event thus far.
For those who are really behind, Maggies is a new port of call on the tour. This spot has merited legendary status within the surfing brigade from decades of Aussie tales about their 'mistress' Margaret. Daunting drops, huge faces and unpredictable weather conjured up by the Indian Ocean presents a precarious new challenge for the world's best.
With testing conditions, the ASP first called upon the women to give the surf a good going over. The usual suspects: Sally Fitz, Tyler Wright, Carissa Moore and Steph Gilmore made it through to the final stages. Thanks to some explosive surfing, outstanding talent and strategy of a veteran, the happy Hawaiian has walked away victorious. Enough chat. Here's the proof. Catch up on it all below.
…