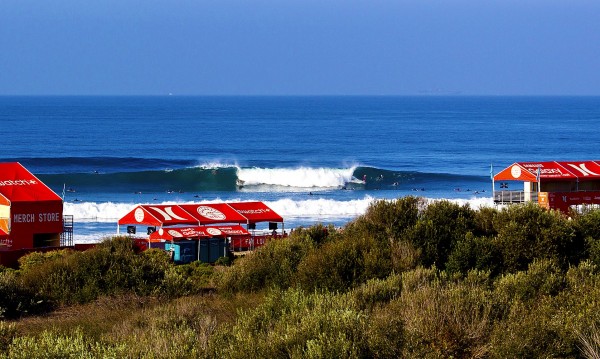 The world's most rippable wave is set to be torn apart by the world's best as the WSL hits town for stop number 8 of the Samsung Galaxy World Tour.  With the surfers coming off a good swell in Tahiti, the tour now winds down to the back end of the year with the top 10 fighting for the world title.
Magicseaweed are forecasting a promising swell for the first couple of days, with waves in the 5ft range with light winds. Meaning the event will most probably start on the first day of the waiting period (09 – 20 September).
With the top 5 only being separated by 1000pts the title is anybody's to claim and could really add some spice to this years Hurley Pro. Expect fluid, rail to rail surfing, massive hooks in the pocket and Brazilians doing some mind blowing airs!

Wild Card
Everybody's favourite Japanese surfer  Hiroto Ohhara gained a wild card into the event after winning the the trials. Hiroto is one to watch out for after securing a massive win at the US open, KO'ing some of the best in the business. If he wins, we want more epicness from the 18 year old on the podium!
Our Picks
John John Florence
Need we say more about this chap? He's got it all, the rail game, the air game and style for days! Trestles suits John John to a tee and he could be a real threat. Returning from an ankle injury  that put him out of J-Bay and Fiji, JJF is back with a bang and surfing without an ankle brace. Check this clip of him havin' a few on the North Shore.
Filipe Toledo
 The young brazza that just keeps impressing, he's got one of the best air games in the business. He's already got two CT wins under his belt this year at the Gold Coast and Rio, could he nab a third? We're thinking so.
Julian Wilson
The 26 year old Aussie is having a good run this year, with a handful of 2nd place finishes and currently lies joint 4th in the standings. After a recent clip he put out on a trip to Indonesia, the guy is on form. If he can land any of the air's from this clip in a heat, he's going to have a chance.
So those are our picks for the Hurley Pro and yes, we have left Slater out. Will we live to regret it? Only time and some epic waves will tell……
---