Arbor skateboard's recent release of their promotional video to celebrate the addition of their newest team rider has been met with resounding digital applause. The piece showcases Aaron Grulich's unique talent as he cruises the the quiet streets of San Francisco, leaving some serious retro-styled awesomeness in his wake.
We caught up with the man himself to find out about the making of the video, how he feels about being added to Arbor's impressive line up of riders and what tracks have him flipping out at the moment.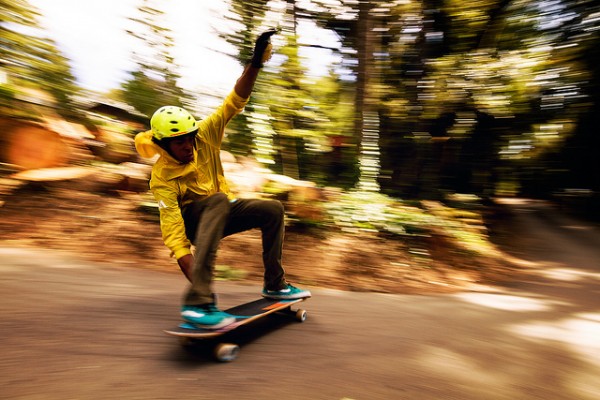 How does it feel to be the newest team rider for Arbor Skateboards?
I feel so blessed to be able to travel and skate with some of the best riders out there. Arbor has shown me nothing but love and support and to be able to ride for them is a childhood dream come true.
The 'Arbor Skateboards :: Aaron Grulich x The Backlash' you featured in recently was a great piece but it looked like you took a few tumbles. What was the best and hardest part of making that video?
The hardest part was probably the sidewalk skating. Some of the lines were really tight with not much room for error. The best part was definitely talking with stoked neighbours – I even got a neighbour to move her car out of her own driveway so I could skate it.
How often do you hit the streets or skate parks to train and have you got any competitions you're currently training for?
I ride my skateboard every day. Sometimes I'll go to the skatepark and practice transition riding but most of the time I'm taking the bus or train back to the top of my local hill.  I'm not training for any particular event at the moment, but I always try and learn something new every time I go for a skate.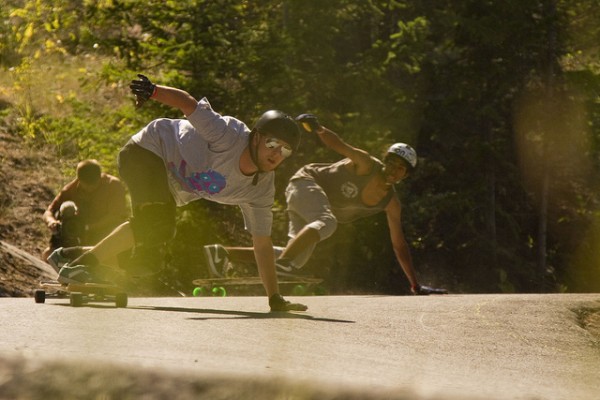 What was the last trick you learned?
I like to mess around and have as much fun as possible on my skateboard, so I'd say the last trick I learned was a No-Comply Bigflip. Kind of goofy.
You've said before you don't like having the distraction of listening to music when you ride, but what are your top 5 tracks when you're off your board?
Just off the top of my head:
Curtis Mayfield – Diamond In The Back
Camp-Lo – Coolie High
Pantogram – As Far As I Can See
Com Truise – Fight Wave
IronHorse – Interstate 8
What board are you riding at the moment?
I'm riding the Arbor Backlash. It's a double kick-tailed, 39-inch, rockered top mount. I really like the shape and feel of the board. Some say it's too big, but I feel right at home on it.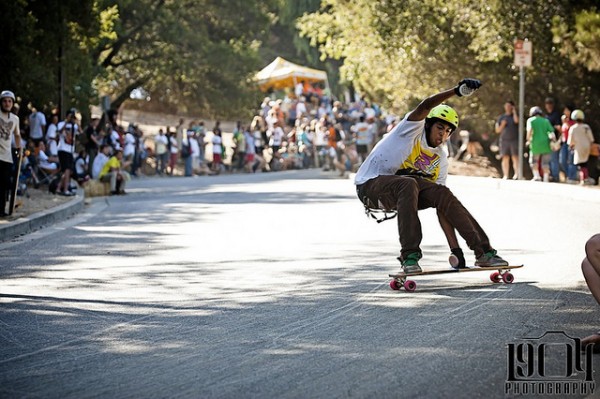 You've probably got too many to mention here, but if you had to whittle it down, what is your best skateboarding memory to date?
Skateboarding in the California Sierra Mountains. Its by far the happiest I've been while on my skateboard – there is nothing like passing cars while bombing down a high altitude mountain pass.
What advice would you give to young people out there looking to get into the sport?
Start off with the basics: Coleman Slide, Toe Side Hands Down and work from there. Find a safe place to practice and always yield to cars.
Who's your skateboarding hero and why?
I am inspired by my teammates and anyone who is pushing not only their personal limits, but also the limits of what is known to be possible on a skateboard.
And finally, if you had to train with one cartoon character for a day, who would you pick and why?
I think I would train with Spiderman; I'd want to gain super-balancing powers. Shooting webs to avoid crashing would be cool too.
 
Check out our collection of Arbor longboards and snowboards here: