In what's been one hell of a crazy year for the WSL, Adriano De Souza has been crowned the 2015 WSL world champion. In the words of the WSL, you simply couldn't script it this year. It was simple, to win the world title De Souza had to finish one place higher than Mick Fanning. Fellow Brazilian and reigning world champ, Gabriel Medina was seeded against Fanning in with one hail mary, buzzer beater threw a huge air reverse that almost over rotated and to the dismay of almost every single Australian, he stuck it. Fanning was out.
Now all Adriano needed to do was defeat North Shore all round nice guy and pipe charger, Mason Ho. With conditions deteriorating the two battled to find rare barrels amongst the shoddiness. And with a 4 and 2.83, he was able to overcome the young Hawaiian to be crowned this years world champ. In his victorious post heat interview, Adriano was clearly emotional with a combination of over 15 years hard work slogging it out on the QS and CT. Coming from humble beginnings – he thanked his brother for buying his first board for 7 bucks and as they say, the rest is history.
"And I want to dedicate this world title to my brother. He bought me my first surfboard for $7. And I'm on top of the world, with $7. For him at that time, $7 was too much money, but he bought me my first surfboard with it."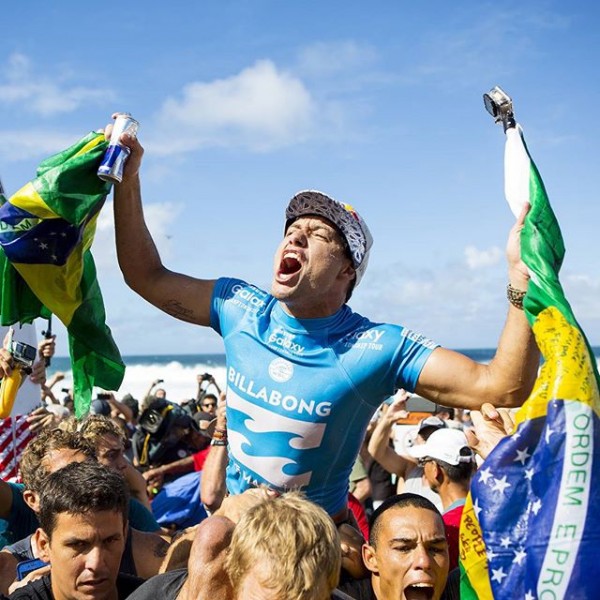 If it wasn't enough, he also beat good friend and fellow Brazza, Gabriel Medina in the final to be crowned with the coveted Pipe Masters trophy. It wasn't all bad news for Gabriel has he pinched in prestigious Vans Triple Crown of Surfing. In a year that has kept us on the edge of our seats, it was truly a perfect ending. Our condolences go to Mick Fanning and family as not only was he pipped to the post in the WSL but he also losing his eldest brother the day before Finals.
---
More from Surfdome