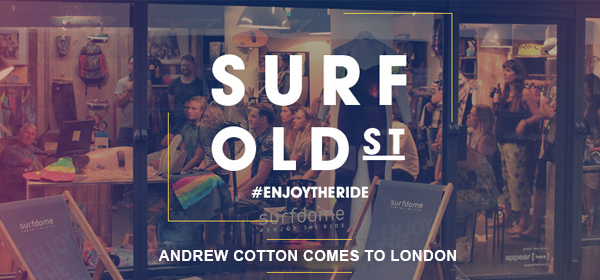 Sorry, but we've got to rub it in a bit.
Big wave surfers hanging out in the big city is as rare as pumping surf on the south coast of the UK. When such occasions do occur, you know you've missed out big time. That's why we feel absolutely privileged to have had Andrew Cotton at our pop up store in Old Street!
If you weren't lucky enough to win tickets to the event, you'll understandably be gutted. So to help soften this blow, we've done our best to recount the events of the evening to keep you all in the loop.
Beers, surf movies and big wave babble was on the bill for the evening. An exclusive screening of the latest episode of 'Behind the Lines' followed by 'Nazaré Calling' had everyone captivated. (Click the links to have a gander).
Not even the free booze was going to distract the awestruck audience by the incredible surfing on display. Of course most had to take a glance at the main man with their gobsmacked faces. It was a surreal experience to sit with the star of the show.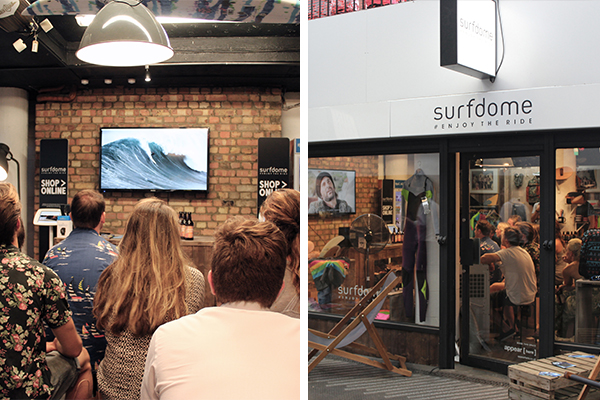 As the evening went on, Andrew spoke of always having the dream of being a professional surfer. But in his own words, he was "shit" at competitions and would often struggle to get past round one.
But by working 10 years in a surfboard factory, it allowed him to travel throughout the winter. Through this, he discovered his "niche" and his true love… big waves. When his mates went off to Indo, he'd hit up Hawaii on the hunt for the big stuff.
Before last winter he said he's surfed a few big waves, had various shockers, sunk jet skis and nearly drowned. As time went on and things changed, he almost had to do what all pro surfers dread…. To get a "real" job and put big wave surfing on the back burner.
But as they say, things are at their darkest before the dawn. With impeccable timing, support came from the 'Behind the Lines' series and big wave legend Garrett McNamara. This let Cotty continue his quest and conquer a wave that was a contender for the biggest ever surfed.
But now it doesn't stop there, as Cotty said:
 "For me, that wave was not the best wave of my life. The best bits are yet to come. I want to pursue big waves, this is what I love". 
Cotty explained it's all about moments of opportunity. He got the chance to work with Garrett and it took him to the next level. He continued to say that being a British surfer has its challenges on the world stage.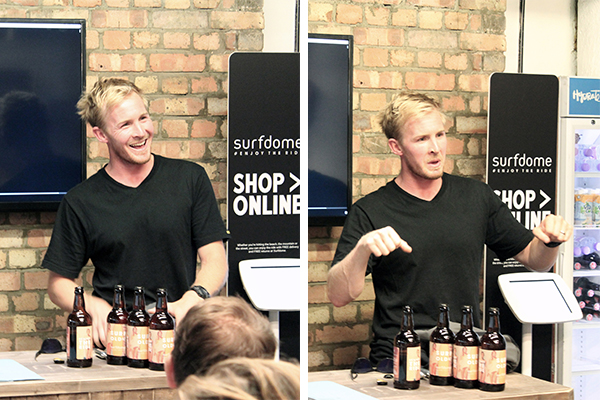 "It's hard to be taken seriously as a British big wave surfer, so for Garrett to take me seriously helped me realise the potential I had".
One asked 'What's the most important attribute in being a big wave surfer?' Another punter claimed "big balls" which no one was going to argue with. Cotty added more.
"Head space, belief and having a totally different skill set. For example, I cannot even do airs (I still really want to) and there are a lot of guys technically better than me. But the thing is you've got to want it. You need the instincts and experience".
And on the training and fitness required for big wave surfing:
"It's not like running a marathon. You don't have that date when you're going to surf big waves so it's impossible to train up to a peak. It's important to keep a steady fitness base."
"I do cardio fitness, breathing training and free diving. A lot of it is psychological. I've learnt that the body is a machine; if you do certain things, you will get your end result"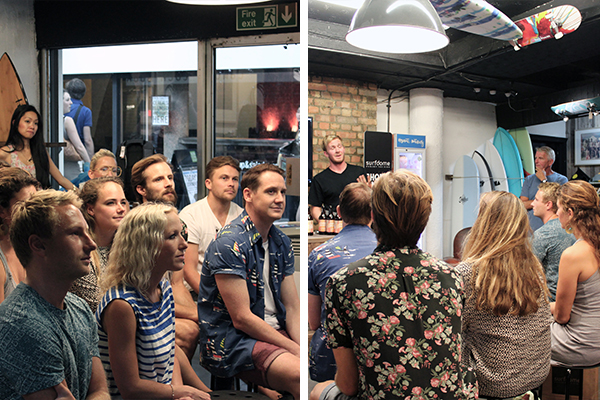 The talk turned to the main thing about surfing big waves…fear:
"Fear is a massive part of big wave surfing but I respect the ocean. You can't go gung-ho. If you do, you're going to die."
"Breathing techniques are a huge part in dealing with fear, it helps keep you calm. It calms everything. When you're out in the water, your blood gets oxygenated and it's good for your mind. Sometimes I look at the videos of myself and I'm like "what are you doing?! But I've worked so hard to put myself in that position with the best people in the world."
"You only get one opportunity, you cannot hesitate, you've got to want it and you've got to go. Also Garrett's got the experience and skill to give you confidence. Everything's planned."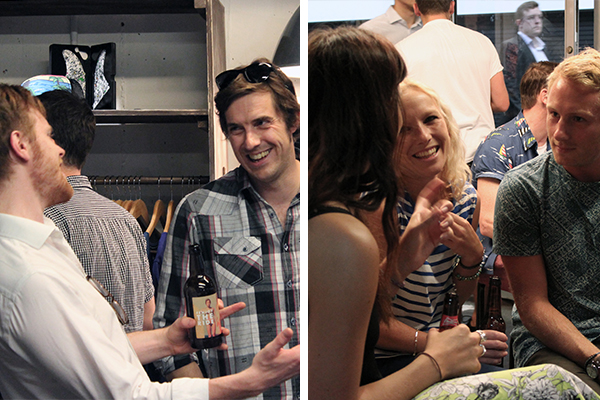 We'd like to say a huge thank you to Andrew Cotton & Cookie from Surfing GB for charging up the M4 to hang out with us. The atmosphere was great, the audience was awesome and it was an epic evening! Don't forget to keep up to date with Cotty's latest adventures & show your support via his Twitter, Instagram and Facebook page.