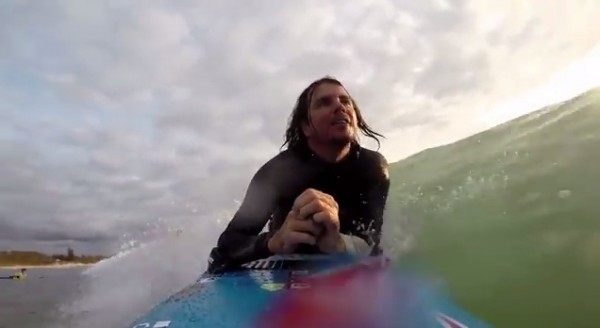 After a motor vehicle accident 15 years ago, Barney Miller was left paraplegic without the ability to use his legs. The accident didn't stop him from doing what he loves most, surfing the Australian shores.
Every day, his fiancée helps him to put on his wetsuit and accompanies him to the beach for a surf session. At the moment Barney is surfing with his hands. But his dream is to one day be able to surf unassisted and dance with his fiancée at their wedding. What Barney has achieved since his accident can completely overshadow other feats, such as winning 1st place in a Championship. Barney has overcome the fear of riding big waves. He's an inspiration for surfers like Mick Fanning and Mark Mathews.

To raise awareness for spinal cord injury research, Red Bull has organised 'The Wings for Life Run' which will take place for the first time on May 4th (2014) in 35 different locations all over the world. Now an ambassador for this foundation, Barney's video gives us a glimpse into his daily life.
Barney brightened up Surfdome's Wednesday with his courage and taught us that life's too short to take it too seriously. So, #LiveIt and enjoy every day of your life.
>If you want to run for those who can't, you can sign up now at The Wings for Life Run.