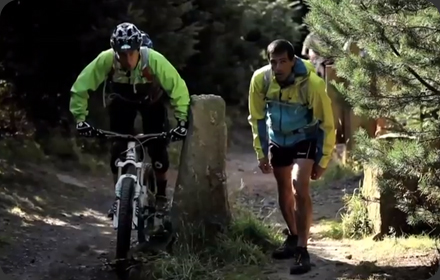 It's one of the great battles of our times. The thrills and spills of an antelope trying to outrun a cheetah. The intensity of a World Cup Final. The tension of a US presidential election.
It's 'Man vs Bike'.
It is perhaps not. But, this short film is a great introduction to two athletes who may have slipped under your radar. Both decked out in the best technical clothing outdoor titans Berghaus offer, meet Rob Jarman and Phillipe Gatta.
Rob is a very well established pro mountain biker and stuntman who always puts himself in adventure's way. The Brighton-based daredevil has set the British Land Speed Record on a mountain bike. He managed to clock a very lofty 153kph. On snow. 153kph on a bike, on snow. Very impressive.
Check out Rob's Berghaus profile for more details and keep up to date with this very talented lunatic on twitter.
Monsieur Gatta is not only one of the finest trail runners in the world, but also an expert climber and mountaineer. His exploits and list of achievements have spanned some of the most daunting places the earth has to offer.
He has scaled over 200 peaks in the Alps and completed Desert Cup in Jordan (100 miles non-stop in the Wadi Rum desert). These are just two examples. It's frightening.
Take a look at his Berghaus profile and website for a more in depth look and some incredible pictures.
Get a glimpse of their skills in the clip below in 'Berghaus: Man vs Bike'.