Following his epic win at the Lanza Pro Junior, we caught up with Brit grom Luke Dillon to wax lyrical on the future of British surfing and his world title dreams…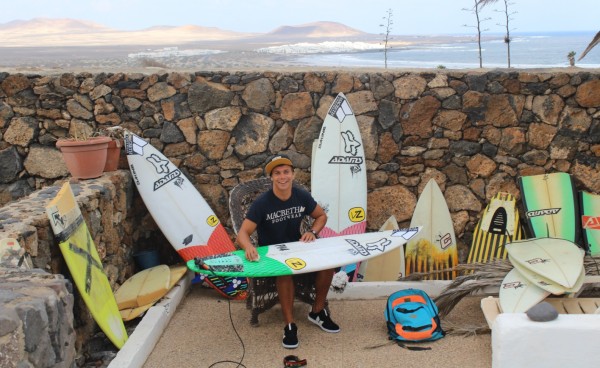 Name: Luke Dillon
Age: 19
Hometown: Newquay, Cornwall, UK
Stance: Natural
Sponsors: Macbeth footwear, Dakine, Fox, Vonzipper and Adams Surfboards
Hi Luke, how's it going?
Hey Guys, all good thanks, still trying to come to terms with what happened two weeks ago! Haha.
Yeah right, congrats! So how did it feel to be top of the podium at the mighty ASP Pro Junior in Lanzarote?
Thank you! It was an unreal feeling if I'm honest. I wanted to go out there and win but to be actually standing on that podium after the week is just hard to put into words! I had a lot of friends over there both from England and the Canary Islands in and out of the contest; I was staying with the Davey family who I'm very close with so I had a good support crew there. I had my Dad out there who's been coaching me since I was 9 and his fiancé, so it was a really cool group of people to be around, made me feel very at home and relaxed.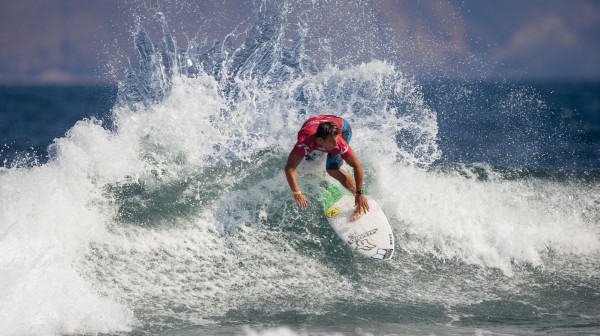 Your win catapulted you to fourth in the European rankings and subsequently qualifies you for the ASP World Junior next month. You must be pretty stoked!?
Aw it's an unreal feeling, I've been checking the rankings almost everyday just because I still can't believe it yet. Yeah Its weird coming  to terms with it yet  also knowing i'm going into a contest with all the top juniors in the world on a right hand point break wave in Portugal called Riberia d'lhas. I'm so excited to get out there and start training and get ready for it! For sure it's the biggest contest I've ever been in so far, so i'm pretty nervous but excited at the same time.I feel i am on a roll right now and want to carry this momentum into the finals.
How will you be preparing for the competition?
I'm flying out to Portugal around the 18th of October so I get out there a full week before the contest, i'm staying in a hotel quite close to it as well. I know there are loads of sick waves along this coastline and am excited to get out there. At this time of the year conditions can be testing as it faces west straight into the Atlantic.
Gabriel Medina is the previous ASP World Junior champ – that must be pretty inspirational…
Oh yeah most definitely. He won it last year and now a year later he's current #1 on the World tour so it shows you the level of this contest and where the guys who do well in it end up going. To see what he's done in the past year only gives me motivation and mostly hope to see what you can do in 12 months, obviously Medina is a freak of nature. What he does on waves is incredible, but we've all got dreams right?
You're also the first British surfer to win in Lanza and qualify for the Worlds, which is huge landmark for the UK surf industry! What advice do you have for the budding Brit pack?
I'd just say to the Brit guys that the most important advice I got was don't give up. You're going to have highs and lows, but you just have to keep at it and if you work hard, good things will come. Try to get a little crew of you and surf together, train together and travel together. Trying to do it by yourself is so difficult, it can get lonely and when you're in a group you all push yourself. You feel more confident and that's something you need when your travelling to European contests, it's also something I wish I had when I was younger.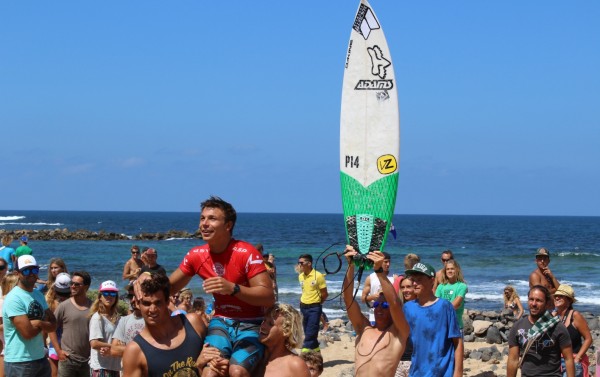 Do you do much training out of the water?
I used to be really into my football but eventually had to give it up because I was missing too many games and training because I was always away. But that was always my favorite training. Nowadays I just do some training two or three times at home, just simple things like: push-ups, sit-ups, and core work and leg strength. I'm not really a fan of the gym; it's not really my atmosphere in there so I prefer to do work by myself at home. Just stick some motivational music on and your away Haha
You get to travel a lot, what's your no. 1 destination?
My favourite destination without question is Lanzarote in the Canary Islands. I stay out there with a close friend Will Davey and his family. I stayed with them for three months this winter, got to surf everyday and worked with his dad Mark. They really take care of me and I owe them big time for everything they do for me. The waves are insane at times there you have everything from easy learning beach breaks to really heavy barrelling big waves. For me it's the best all round proving ground in Europe when it's on. I also have a lot of friends who live out there, some Canarian friends and English guys who also live out there. So I have a good base camp out there, for me it's a second home and I try to fly back whenever I can!
How do you like to spend your down time?
Well I try to surf at least once a day, because i'm not really a lover of training and also I just love getting in the water whether it's good or not. When its absolutely horrendous or just flat I usually just try to hang out with friends at home, although its difficult because most of them are at university's around the country, but I enjoy watching the English premiership football, and when the WCTs are on.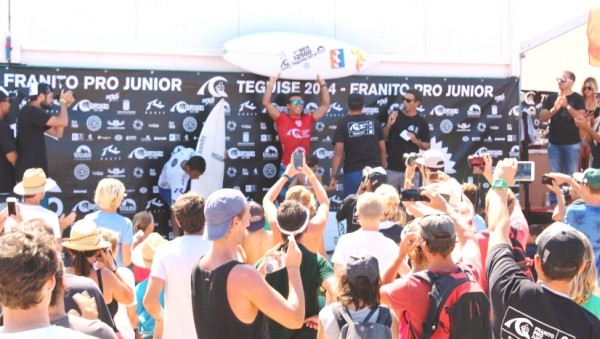 So what are you surfing goals for the next few years?
I'm going to see how these World junior surfing championships go in Portugal in two weeks time and then make a plan for then. I'm already looking at defiantly hitting the WQS next year. I'm currently waiting for the 2015 calendar so I can really map out my 2015 year. In my head I have a three-year plan, which is for next year to hit the WQS campaign and enter as many contests as I can. Ideally three star contests and above so I can try and get a good ranking points, but mainly to get used to travelling so rapidly from place to place. Year two is to give it a real hard crack and finish in the top 100 which would then allow me to get into the Prime rated events which give you the big points to give it a crack on getting on the WCT. Year three is to really go for the WCT, some people may laugh but that's what I really want too and I'm going to give it everything every year to go and get out. By that time I'd be 22, so that's realistic for me.
We have faith! And good luck at the Worlds this month, we can't wait to see what goes down!
Cheers guys, I hope I do well and make everyone proud in the British surf industry! I'd also like to thank Adams Surfboards, Macbeth footwear, Dakine, Fox and Vonzipper for helping me and supporting me through the year!