Festival season has kicked off, and what a start it's been! But wait, before you go and dust off your tent and fear the rapid waters that have been Download and Glastonbury – take solace in the knowledge that not every festival demands you erecting a tent amidst a watery field. Enter Bushstock – since its launch six years ago, Bushstock has earned itself a reputation for sniffing out some of the industry's brightest up-and-comers, notably just before they go on to make it big. No really, with alumni consisting of George Ezra, Daughter, Bastille, Hozier and Willy Mason, you can see what we mean. The festival is put on by Communion, the label and promoter founded by Mumford And Sons' Ben Lovett, Kev Jones of Bear's Den and producer Ian Grimble – which tells you most of what you need to know about not only Bushstock's ethos but its line-up. Cue a relaxed jaunt around Shepherd's Bush between venues hosting predominantly folk-leaning guitars, and a plethora of plaid shirts.
Consisting of seven venues sprawled out across Shepherd's Bush (no need for wellies this time!), attendees, music fiends, and superfans alike paced their way from venue to venue, carefully timing their departures, arrivals, and the ever crucial last-pint threshold to ensure they saw all the bands and artists they were keen on. This year's headliners included the likes of Shura, Bear's Den, Dan Croll, The Big Moon and Palace … Making this one of our top summer festivals!
---
TOMS Secret Garden Stage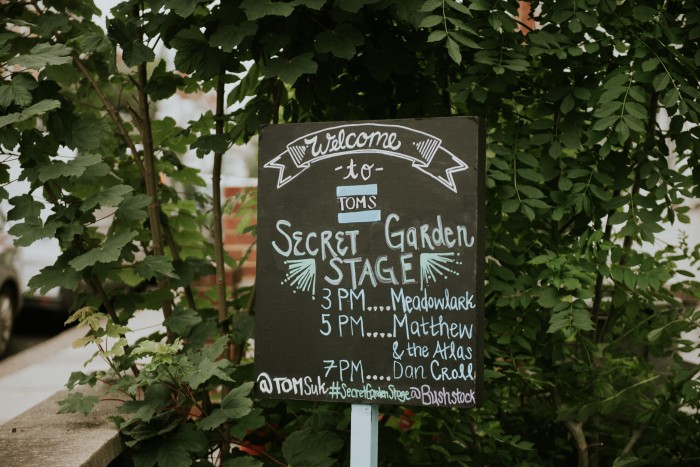 Our buddies over at TOMS had put together what was notably the most intimate of the venues which came to us in the form of the TOMS Secret Garden Stage,, one only a select few had the privilege of being able to locate. Nestled down a solidly residential street, we found the house that was (for today) home to the likes of Meadowlark, Matthew and the Atlas and Dan Croll.
[su_carousel source="media: 37358,37351,37359″ limit="6″ link="lightbox" target="blank" width="700″ height="220″ items="4″ title="no"][su_carousel source="media: 34345,34346,34347″ limit="10″ link="lightbox" width="700″ height="200″ title="no"] [/su_carousel] Photos: Jennifer McCord
Could we have seen some of these awesome acts later in the day? Sure, as all had main sets at different venues. But, the small intimate environment of the TOMS Secret Garden Stage was perfect. So perfect in fact, we want to share it with you. So here's an exclusive video of Matthew and the Atlas performing their melodic folk anthem – Temple.

But who are Matthew and the Atlas you might ask? Well, they're are a five-piece band, spearheaded with the amazing vocals of Matthew Hegarty. Mellow, relaxed and an instant playlist addition, the folk vibes are almost reminiscent of Mumford and Sons – albeit a little down tempo. M&TA have very swiftly made it to the top of a few of our books, and we're certain you'll feel the same.
If the music wasn't enough, there were some solid eats on hand to feed the masses. Pop-up butter-milk badasses 'Motherclucker' were a firm favourite, not to mention 'MYPIE' who were serving up some of the nation's favourite staple meaty treats (the sausage rolls were pretty epic). I mean who doesn't like good music served up with a side of delicious mouth-pleasers?
---
Notable Performances
HAUS
A lot of us were either in bands or had friends who were in bands during college, were aspirations of world domination on the cards for them all? Probably not. Cue HAUS, a 5 piece from North London with indie rock and alternative influences that all met in… you guessed it – College. Formed at The Institute of Contemporary Music they've gone from playing to their mates, to playing gigs and festivals throughout the country. So until you find yourself at one of their gigs, here's something to tide you over.

Shura
British/Russian singer-songwriter and producer Shura has been causing a stir after being cited as being the "next big thing". Stating Madonna as one of her influences, the artist blends touches of hip-hop, 90s RnB, and 80s pop – expect synths.

VANT
Having only formed in 2014, VANT has already gained a huge following in the indie rock world, and their music is fresh, thoughtful, and full of life. They're a four-piece band who write songs on themes they feel passionately about. Cue angsty guitar riffs, hard drum beats, and passionate vocals. Prepare to be taken on a rollercoaster of angry indie rock.

---