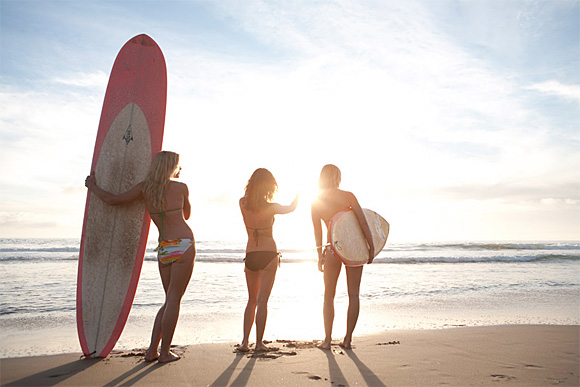 We love summer! Picture this…Waking up at first light to clear blue skies, effortlessly slipping into your summer suit after a harsh winter of battling with a 5 mm. Imagine the warm sun beating down as you proceed along an empty beach towards three feet of summer perfection…. Sound good?
As much as we love the idea of sliding along some summer waves, the reality is that it's a very fickle season which tends to frustrate even the best surfers. To truly make the most of it, you need to make sure you have that ultimate summer stick in your quiver!
Selecting the right board which is going to get the most out of the faint summer slop is what it's all about. Make the most of what you get, so you can walk away shattered, maybe slightly sun burnt and super stoked from your session! Remember, foam is your friend when it comes to summer time ripping. So don't be afraid to get a little more volume under your feet!
To ensure you are making the most of the summer season, our surfboard buyer has whipped up the ultimate surfboard guide. It gives great recommendations for all abilities to help you save time and sail through the summer!
Beginner Surfboards
Joyrider Foam Softboard – 9ft0

This is the ultimate beginner board. The single stringer & EVA core gives you loads of strength and buoyancy, meaning this is one of the easiest board to start surfing on.

This board also won't hurt half as much if it hits you when you fall off… and believe me, you will fall off when you are learning to surf!

Cortez Funboard, Blue Sunset Surfboard – 7ft 6

If you have the taste for waves, the big blue ocean and want your first board, this Cortez Funboard is the ideal board for you. The aptly name the Fun board is one of the best all round beginner/Intermediate shapes for all ages and sizes.

The Cortez boards will also allow you to learn quickly and step your surfing up to the next level.
Intermediate Surfboards
Fanatic Fun Egg Carbon Ltd Surfboard – 6ft2

This Egg is personally one of my favourite boards, not only does it look the part, it also performs in almost all conditions. The Carbon rail give you a really punchy feel through the waves whilst still maintaining its stability.

It's also lighter than a helium balloon, which is ideal for those long walks down the beach when trying to find England's version of Bells beach.

NSP Surf Betty Fun Surfboard – 6ft8
This hugely popular board has been revamped with a new graphic in aid of boarding for breast cancer.The Betty appeals to riders of all ability, allowing the beginners to progress quickly and the more experienced surfers to go in search of that ultimate ride. Lets face it, you can't go wrong with a bit of flower power!
Longboards
Meyerhoffer Blue Nose Longboard – 9ft 2

If you're a keen longboarder and want to embark on a new exciting chapter, this is the board for you. Ideal for the smaller waves, this board turns quicker than a London taxi. With the revolutionary side cuts this board reacts similar to a short board without losing any of the traditional long board glide.

This board is the Usain Bolt of the longboard world.

Circle One Bamboo Longboard Surfboard – 8ft 6

Incorporating the innovative Circle one bamboo laminate technology, this board will propel you surfing to the next level.  The single concave to slight V in the tail give it more flair and style than Vivian Westwood mixed with Kelly Slater.

If this board was in your quiver, you really would be living the dream.
Shortboards
Hayden Shapes Shred Sled Futureflex Shortboard – 6ft 0

The Shred Sled is a fish design on steroids, which makes it one of the ultimate all round boards. The shape allows plenty of speed down the line whilst the double wing provides loads of response and release through turns.

This is the F1 car of the surf world!

JS Industries Blak Box Surfboard – 5ft 10

The Blak Box is one of JS Industries most popular and well know boards. Offering an old school outline with the latest bottom curves allows you to have one of the best but yet most forgiving shortboards on the market .

The flatter deck and lower rails will maximise your surfing, even in the most testing of U.K conditions.