From nebulous beginnings, parkour has risen to the same prolific standards as other extreme sports in recent years. The discipline is said to have been developed in 1988 in Lisses, France, by eight men led by a man named David Belle, exploring not only the physically demanding practise itself, but the philosophies surrounding it. Fast forward to today and parkour has garnered mainstream attention from thousands of fans and practitioners across the planet.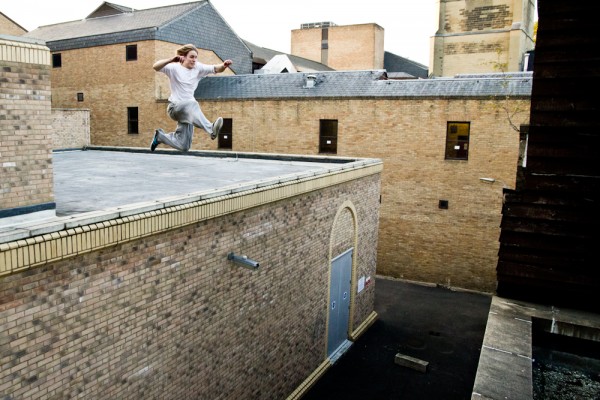 One talented practitioner, James Kingston, is currently basking in the online spotlight as a result of his recent, stunningly shot video Cambridge Parkour POV. Following on from our interview with Scott Bass from Ampisound, we quizzed James on the making of this video and why he chose this brave path forward.
You mentioned Mirror's Edge in your blurb for the video, what inspiration did you take from the game in the making of this piece?
Just the general feeling of the video really, we wanted to give an impression the viewer is actually doing parkour.
How long did the film take to shoot?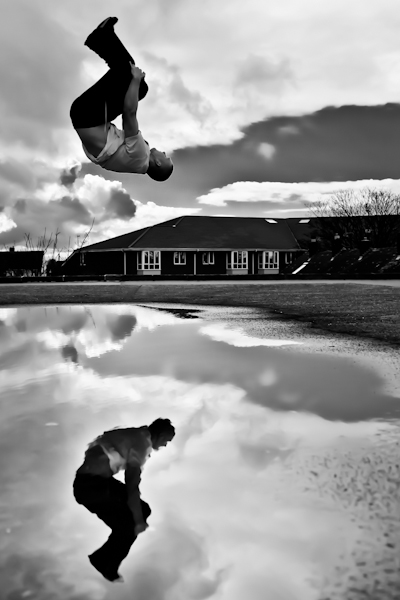 It took two days to shoot and a few days of editing to get it to a standard that I was happy to release.
It's filmed phenomenally well. What equipment did you use?
All shot on the GoPro HD Hero 3 Black Edition. Such an awesome little camera!
There was a bit when you appear to be jumping on some bits of scaffolding (which made our toes curl in fear). Was there any point during the shoot where terror nearly took over?
Haha, no, there were no mishaps or close calls. Everything went exactly as planned.
Do you listen to music when you train and if so, what are your top three tracks to get your adrenaline flowing?
I don't listen to music while training because I find it interferes with my spatial awareness. Your ears do a lot more for you than just listening!
What advice would you give to anyone looking to get into this?
Start small, train hard and be patient. If you start by doing things your body isn't prepared for then you won't last long at all.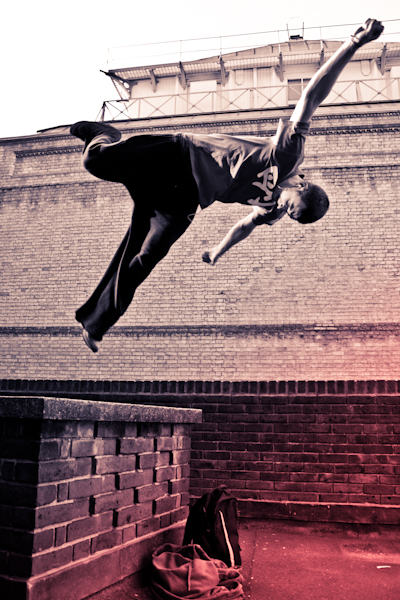 Why did you pick Cambridge as your location?
I've got a few good friends in Cambridge so I know the area pretty well. The rooftops there are among the best I've ever seen so I had always wanted to get a POV video done there.
What's the worst injury you've picked up in your perilous journey across rooftops?
I broke my foot about 1 year into my training. Simply because I was doing something I wasn't ready for.
What made you get into Parkour?
I quit school in year 10 and for a couple of years I literally had no idea what I wanted to do with my life. I was playing computer games all night and sleeping all day and was just on a huge downward spiral. I randomly saw a documentary on parkour in 2004 and decided I'd give it a go. Never would I have guessed that it would be the best decision I ever made.
 
Check out James' incredible POV crane climb below, and if you want to find out more about the man himself, hit him up on his Facebook.
http://youtu.be/2Fs0hkdJzk8