Let's talk crap. It's the dog's.
As someone who lives and surfs in the northern hemisphere, at the edges of northern Europe, I can tell you that a hand warmer is something I could use on some days at the beach. When claw hand strikes and you can't tie up your shoelaces or do the button on your fly, a little something to put in your pocket to warm those digits back to life would be most welcome.
That's like having a night at the beach and leaving all of your party mess on the sand. It makes no sense unless you are a total twat.
And who said that a bag of dog poo was of no use to anyone?
Unfortunately, where I live (and in a lot of places around the world) people don't see it like that. People can't get rid of their dog poo bags fast enough if they pick it up at all. Is it the same where you are? They pick it up and then abandon it, seemingly with gleeful, ahem, abandon.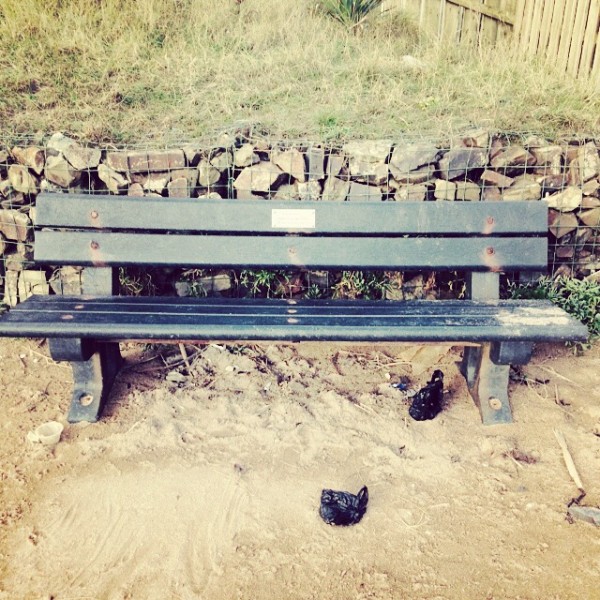 I walk on the beach almost every day and almost every day I find abandoned bags of dog poo. Sometimes it's been hidden under rocks, sometimes it's left at the side of the path, sometimes left by the gate that leads to the cliff top path. It is infuriating. And it is made all the more infuriating by the fact that there is a bin no more than 50 yards away from where I find most of it.

But why do dog owners do it?
The thing about leaving a bag of dog poo is that the hard work – of putting your hand inside a bag and then picking up a hot and probably still steaming, toxic turd – has been done. So why couldn't they hang on to it until they find a dog bin? Or, better still, take it home? And what is the logic of coming somewhere to walk the dog – presumably because it's a nice place to walk – and then leaving shit everywhere. That's like having a night at the beach and leaving all of your party mess on the sand. It makes no sense unless you are a total twat.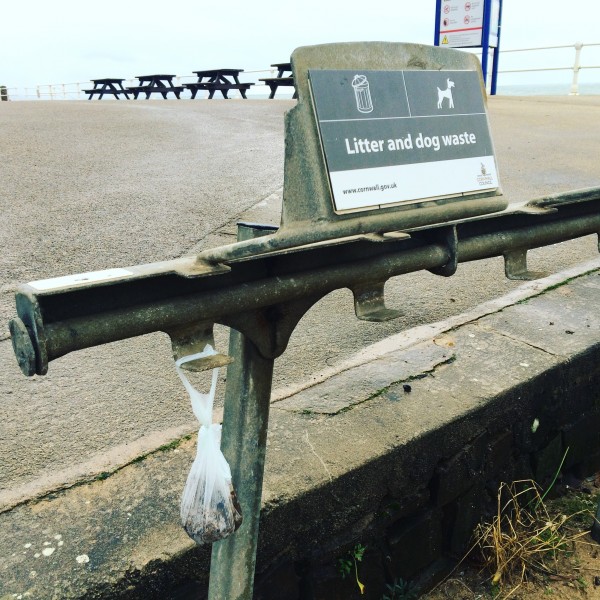 Some dog owners claim they leave their bags and then come back for them later, but I don't buy that. They never do. What happens? Do they forget that they left them? Or do they change their route half way through, therefore making it impossible to go back and get it? I'm having none of it. It's because they think of themselves as being more important than the environment they have gone to 'enjoy'. It's almost worse than just walking away and leaving it steaming away in the sand.
What would you do if you saw someone emptying tanks of unknown sludge into the water at your local break? Would you tackle them on it? Would you call them out? Of course you would
When to pick and when to flick
Dog mess is toxic. It contains parasites including hookworm, ringworm and tapeworm and also salmonella. It contains E.Coli and fecal coliform bacteria which can make you very ill. It also contains roundworm larvae which can cause blindness in children, among other unpleasant things. Some of these parasites can linger long after the poop has gone, which means you could get infected with them even after the offending article itself has long gone. Ewww.  So, you know, picking it up in urban areas or in areas where people walk or children play is vital.
However, in wild areas, on remote beaches and away from urbanisation it seems crazy to pick it up and put it in plastic so it can't biodegrade and then leave it there. That's just the worst kind of stupidity. Personally, I prefer the National trust's "stick and flick" approach, which encourages people to flick it out of the way into undergrowth where it can't cause harm. If I'm on a remote beach and my dog goes below the high tide mark and I know the tide's on the way in, I'll leave it.
It's degradable therefore it's okay
In kinder moments – when I am not cursing those elements of humanity displaying selfishness, laziness, and stupidity – I wonder whether or not the problem with people leaving bags of poo is more to do with how the bags are sold than with the laziness and selfish stupidity. Is it down to ignorance? Do people believe that if a product is sold as being degradable it is, therefore okay to leave it in the environment? That's a bit like the makers of degradable balloons believing that their balloons just disappear (they don't) when they are released into the air.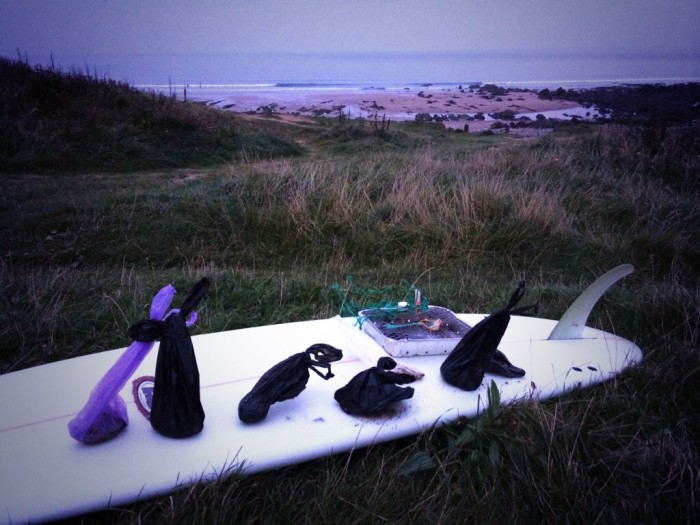 The biodegradable plastics issue is difficult. Some degradable plastics degrade but only in industrial degraders (that run at high temperatures and provide an 'ideal' atmosphere for degrading) while others don't really degrade at all or take ages to do so (we are talking years rather than days). Other degradable plastics dog bags do degrade but essentially just degrade into smaller bits of plastic, making the problem spread over a wider area.
So given that it's hard for us to know what we are buying when we buy 'degradable' bags, is it right for them to advertise them as such unless they are properly degradable? And do they encourage people to litter, given that it 'doesn't matter'? Do people who buy them think "It's okay. It's degradable. I can leave it where I like."
Tackling people who litter
What would you do if you saw someone emptying tanks of unknown sludge into the water at your local break? Would you tackle them on it? Would you call them out? Of course you would. It's your break, right? It's exactly the same if you see someone dropping dog poo bags or chucking bottles out of their car window. They are committing an offence and can be fined for doing it so why shouldn't you call them out? What would hold you back? Fear of being confronted? It is a worry. But what else do we do? When was the last time you saw a policeman walk the coast path?
Or do you just walk past and try to imagine it never happened…
I know what I'd do…
---
More from Surfdome >