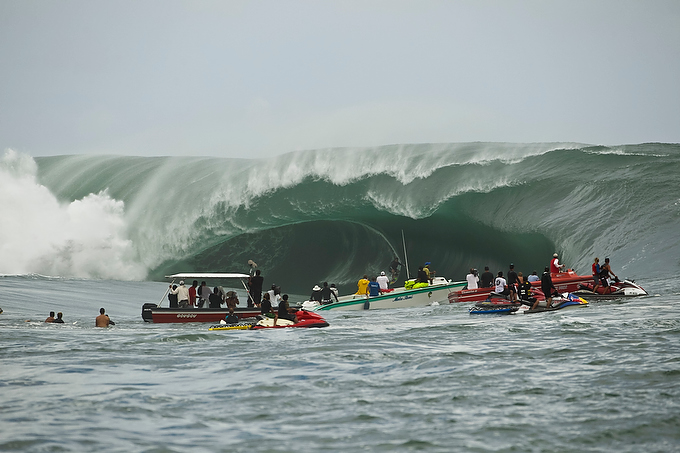 There has been a bit of a buzz around Teahupoo this past year to say the least. Surfers and non surfers alike have been in awe since those monster swells exploded on the infamous Tahitian reef. On the 27th of August 2011, the Tahitian government called "Code Red" prohibiting MOST watercraft from entering the water. However, that was never going to stop the likes of young gun Laurie Towner and the veteran Dylan Longbottom getting involved in some of the biggest and most dangerous surf in history.
It doesn't matter how hard we try, we just cannot find the right words which do justice to the phenomenon that is Teahupoo. However, with the assistance of Surfdome's trusty Facebook crew we have picked out some comments from previous Teahupoo related posts. These communicate the shock and awe that this wave is all about! Thanks for the help guys.
Abi Lewis: Ohhh my!!!! That's not a wave – that's a monster!!!
Sabina Edwards: Too right Abi – it really did look alive! Breathtaking!
Luke Simmonds: It's like the weight of the seas coming down on you
Rich Godwin: What a BEAST!
Ian Murphy: I didn't know you could surf Victoria Falls
Paul Dee-Carter: That's a wall not a wave
Lisa Absalom: OMG I've got sweaty palms just looking at this pic. That's crazy!!
Gareth Dowle: Just unreal man. You'd really need to strap the big boy balls on for that one
Stephanee Mirachi: Eddie would go!
Eddie would definitely go! For a pumping weekend treat spare some time and watch the full Code Red movie below. See that momentous day go down through the eyes of Laurie and Dylan for yourself!