Read all about it! Here's what Rachel Cox the winner of our Boardmasters x Vans comp got up to in Newquay.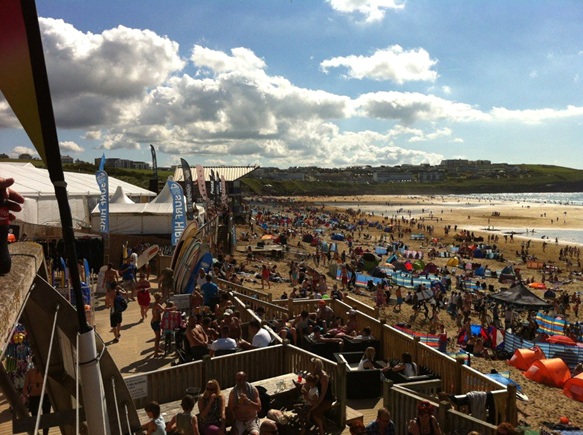 Relentless Boardmasters in association with Vans – probably the best few days of my life! I arrived in Newquay on Wednesday morning and headed through a jam packed town centre towards Fistral Beach, where I was greeted by an even more packed out beach as onlookers watched in awe as the surfers tried their hardest to compete in the tiny 1-2ft waves rolling onto the shore.
Despite there being little to no surf, the surf competition went ahead and with the beautiful blue skies and 25 degree heat I was more than happy!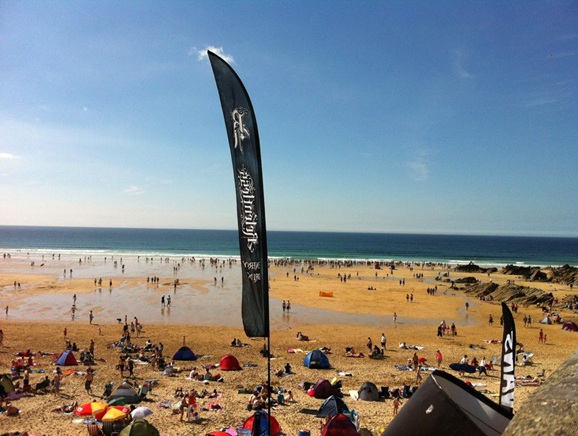 After watching some of the surfing I went to investigate all of the Beach market and witness some amazing skateboarding and BMXing at the Vans session stage. I'm pretty sure some of these guys have no fear as the things they were doing were insane! And some of them were only about 8, crazy! I was also lucky enough to meet the amazing Xavier Rudd- an Australian singer/songerwriter who was to perform on the beach that night, he was such a cool guy and I felt very lucky to have the chance to meet him.
With Xavier Rudd
Wednesday turned a little crazy as my friends and I decided to go on Newquay's biggest bar crawl. A crazy, crazy night- and thats all that needs to be said about that!
As it came to Friday I was super excited about the start of the Boardmasters music festival! The weather was still absolutely amazing and I could not think of a better place to have a festival than on top of a cliff overlooking the gorgeous Watergate Bay.
The sun sets over Watergate Bay on Friday night
The festival was better than I ever imagined, so many amazing different artists and DJs playing across the site, too many to even try to watch them all but the ones i did get to see were awesome! Friday night's headline act Ed Sheeran was one of the best live singers I have ever seen – just as good as on record and way more ginger than in pictures! After that we watched DJ Fresh rock the crowd with an insane set that had everyone dancing well into the night.
On Saturday morning we awoke to the most beautiful view across Watergate bay and we were ready and raring for another day at the festival. Saturday turned out to be as wild as the night before with Dizzee Rascal certainly showing the enormous crowd how to party.
Waking up to this every morning – bliss!
Back home and I'm missing it already and can't wait for another action packed week in Newquay next year. My ears are still ringing but thanks to the most amazing views, the best friends, the perfect weather and the most insane music I wouldn't of changed a thing! Thanks Surfdome and Vans!