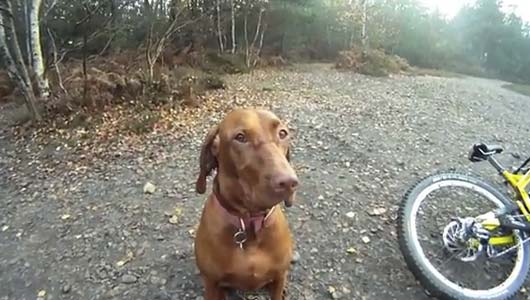 Ever wondered who might be faster; a man going downhill on a mountain bike, or a dog running at top speed?
Well, no longer must you suffer sleepless nights, contemplating the different dynamics and analysing the friction rates. We have the video to end all queries.
Four paws versus two wheels, and only one winner.
Amber the Hungarian Vizsla is perhaps better know by her online name as the 'Downhill Dog'. She loves to race with her owner James, who goes biking in Swinley Forest in Berkshire, UK. He has been filming his forest frolics on a GoPro, and managed to capture some great shots, including jumps, sharp turns and doggie tumbles.
It's pretty ruff going, as they both have to dodge trees and mind the bark. Amber knows the shortcuts, but James gets big air on the jumps, so watch the video to see who's fastest.

 
If  this has inspired you to get out there and film your antics, we have a great selection of GoPro cameras so you can also make your own videos.