Bureo makes awesome skateboards. Why so awesome? Well its all about how the decks come to be, they are made from recycled fishing nets from Chile. Which is great for two reasons; one its a super resourceful use of materials, preventing them going to waste, two it provides the fishermen of Chile with another revenue stream and an incentive not to throw discarded nets overboard to continue to indiscriminately kill as 'Ghost' nets.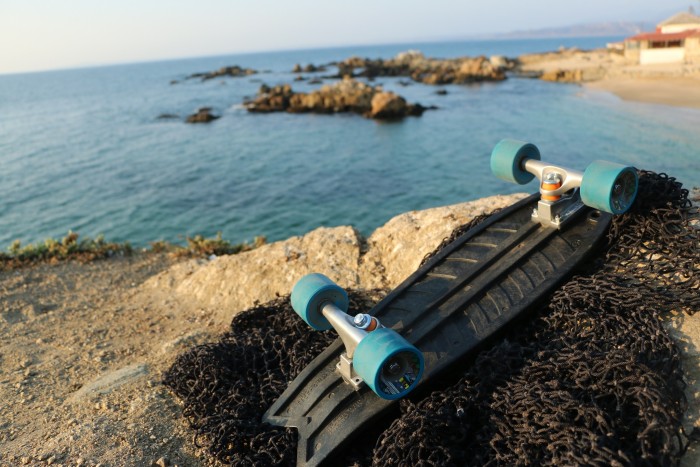 Bureo is a shared value business, some of the revenue they generate is given back to local Chilean organisations and charities to help with social and or environmental issues.
All in all supporting Bureo by choosing one of their skates for your next ride is a super productive and responsible choice. Its not often products you choose have a positive social and environmental effect, in fact often quite the opposite!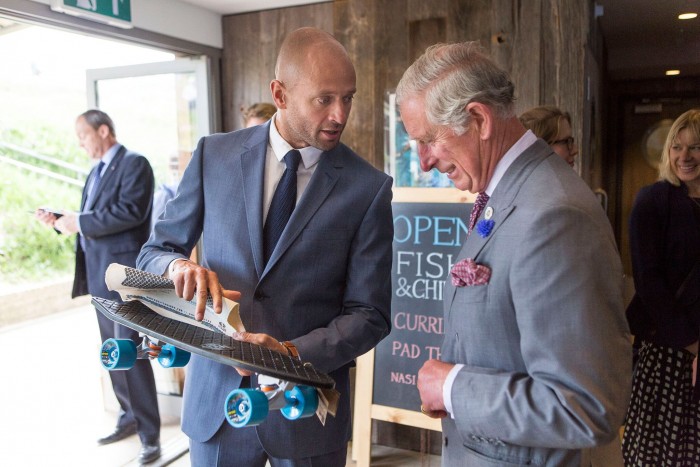 The Bureo model is unique and nothing short of extraordinary, but how did they come to be? We caught up with David Stover one of three friends that founded Bureo:
Hey David, where in the world are you right now, and where were you last?
Bom Dia! I am actually in a small beach town North of São Paolo in Brasil. Our whole team is staying for an extended weekend to celebrate the marriage of Ben (co-founder) and Gabi (our graphic designer), who grew up in Brasil. Beach breaks all around the region have been pumping for the last week! Gabriel Medina and Miguel Pupo were here, warming up for the Rio Pro
So Bureo was started with you and three friends after a chance meeting on a trip in Australia, right?
I was living over in Sydney at the time with Ben (co-founder), we connected through surfing and ended up rooming for a few years in Manly. Kevin (3rd founder) and I studied together in the US, and he was down in Aus on a surf trip. We connected briefly on a few ideas and started researching the various sources of plastic pollution and practical solutions. We were struck by the volume [10% of plastic pollution in the ocean] of fishing nets entering the ocean and began with ideas to connect a recycling program with valuable products. Shortly after we were split between US, Chile and Aus…but we continued to launch the ideas. Eventually, we all relocated down to Chile in 2013.
You are all from different regions of the US, but all have the common appreciation of the environment. Is that through surfing and witnessing the issues in your home beaches?
Yes, it's a bit funny actually. We are all from the Northeast coastal area of the US (New York – Boston), but Kevin and I met at University, and I first met Ben in Australia. It's fair to say that we all became aware of ocean pollution through surf travels. For me, it was at first Sydney, where Ben and I were shocked at how even the most pristine beaches still managed to get a fair amount of plastic waste. Indonesia was a real awakening moment for me, I was there on a surf trip….and it was incredible to see the crippling issues of waste.
As a kid, I grew up on a small island and think I was sheltered from the issues….I'm sure it was present but the places we traveled were less inundated with plastic pollution. Now whenever I go back home, I always visit the windward shores and reflect on how the ocean trash was probably always there, I just never knew where to look. I still think the problem is so much more magnified now compared to 10-20yrs ago.
The Bureo trio is now based in different locations, let us know where and why that works for you guys?
We are mostly split between Chile and California now. It's a great model, as the team in South America is focused on the social programs, working in communities to collect and recycle the materials. We base the front end of the business in California, where we distribute from and run sales/marketing. Its always a bonus to have to have two homes, especially when one is in the South of Chile!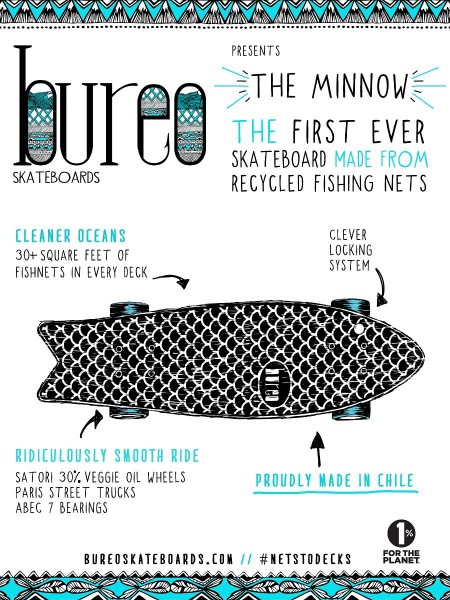 The Bureo story … It's an inspiration to many, three guys with a vision that they are living out, and all with the greater good in mind. How do you do it, what do you pin your achievements on?
We have learned that it is important to spend your time doing something that you are passionate about. We are much more dedicated and interested in our work at Bureo, and we stay driven by our mission…we also find that surfing often helps! We are fortunate enough to travel and work in wave rich coastlines, and to be connected to the ocean at all times. We travel often, which is a big source of inspiration for our team…as travel was where it all began. We like to say, "fueled by surf…inspired by travel!". We credit our success to incremental victories, strategic urgency and a great network of friends and advisors who have helped us along the way.
There are moments when we reflect on how fast the last few years have gone by, but I think we have just begun. We all believe there is much to done to show we can have a great impact, make a difference and build a sustainable business. Stay tuned!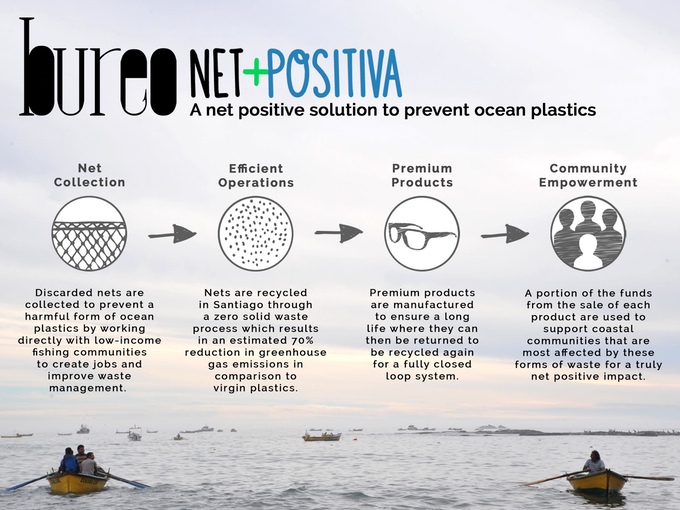 Bureo is set up to benefit way more than your guys pocket, the environment and local communities take a huge share of the Bureo's gains. Was there ever any doubt in your mind this was the model you wanted to develop? And do you think other companies will take note?
I think we had a unique beginning, as our focus was on finding a solution, a tangible start where we could make a dent in the issue of plastic pollution. Within our mission, we wanted to work locally, support the communities we worked in, and prevent this material from entering waterways. I think we are fortunate to have established this model from the start, to make a commitment to the environment and the communities we work. We feel like we are a part of a sustainable movement, and within this movement, companies are inspiring and pushing each other to innovate and find solutions to the environmental crisis.
Thanks, David, keep up the amazing work!
Whether you need a new ride or not a Bureo skate is a unique way of doing good through supporting this unique company. We hope you support them so we, in turn, can too – we have assisted Bureo in bringing the Skateboards to Europe for you lucky lot!
---

---