Easkey Britton is a fascinating individual. Originally from the north-west of Ireland and from a prominent surfing family, her native waves are the legendary cold, heavy breaks of County Donegal. Location and lineage considered, it's no surprise she has been crowned Irish champion five times. She's not just a surfer though.
There's also been considerable academic achievement as she holds a PhD in Marine Science. Allied to that, Easkey's a founding member of Wellcoast, an organisation that strives to protect the welfare of coastal communities across the globe.
An intriguing and unprecedented trip she made in 2010 has really captured us. A buccaneering urge to find empty waves took her to eerily beautiful, desert bordered beaches in the Islamic Republic of Iran. She's known as the first ever female surfer to do so.
Easkey's a game changer. Find out more about her and the Iranian adventure below.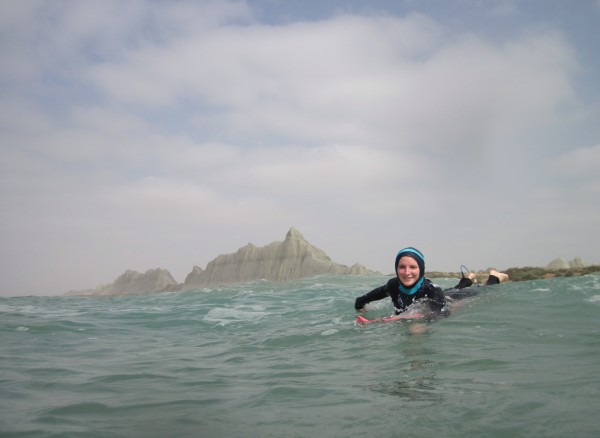 1. When did you first start surfing?
I've been surfing for as long as I can remember. My first surf experiences were with Mum and Dad at my local beach Rossnowlagh in the summer times when I was 4 or 5 years old.
2. Where is your favourite place to surf?
Despite the cold and unpredictable weather it would still have to be Ireland. Saying that, after the crazy weather this last month (snow in mid-March?!) I would love to be surfing a remote reef pass in the South Pacific!
3. Why were you in Iran?
I was in Iran looking for waves, which sounds pretty unlikely I know!
It started off as a wild idea passed along through friends of friends who also love to explore off-the-beaten track. When I first heard about Iran I realised how little I knew about the place or the people and most of what I did was shaped by preconceptions fed to me by what we hear in the media which is overwhelmingly negative.
We didn't know what to expect and I couldn't resist that sense of adventure – to go explore, and possibly find waves with no one.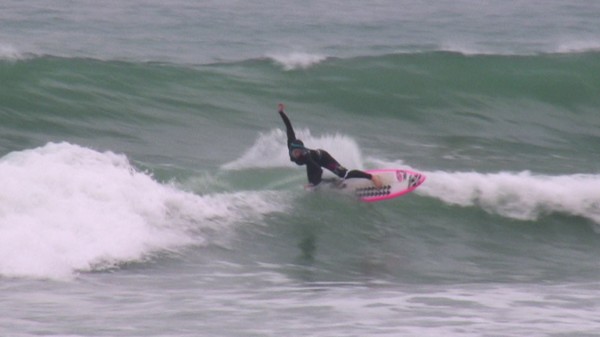 4. Have you seen many other girls in the burka wetsuits?
No I haven't. Where I surfed in Iran there was no one else. We met locals at the main town on the coast of Baluchistan, Chabahar and they had never seen anyone surf there before and were pretty curious about it and the idea of both men and women being able to do it there.
The 'burka' wetsuit was really my attempt to not cause too much of a sensation and be respectful. So it was a make-shift combination of leggings, long-sleeved rash vest, baggy boardies and a Lycra hi-jab (head scarf).
5. What was the response like from the people on the beach?
Where I surfed mostly was out in the desert with no one around for miles, just fishermen passing by in boats, but when I surfed in the town quite a crowd gathered, including the local police – but they were just worried about the danger of the hidden rocks on the beach.
The response was overwhelmingly positive and think the locals saw potential in it. The beaches there are already popular for families and couples to go for walks, have picnics and jump around in the surf. Surfing could be a natural progression, it's just the opportunity is not there yet, and it is that much harder for women.
6. How important do you think it is to push boundaries in such a way?
I think it's important not to act from a place of fear or ignorance, not to let that drive our behaviours, which is not so easy sometimes. By leaving expectations behind and being open to the unexpected and new experiences can be very surprising in a positive way and shift our perspective of the world so that we can see it from a different angle and become more tolerant and open as a result.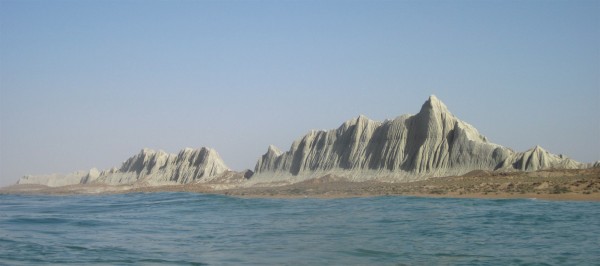 7. What impact do you think it might have had?
That first visit was really very exploratory, about the search for waves in a little known part of the world's coast. So we didn't know what to expect in terms of impact. Since we left and the first mini-documentary has come out, the impact of what we did began to sink in.
The response really surprised us in terms of how many people it touched across cultures and countries. That motivated us to want to explore some issues more deeply, in particular the role of gender in place like Iran and opportunities for women to try a new sport, especially surfing which is so synonymous with freedom.
8. You are quoted as saying "The power of surfing and creativity as a means to break down cultural barriers & gender-based inequalities." I would love for you to expand on this please.
I always feel when surfing that despite being this male-dominated sport, when you are actually surfing, riding a wave, there is no discrimination. The ocean doesn't discriminate or care if you are a man or a woman. From travelling around the world, in such diverse places, surfing can act as a great equalizer and way to connect people. Either through a shared stoke or sense of freedom that surfing gives regardless of your background or how many stickers are on your board or not.
That sense of creativity comes from the fact that at its essence surfing is this creative form of self-expression.
9. What ideas do you have for the future?
A lot, always too many ideas bouncing around my head! First though, I want to go back to Iran with Marion (the French film director) to spend more time and engage more with local people, in particular girls and young women, to introduce them to surfing and to learn from their experience and perspective of it.
That's the plan for our film project 'Waves of Freedom', which you can help support on Indiegogo.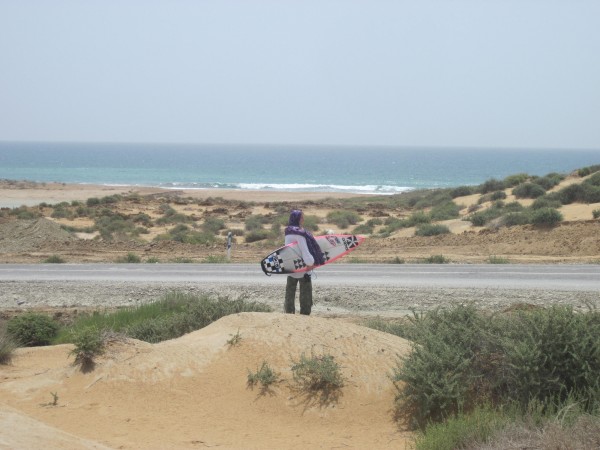 10. What advice might you give to young girls who want to follow a similar career path?
My 'career path' was never planned or one I even consciously mapped out. I've got to where I am by being open to the unexpected, taking risks, making the most of opportunities and a drive to learn and explore all that I can be.
11. What do you hope to achieve in your lifetime and do you think it's possible?
It depends on how long or how many lifetimes I've got! I always feel like there is never enough time but also that we should never be ruled by time – instead try to be fully present in what you are doing right here now, realizing that this is all there is, the present (kinda Zen, but hey!).
Those closest to me would probably say I never stop, my idea of stopping is paying attention to the pause between an inhalation and an exhalation and that I like to dive deeply into things.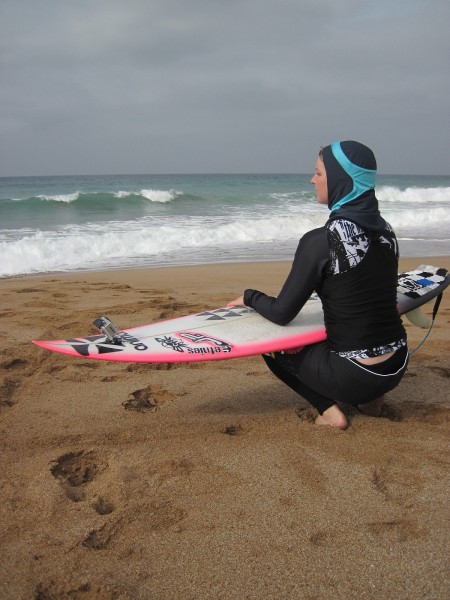 12. Any shout outs or thank yous?
Too many to mention – I've been blessed to be where I am today by all the amazing people I've met along the road…
My sponsors Organic Burst, Surfplugs, Xcel wetsuits, JP surfboards, my Mum, Dad and little sister, my tow-partner and cousin Neil for those bombs – all those people who've given me their love and encouragement and support in a million different ways.
All pictures courtesy of Easkey Britton/Marion Poizeau