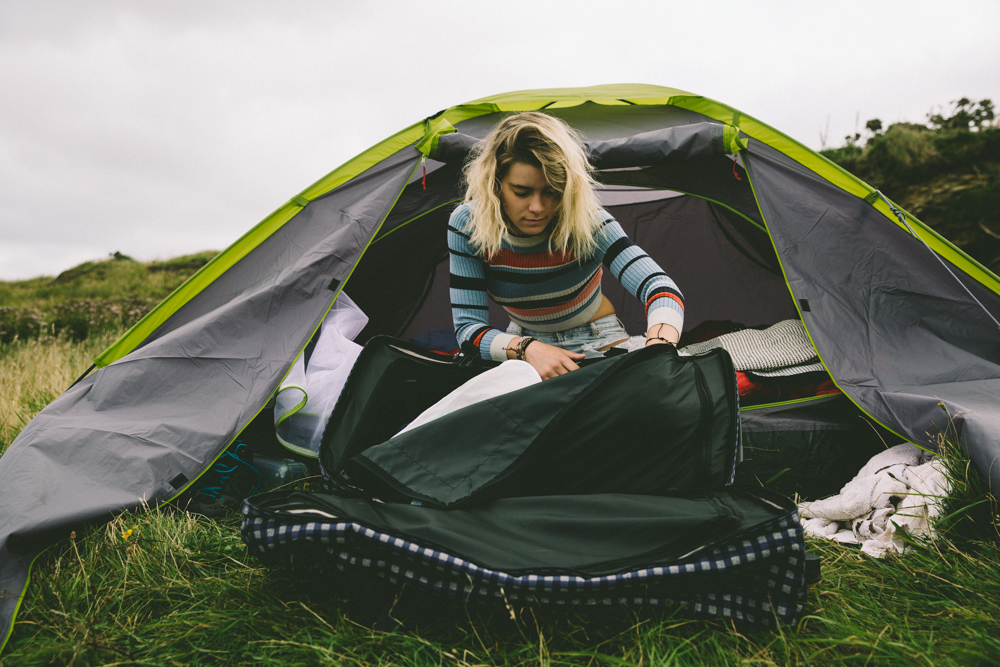 So, here we are: week 3 and you're still here with us on our journey with Eastpak. Or, you've just joined us, in which case… go back and read the other two blogs too! This week, you've caught us wild camping on the beautiful coastline of North Cornwall.
I bought a book a while ago called "The Wild Guide'. If you've never heard of it, check it out because it's full of awesome places around the UK. It gives you the coordinates – yes, coordinates! Who knew anybody but pirates and girl scouts used these? But, these places are so hard to find on the map or with a postcode that they've listed out the coordinates. It has all the secret caves, rock pools, wild camping pitches and beaches per location.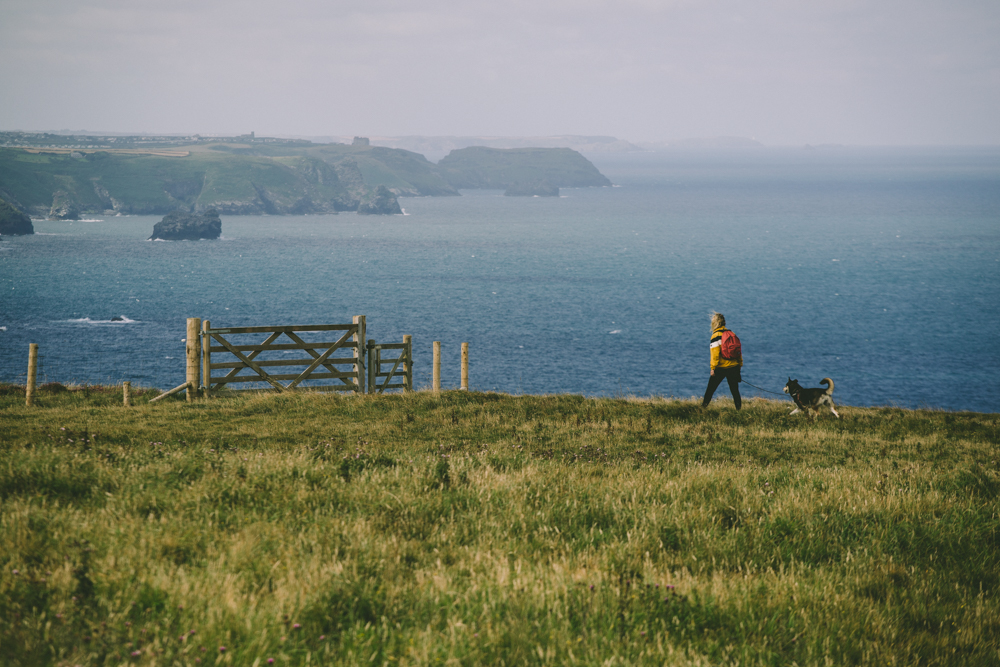 David and I were so indecisive (actually, it really was just me that was changing my mind every five minutes). Originally, we were going to go to Boardmasters but everyone knows what happens at Boardmasters and you can see hundreds and thousands of pictures and writeups on it, so we decided to give it a miss this year and head slightly further up the coast to a tiny little village called Crackington Haven. (On the map it's on the coast between Bude and Tintagel).
My tents are currently scattered around the globe. I have one under my bed in LA that would have been perfect and another tent that is residing in my parents' backyard – it's the one that I lived in full-time for 6 months and is an absolute beast. So, with both of these out of the mix I had to scope a new addition to the collection…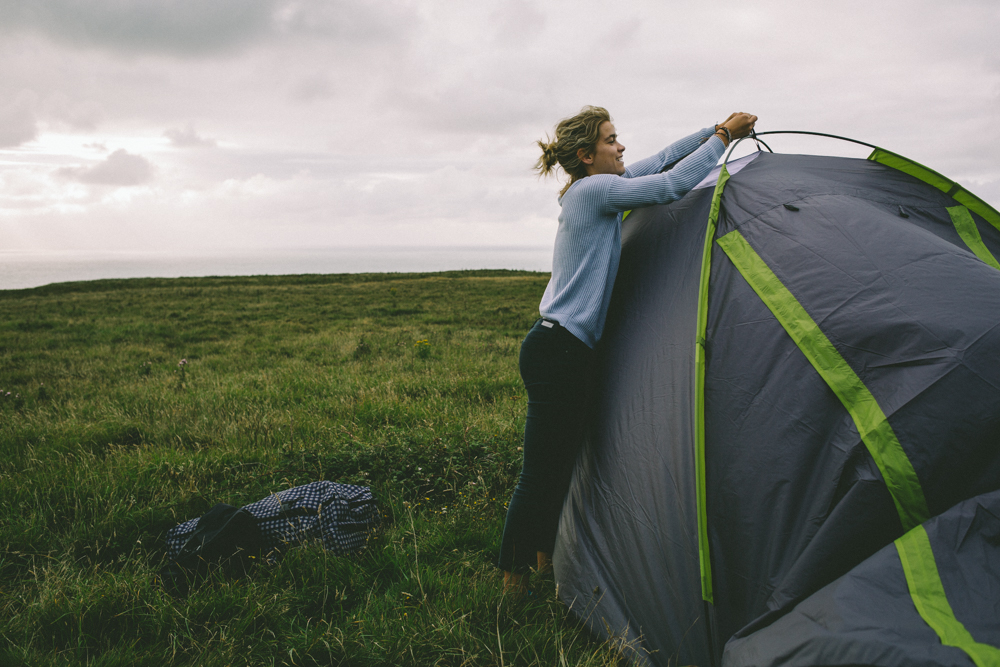 I had one evening to plan this trip. I had changed my mind on locations so many times (thank you book for all your choices). I had my heart set on Strangles beach – it had me at 'not a soul around for miles'. I packed my bags with a very, very ambitious amount of stuff. We were really there for one full day and two nights, but little miss-over-packer here took her diving gear, climbing gear (I did climb though), running gear, several bikinis for a potential surf, cold-weather gear, heatwave gear. You name anything in my house- I had it. Oh, apart from a few things I really needed, like a torch and a few other essential items.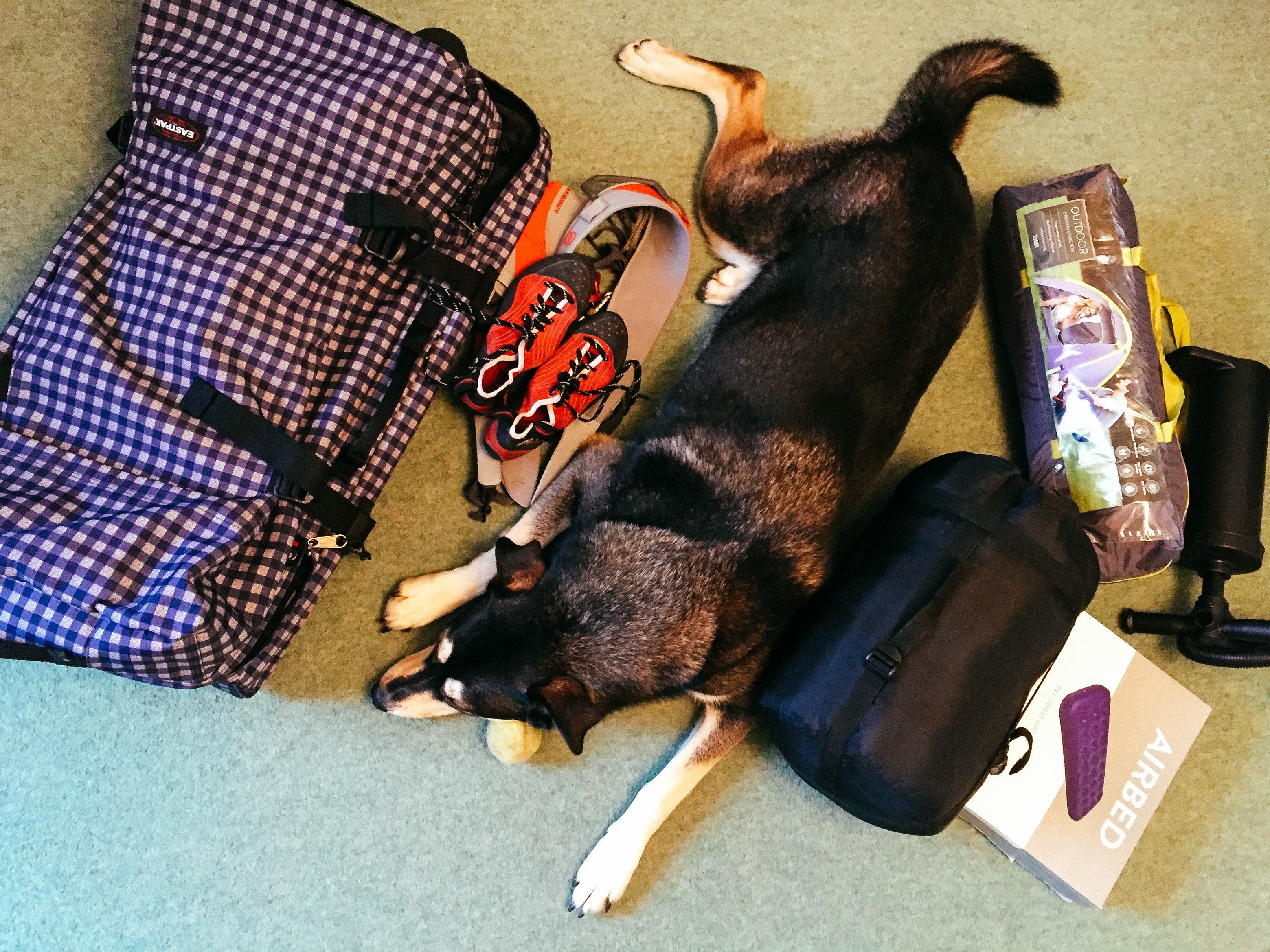 When we arrived, I was so keen to pop up the bad boy tents. (David was a little skeptical, but he's now a proselyte. Ask him.) They were the easiest things in the world to construct, and with a few pegs and some pre-ground- level assessing, they were up and in place. Naturally, I brought the picnic table and my full-sized stand up range cooker.
Once we had constructed our small municipality we went for a wander down to the beach. By 'wander', I mean that we pretty much base-jumped our way down to the beach. Of course, there wasn't 'a soul about'… it's an absolute mission to get down there! I've just realised that I've forgotten to introduce my sidekick: Lupa, my wolf! She usually comes everywhere with me, but it's been quite a full-on year for working abroad so she hasn't been able to come everywhere. Luckily, I had time to pick her up on the way down south!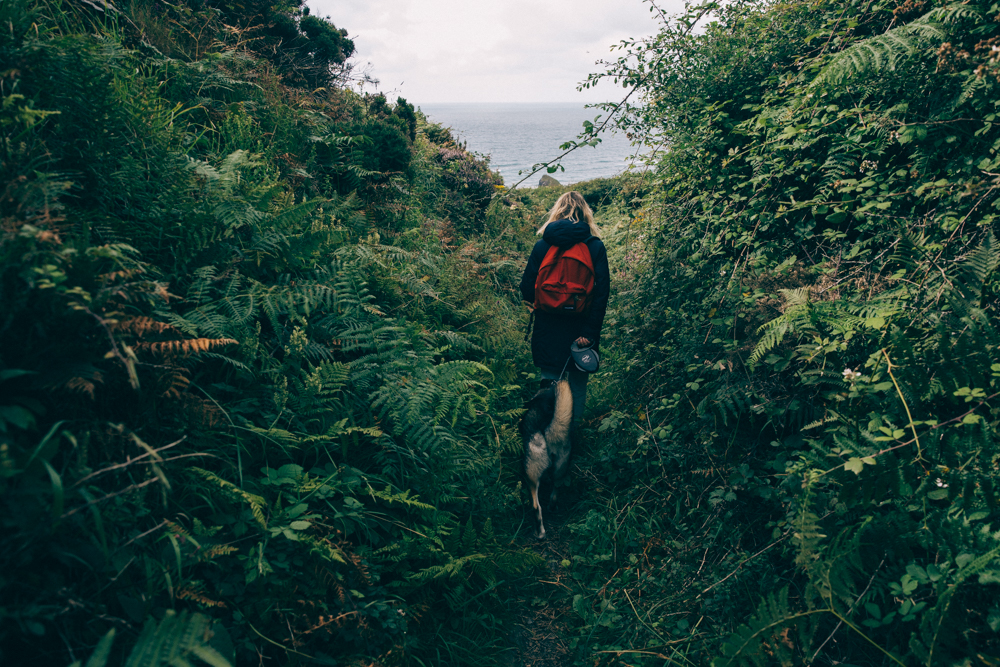 As a pack, we descended down onto the beach like a team of superheroes (well, more like Guardians of the Galaxy than the Avengers) and began exploring our new-found private sanctuary of English goodness. We did a little recce of climbing and sightseeing spots for the following day and headed back up to the tent for a spot o' dinner, glass o' vino and an early nighto'.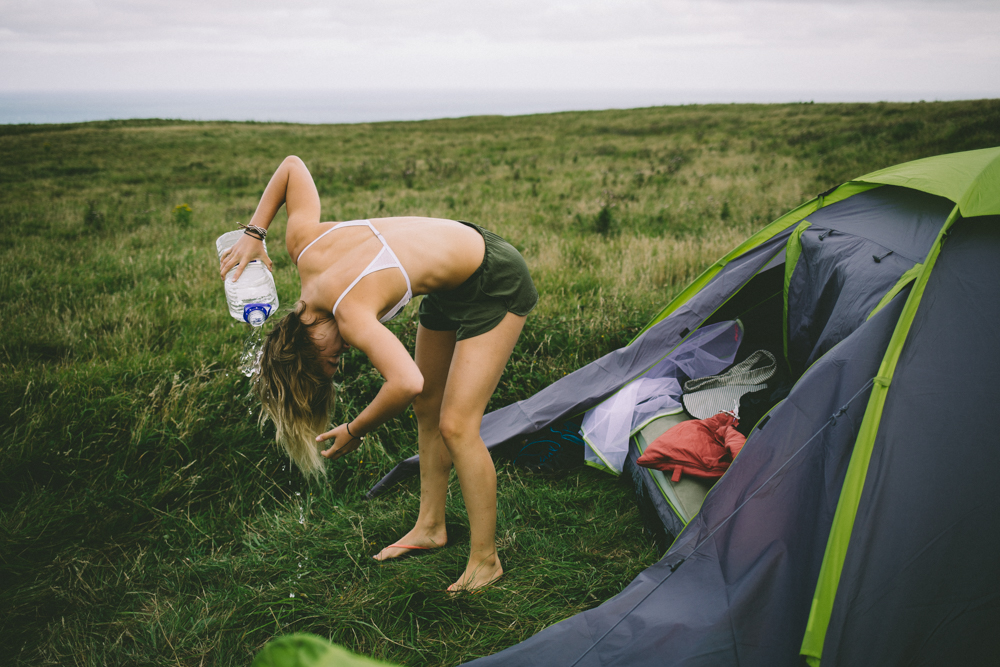 Good morning! It was time for a 'shower' and brekkie and then it was nothing but play time. We packed our bags with essential essentials, like climbing shoes, swimwear, snacks and water for the little hairy beast. And Lupa of course. (David and I found some awesome rock to climb and made a pact that neither of us were allowed to leave the beach until we had climbed it. Lupa got off lightly here).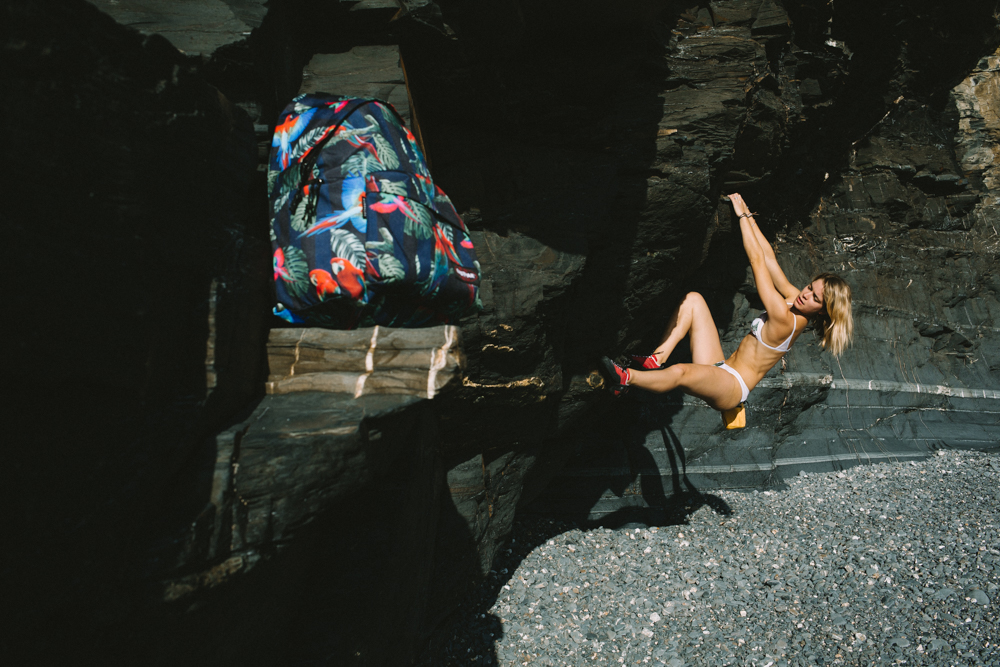 We scrambled back down to the beach after faffing around packing and eating in the morning. We eventually got down and didn't realise how much further down the beach you can walk when the tide is out. It allowed us to get all the way to this cool little arch way that we saw in the distance the night before. So, we started our excursion to get to it. Lupa is of course an industrious little ninja wolf (we really wouldn't get on if she wasn't), so she led the way, hopping between rocks, swimming and climbing up parts I really thought she'd need opposable thumbs and actual shoulders for, but no. (Proud mum moment right there).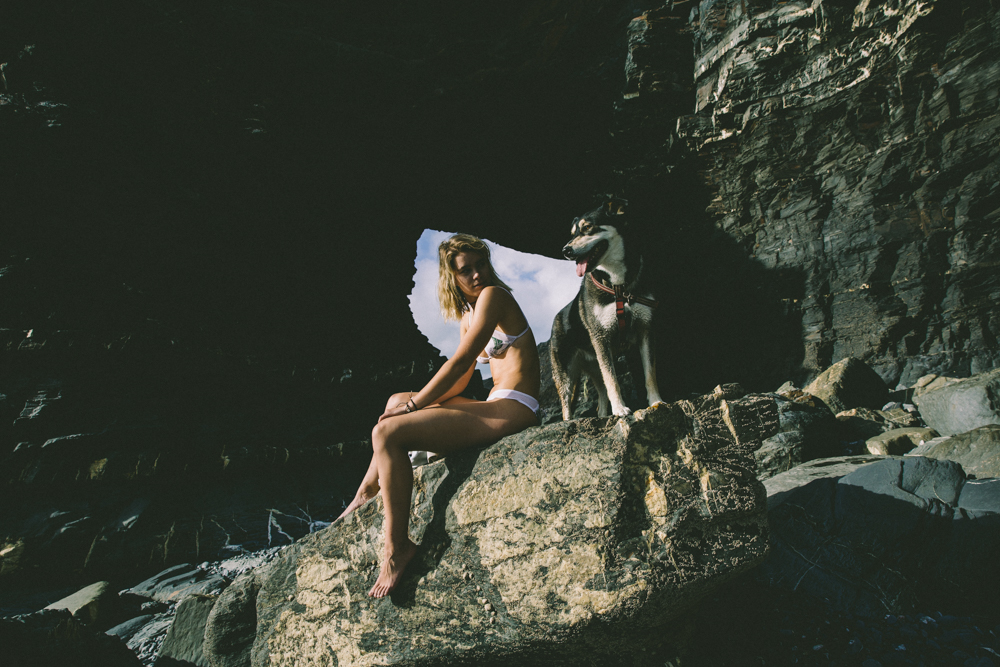 We set up a little base, unpacked our bags and chilled. It was so peaceful and beautiful that time was flying by and the tide was all the way out, which meant it was soon to be heading back in and we would be completely stuck where we were. We climbed, we ate, we talked nonsense and played around with Lupa. It's times like these where you look back and realise that they're the most awesome memories. The sun was looking a bit saggy in the sky, and luckily for us, she burnt her way through the clouds, giving us the most incredible sunset. We quickly stuffed our bags and began the trek back towards the other end of the beach. It took well over an hour but the sun was waiting for us (which it does, if you ask it nicely).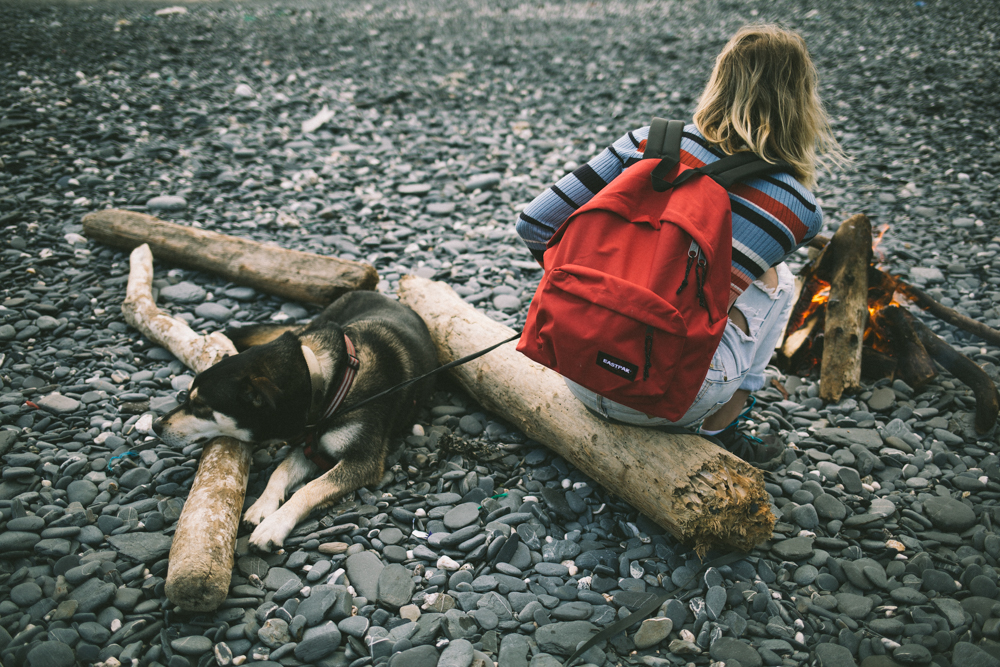 By the time we got back to our exit up the cliff, the tide was luckily still quite far out. Now, this was a pre-empted plan for those of you that are thinking 'Wow, how did they get a milk carton of petrol and wood and make such a perfect fire in the spur of the moment?' Well, earlier in the morning we had planned to have one of those dreamy beach campfires for the evening, but we didn't want to bank on England allowing us to do so, seeing as it was raining in a town not too far away. But, we had a cool breeze and an African sunset to deal with. We built a small fire that Bear Grylls would have laughed at and collected driftwood along the beach. If only I had gone even more overboard with my packing – I could have gone spearfishing for dinner! Feeling like a right idiot for not packing enough, we chilled by the fire with some music and stories and watched the sun go down.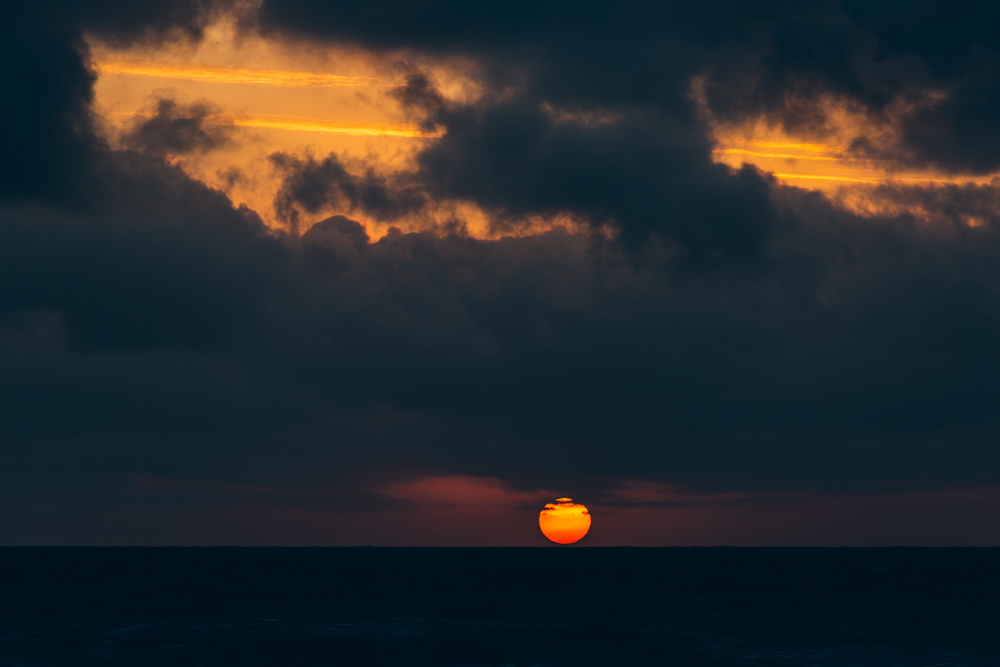 I've definitely learnt a few things from this trip:
1- Eastpak bags are deceptively large inside. Imagine Mary Poppins was a pyromaniac that went hiking (highly unlikely, but work with me here) and needed to carry all her wood and climbing shoes and dog's water. I'm not sure if it was heavily advertised during the movie, but that bag was definitely Eastpak.
2- Prioritise with packing. I'm now too old to get away with being excited about all the activities to forget essentials.
3- Don't believe absolutely everything 'Wild Guide' tells you about the legalities of wild camping in Cornwall. We bribed our way out of having to move off of a farmer's field by throwing him a tenner. But other than that, the Wild Guide is awesome!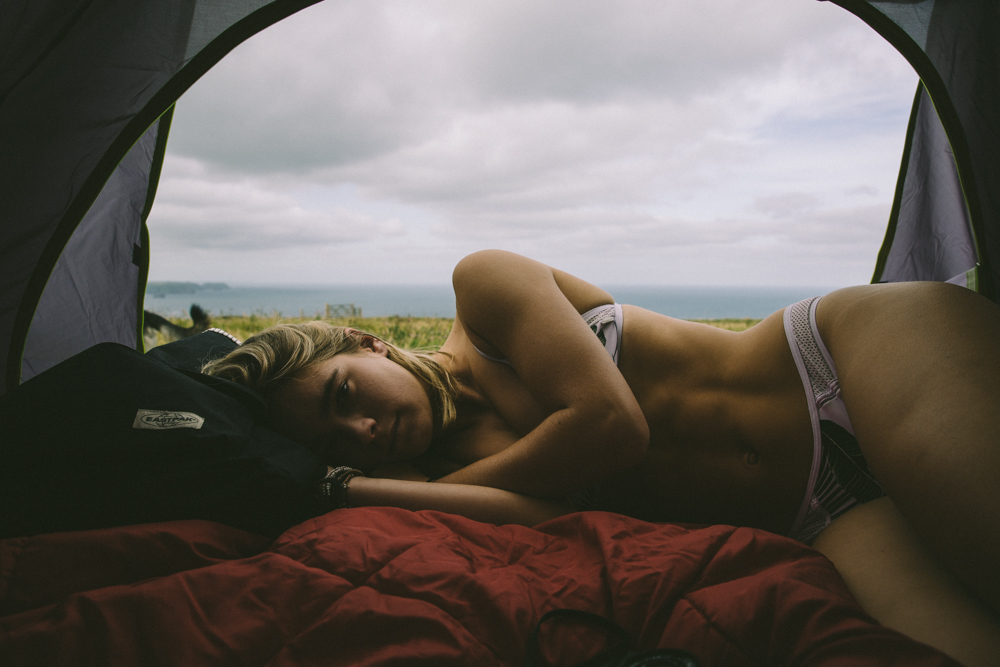 So that's it from me this week. Check in again next week for the final blog of this series!
All images/video taken by @Davidwren_  http://www.davidwren.co/
#PakYourAdventure Eastpak x Surfdome - Cornwall from David Wren on Vimeo.
#PakYourAdventure
---