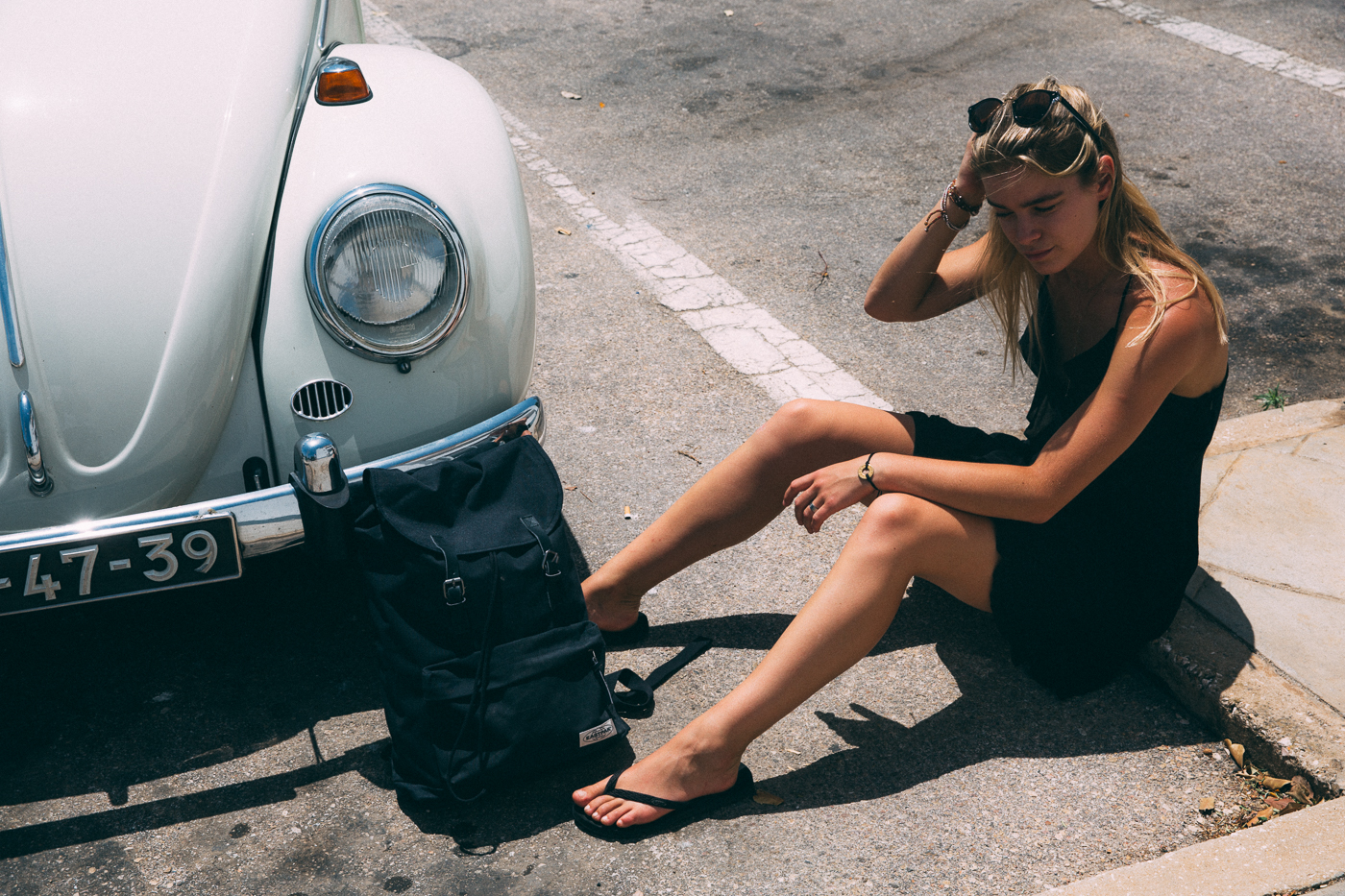 I'm Gemita Samarra – you've quite possibly seen me before, but wouldn't have known it was me. I've spent the last few years falling over and off things (for your entertainment) to pay my bills and have been lucky enough to travel the world doing so. If that wasn't clear enough – I do stunts. I'm also sometimes allowed to act and model and write and do other things that people do when they move to Los Angeles like I did last year (although I didn't become an Uber driver).
I have since moved back to Europe to continue with stunts, travelling and other equally unsustainable things for money. What was first on my list of things to do? To take my good photographer buddy David Wren with me to shoot for an exclusive collaboration with Surfdome and Eastpak. The plan? To travel through Europe seeking out adventures. First stop: Portugal…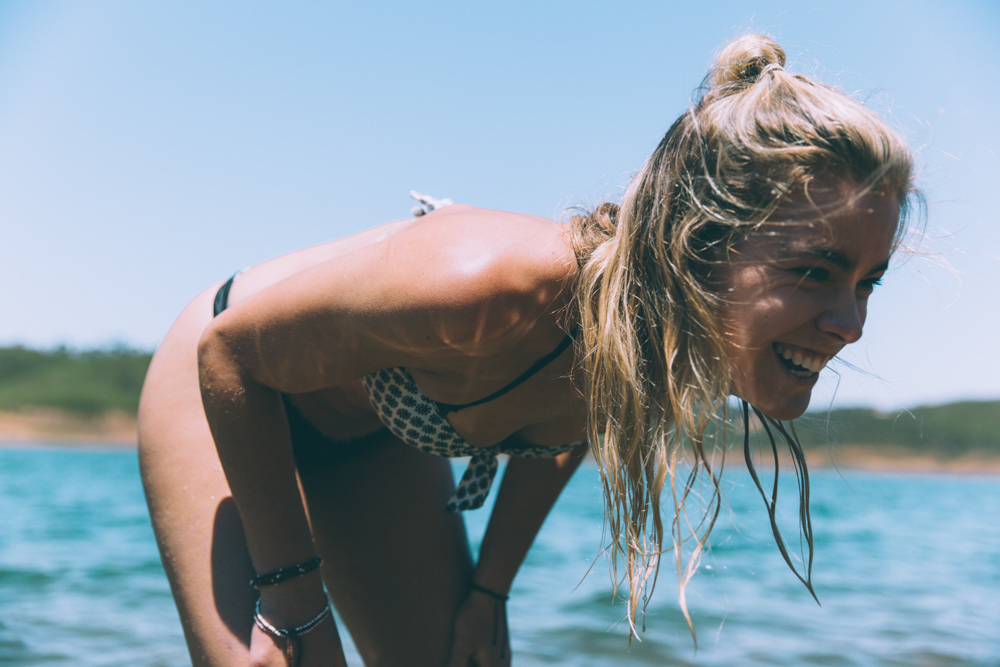 Skateboarding, surfing, paddle boarding, kayaking, horse riding, rock climbing, free diving, mountain biking…you name it, Portugal has it and David and I did it. We flew to Faro from Gatwick at an unspeakable time in the morning and chowed down an eclectic mix of Moroccan and French food for breakfast at the airport (definitely not a consciously well thought out choice at 4am). With our stomachs now lined with spices I didn't even know existed, we hopped on the plane. Well, when I say 'hopped', I actually mean that we sprinted to our gate and were the very last to be seated. Yes, we were 'those people'.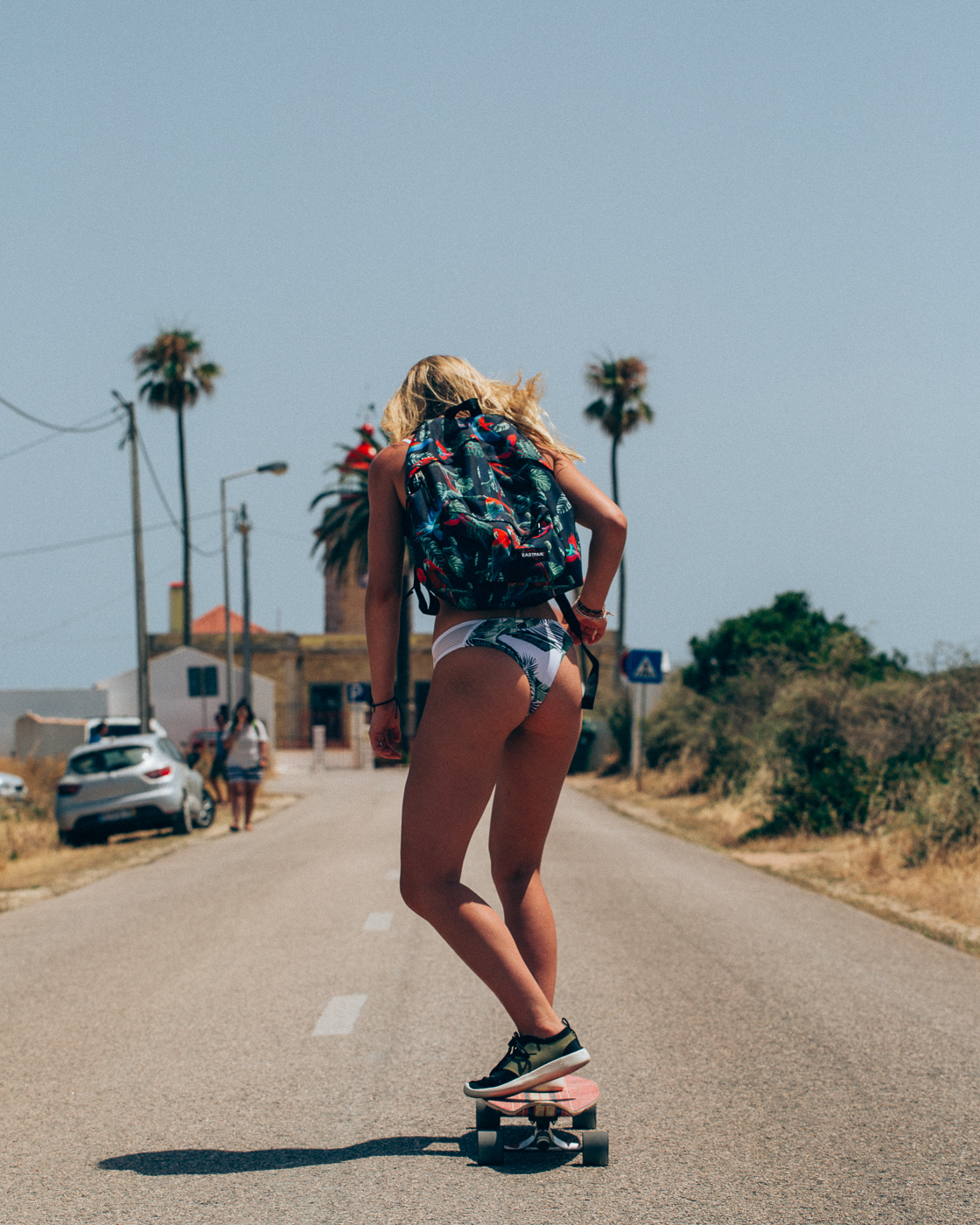 Faro is a small coastal town in the south west of the Algarve. But, we were staying near Luz, about 45 minutes east of Faro along the coast. Luz is an absolute gem of a town with quaint local restaurants, a couple of beaches and a not-too-touristy vibe.
I did a ton of research before leaving and found the most awesome little tree house between Luz and Espiche. It was tucked away down a couple of miles of dirt track amongst rolling hills. Secluded and perfect, it also had a swimming pool, horses and puppies. If that's not your idea of heaven then we just can't be friends!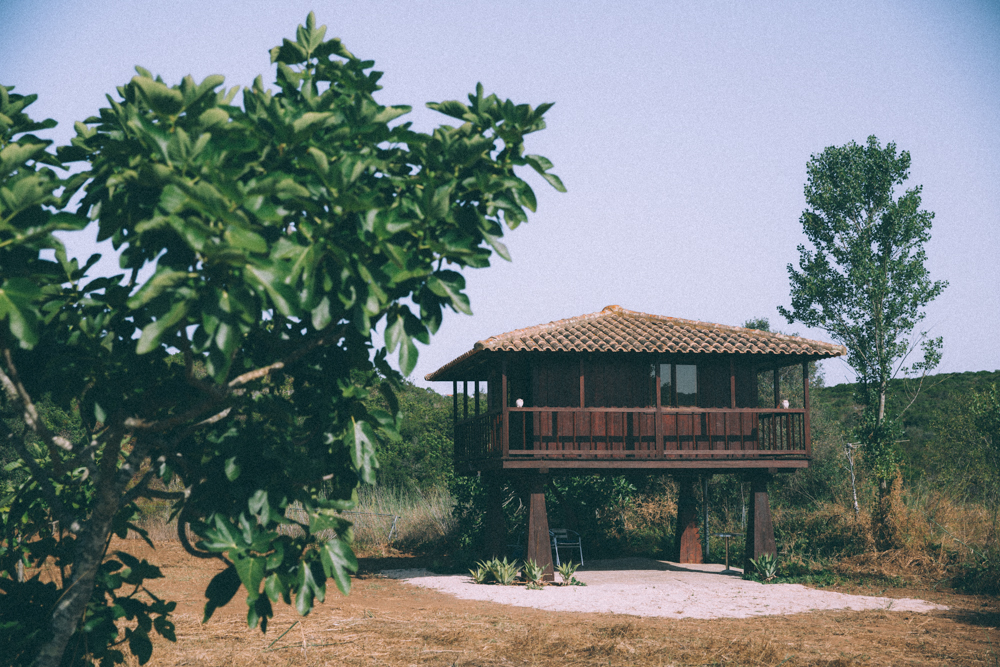 We packed enough for a small village, but we had a lot of activities and adventures to fit in. One can never be too prepared, right? We started the week off strong by exploring the private beaches and caves in the Benagil and Marihna area. It goes without saying that the southern coast of the Algarve is so outrageously beautiful – we spent hours swimming and exploring the coastline and packed our Eastpak bags with essential supplies.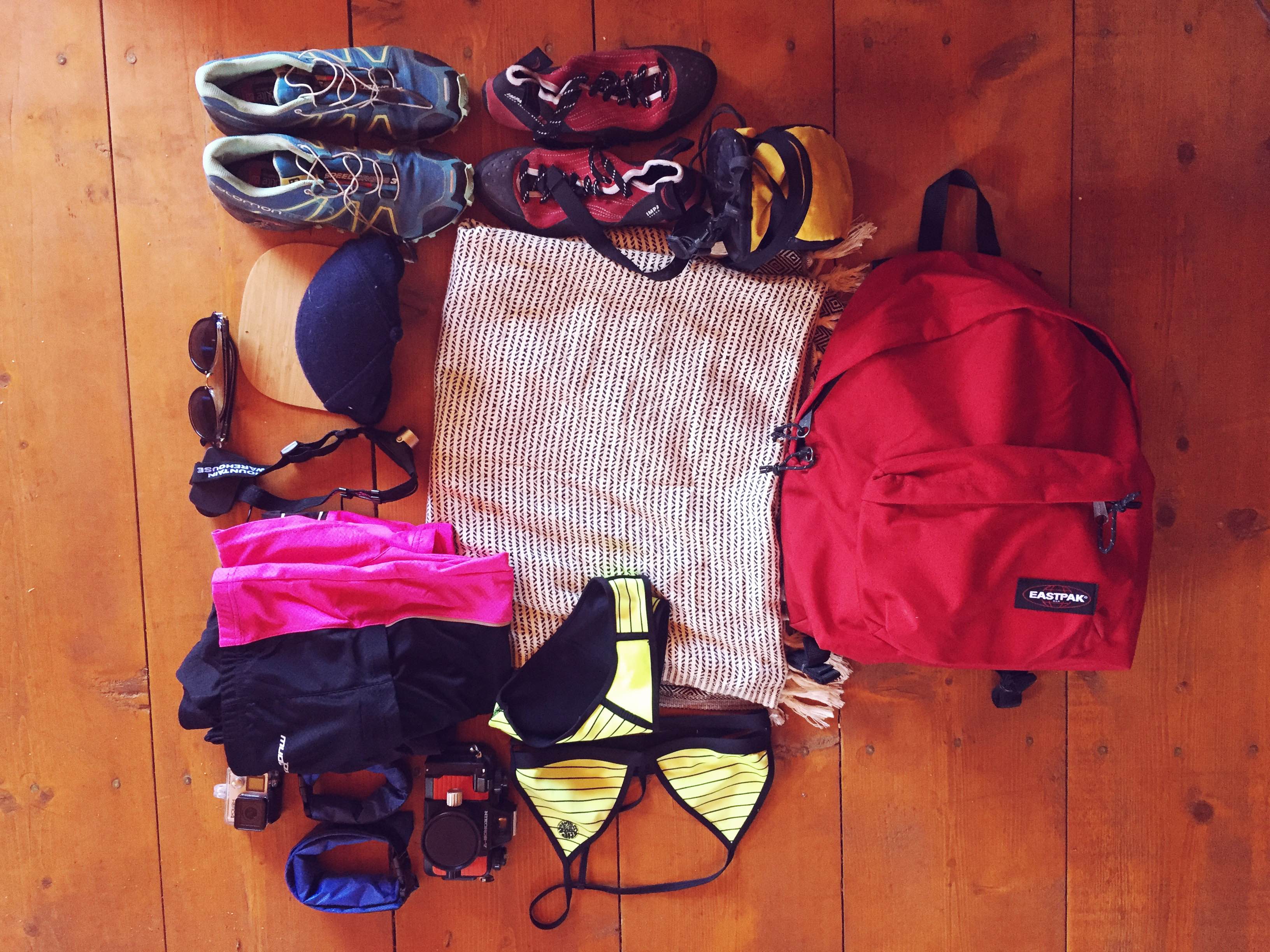 We then headed west to hire kayaks and paddle out to the main cave in Benagil. Photos really don't do this place justice and if you really want to see it for real the best way is by kayak or SUP. You can go in a tour boat but they don't stop and it's definitely a place that you'd want to experience in your own time. We spent the next couple of days exploring the grounds of the tree house (playing with the horses and puppies I mentioned earlier!).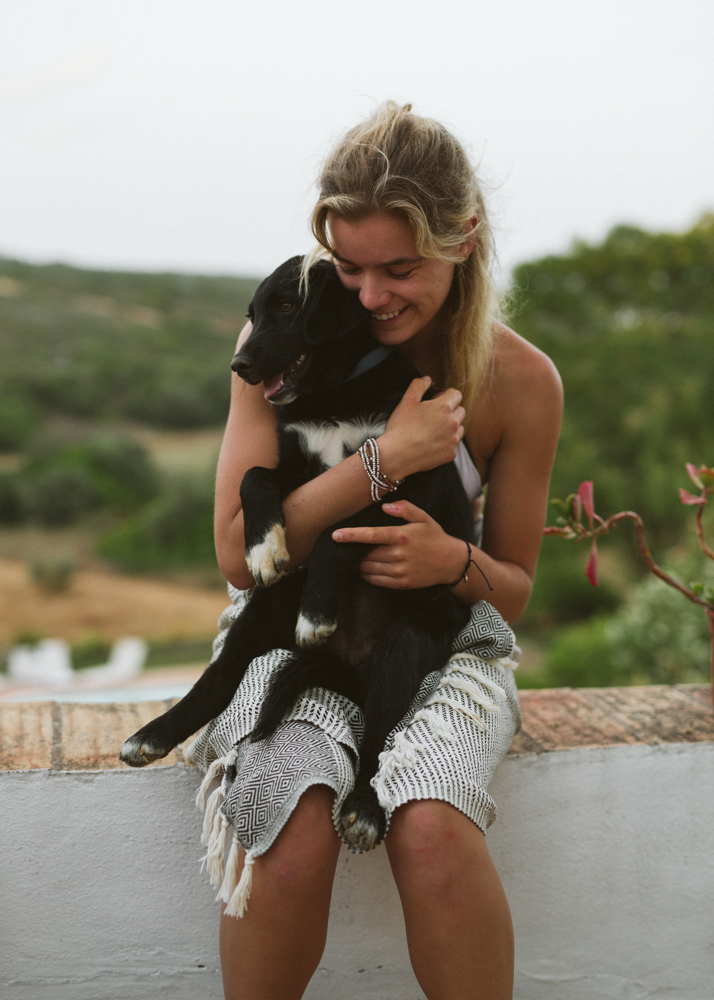 And what about when we ventured onto dry land? We went skateboarding and biking around a slightly bigger town nearby called Lagos. It's a bit more of a tourist spot, but if you dig deep enough there are some awesome eateries and it's home to Jah Shaka Surf Shack: the local rental for bikes, skateboards, SUPS, surfboards etc.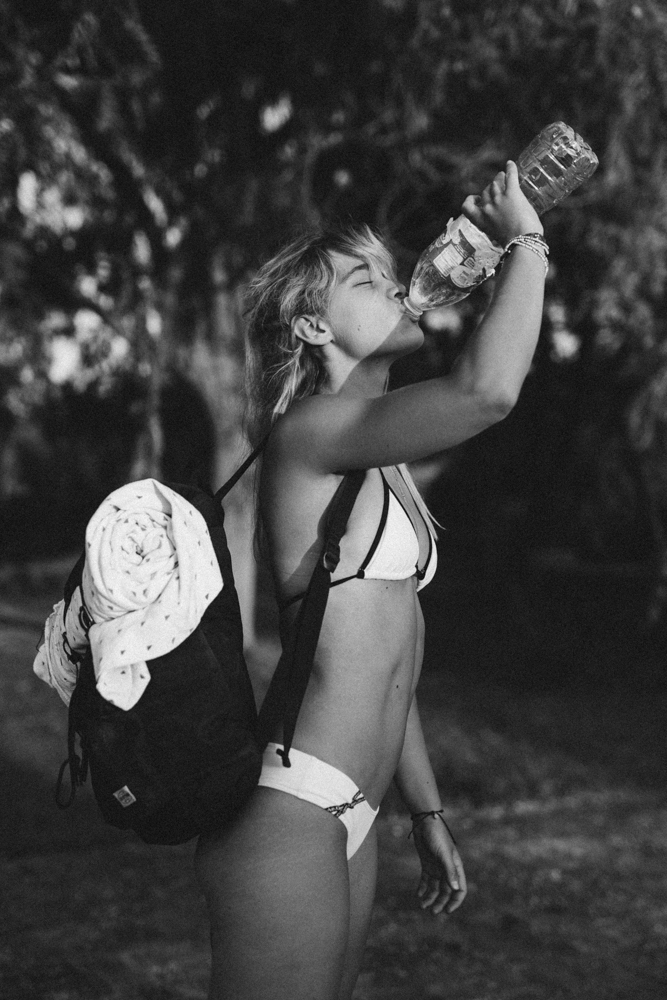 These guys were really nice and we ended up chatting and booking in a sunset paddle boarding session on a lake further inland. This was the perfect cure after a minor hiccup with the rental car. Someone drove past me in a car park while my door was slightly ajar from taking bags out. The result? They took off the rear door leaving me £900 down to buy a whole new door before returning the car. There's a lesson to be learnt here – always take max cover out!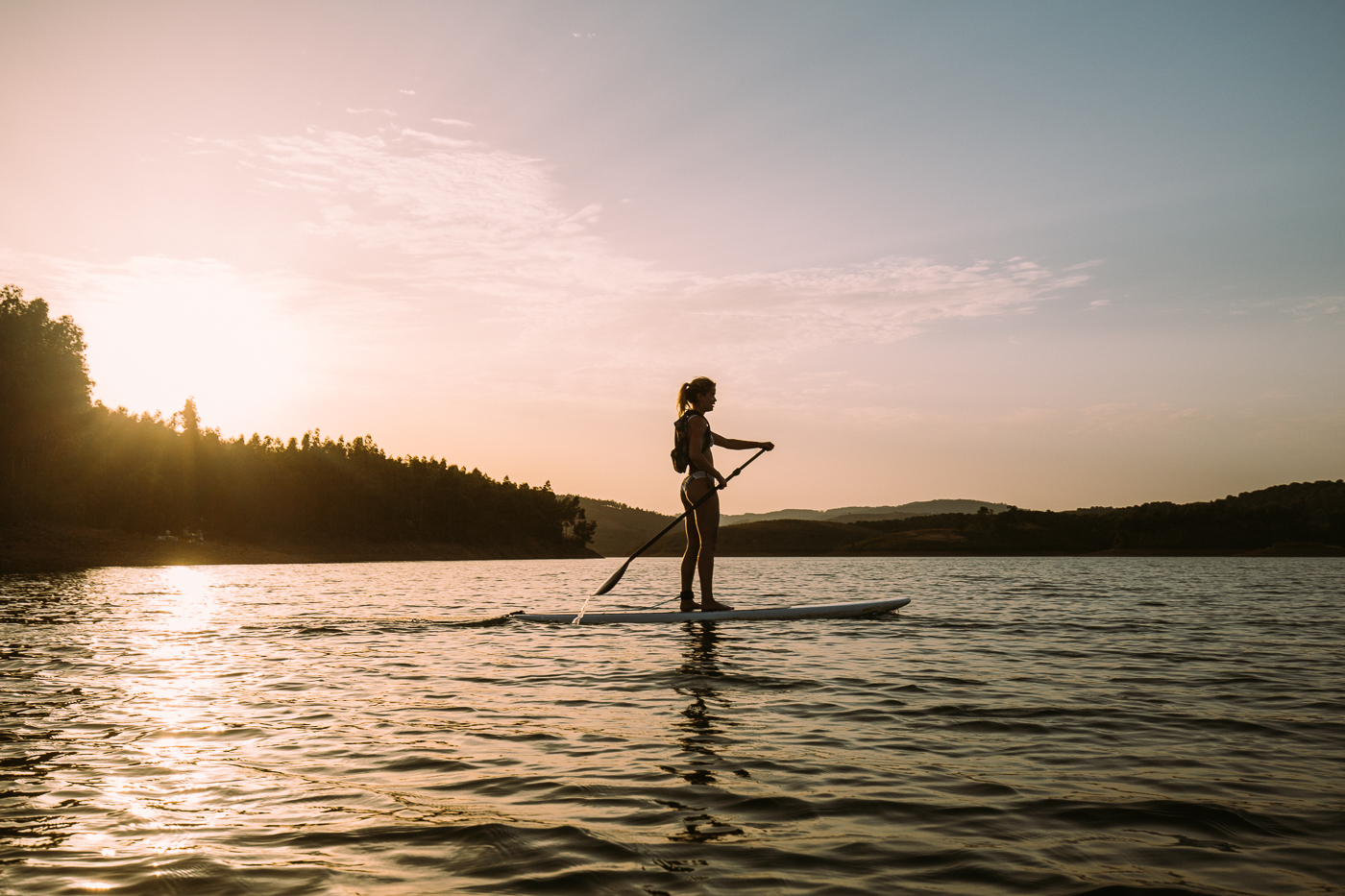 But the lake was a calming remedy – it was simply stunning. Right in the heart of nature, it was perfectly warm with clear blue water surrounded by woodland. In fact, it was so perfect that we decided to head back the following day to the next lake along and go exploring. This brings us to Friday and the day of 'Med Fest'.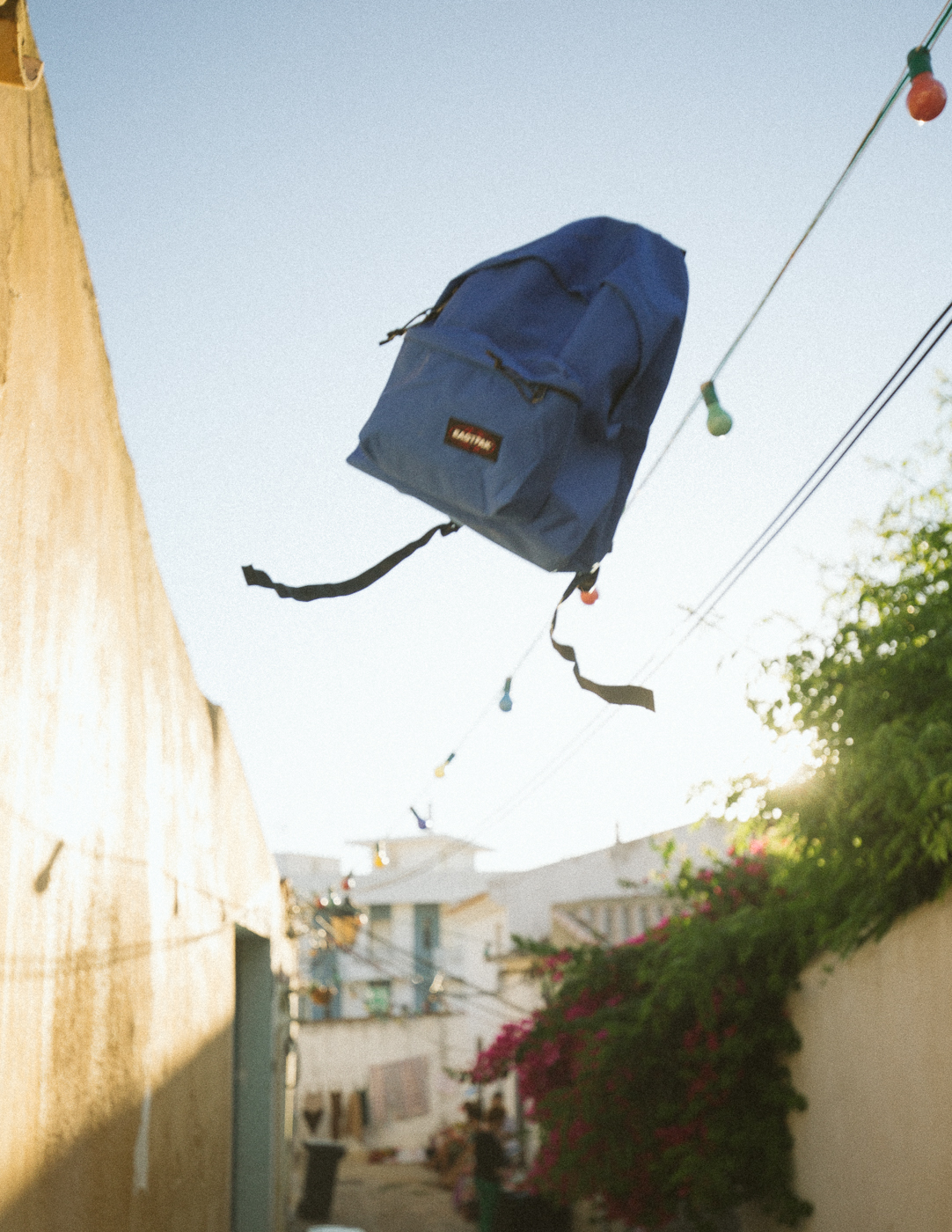 'Med Fest' is by far the best festival I have ever been to. It takes place in a tiny quiet town called Loulé (just north west of Faro, inland). It's set in castle grounds on the cobbled narrow streets, using the courtyards and gardens as stages. It wasn't massively advertised and I had no idea what it was going to be like. Tickets were only €10 and it was worth every cent, and more.
They had brought in local restaurants to serve their best dishes and invited musicians from all over the world to perform, from Syria to Chile and the UK. None of them were 'well-known' but they were incredibly talented. This was very much a night festival, starting at 7pm and still blazing at 4am when we left.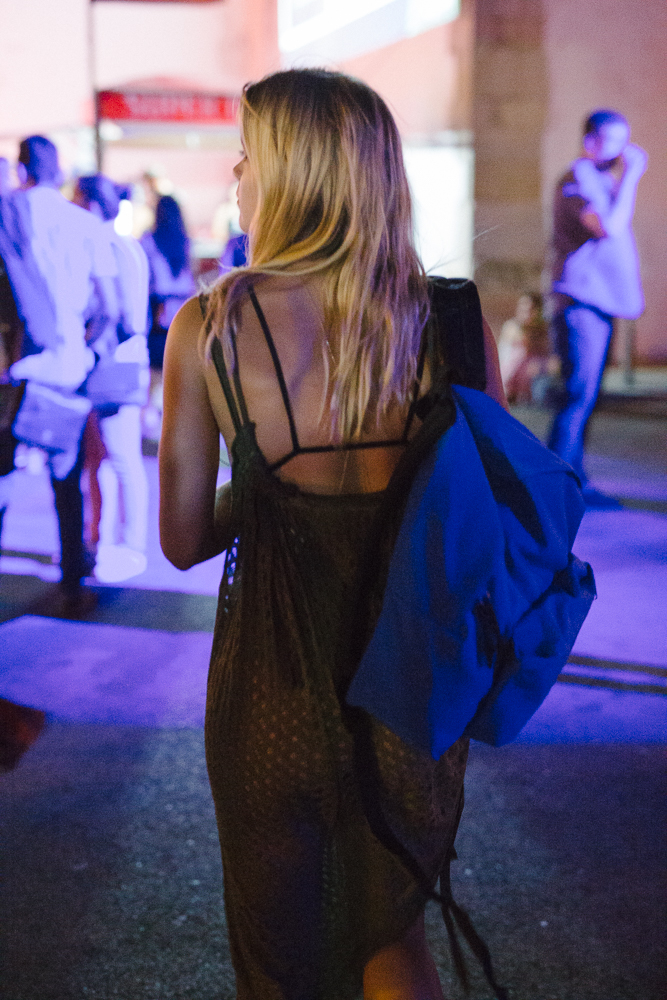 The following day, after not very much sleep at all, we packed our bags full to the brim for a day of activities and kick-started with a surf. We drove down to Sagres, which is actually my favourite place in the Algarve. It's the very south west pointy bit on the map and is the 'cool people hub' made up of travellers, climbers, surfers and total foodies. What more could a girl want?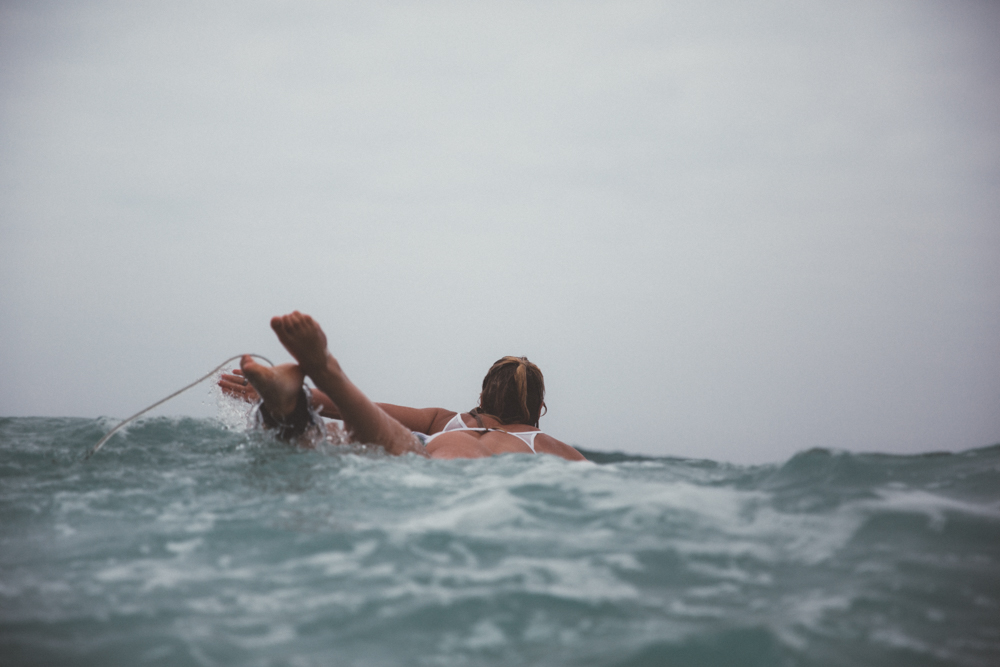 There isn't a whole lot of climbable rock in a lot of the Algarve but Sagres was coming up as the hot spot of climbing and deep water soloing. After smashing a couple hours of surfing, we hit the rock. Within about 20 minutes, a few surfers emerged out of the water. In all kinds of broken English and Spanish, they began asking us about the rock and if it was worth joining in. By the end of the day we had a whole group of us from all over the world climbing, surfing, eating and hanging out. Life doesn't get much better than that!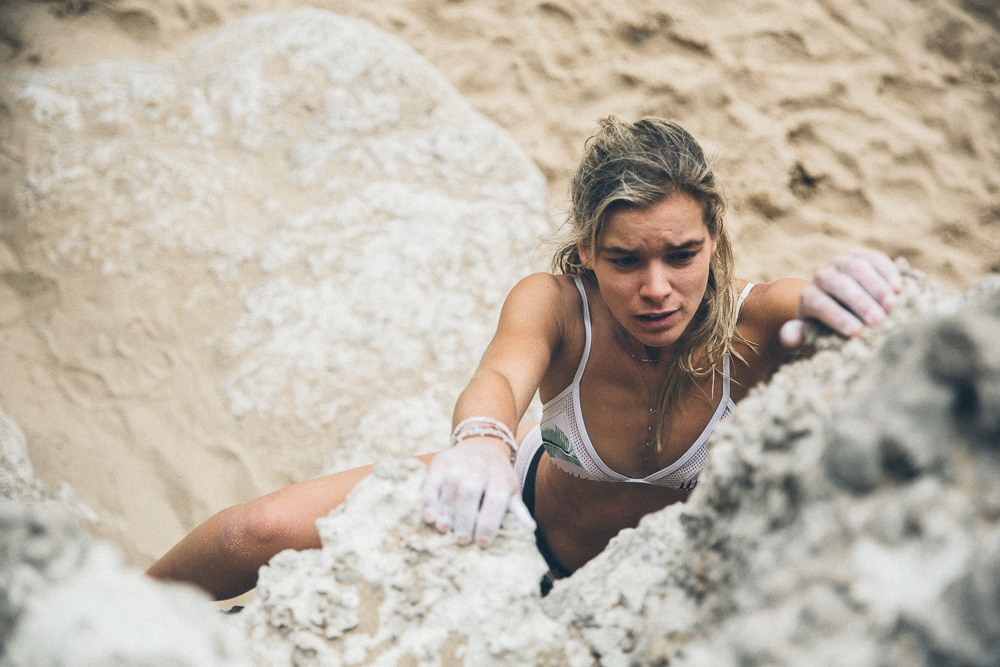 In a nut shell, this Portugal trip was simply amazing. For anyone thinking of travelling down to the south west coast, pack your Eastpaks full of climbing shoes, board shorts and bikinis (and snacks, Go Pros, toilet roll and a 1980's Nikon V underwater film camera if you're feeling particularly hipster like I was).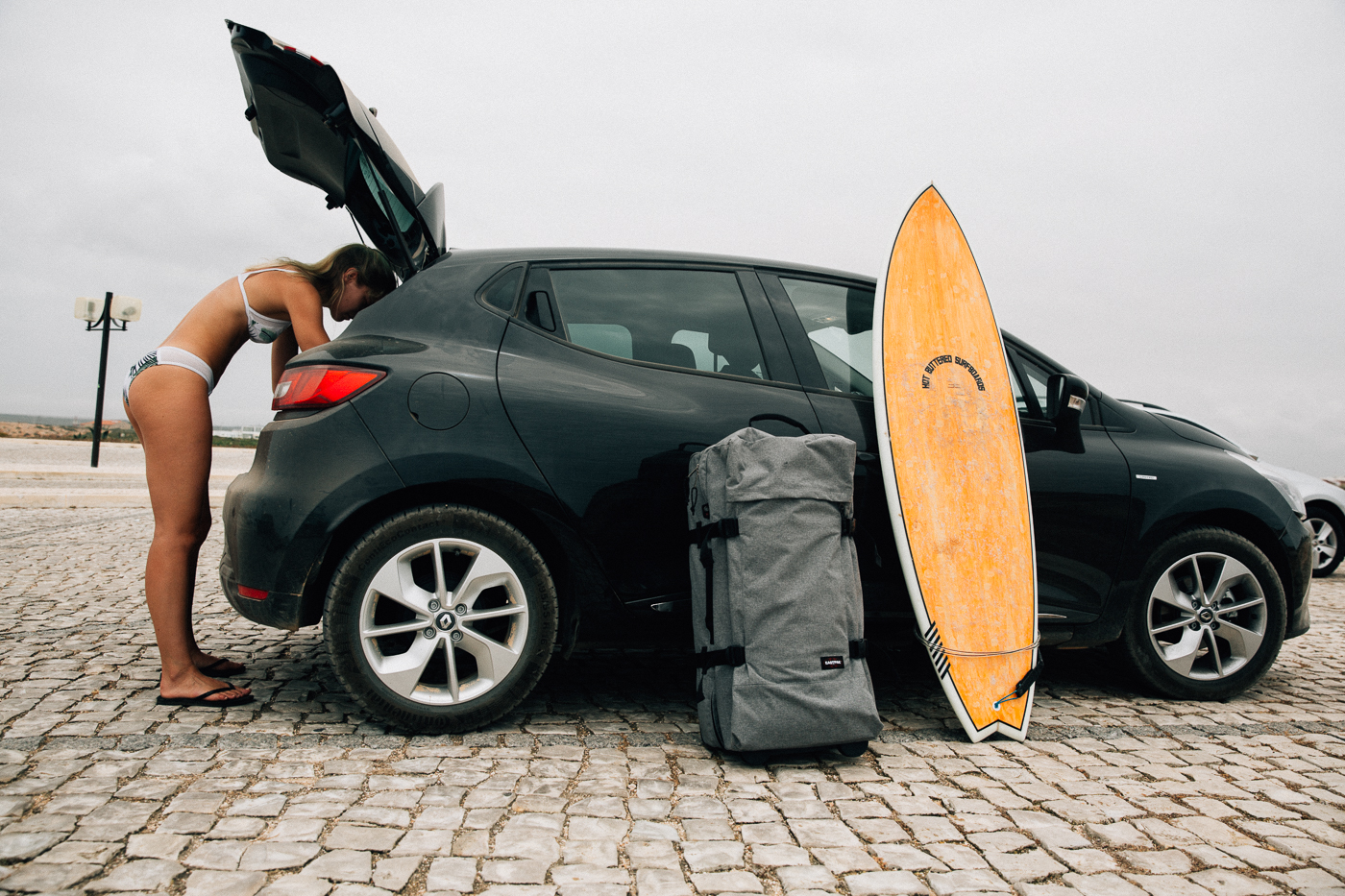 I'll be travelling with my Eastpak bags to other European destinations so follow my footsteps to see what I get up to on my other adventures. See you on the next one!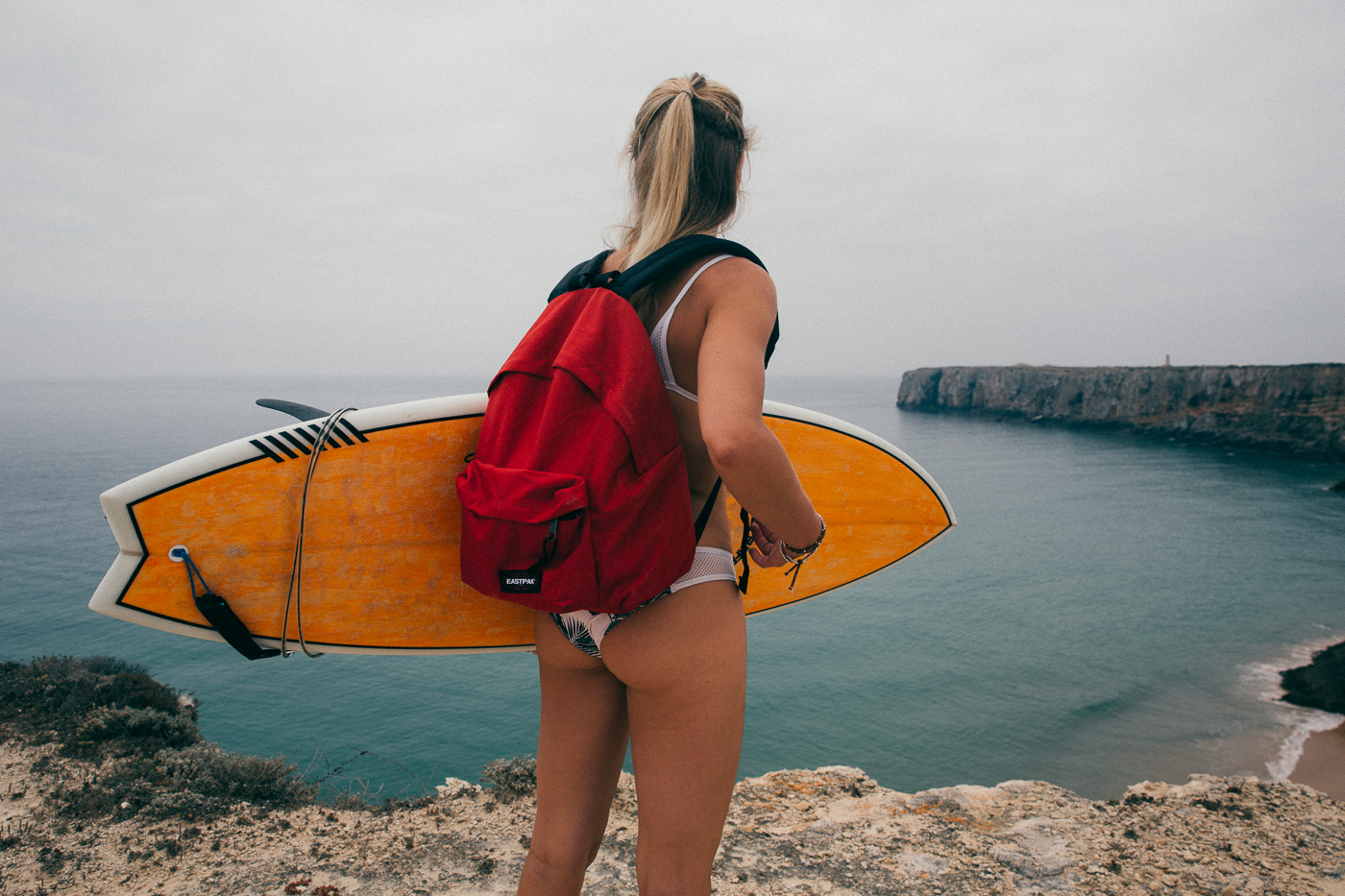 All images/video taken by @Davidwren_  http://www.davidwren.co/
#PakYourAdventure
---