Even those who don't really care for surfing will stop and watch a clip of a big wave rider. They'll keep their eyes on the neoprene speck hurtling across the rolling wave mountain. See if the surfer eludes the huge slabs of ocean tumbling after them. Not much else is more dramatic. These riders are always on the frontier, constantly scouring the earth for bigger, badder waves.
Gabe Davies is a big wave rider. Respected world-wide, he has taken on some of the planet's biggest, heaviest and coldest surf. Born and raised in North-East England, Gabe is a UK surf hero who also champions Irish surfing, most notably taking on enormous swells at Mullaghmore.
He kindly took the time to talk us through how he started, how he stays safe and fit and some of Ireland's world famous big surf spots.
Get inspired.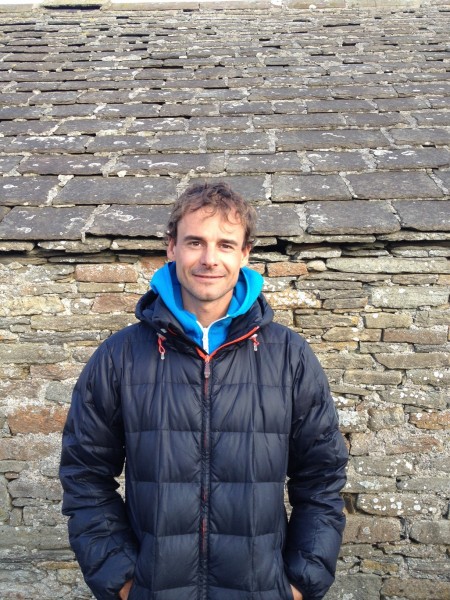 Where was the first wave you caught?
Longsands, Tynemouth, at age 11, was the first wave I ever caught and I managed to ride the 5'8 twin fin to the beach…hooked!
And the most recent one?
Yesterday, in snowy storm force conditions in the river Tyne!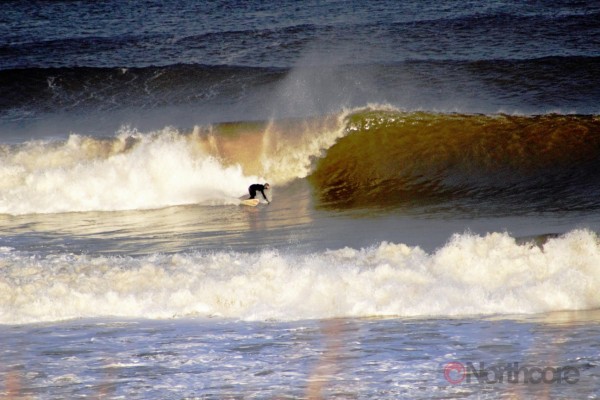 Did your ascent into big wave surfing come naturally as your skills progressed as a surfer? Is it simply a matter of going bigger as you get better and more experienced?
When I was younger and first got paid to travel, I chose Hawaii as the place to test myself each winter.  The North Shore is a place that is so inspiring and has so much heritage and no matter how confident you get out there, there is always another rung to climb.  In Europe I realised the potential is massive and pioneered many waves, but in reality some of these are only recently been getting the attention they deserve.  Things have really changed fast in the last few years and now the world tunes into every big European swell.

The stakes are high when you are dealing with the waves you ride. Do you use any safety equipment?
The best preperation is a really good buddy system, you don't want to charge around solo in heavy conditions. So if its tow surfing, then you need to trust your partner to come in and get you in whenever you fall.  I learnt the basics pioneering Mullaghmore with Richie Fitzgerald in Bundoran, now this spot is recognised as one of the best big wave spots in the world.  For surfing out there we use use high quality custom fitted Jet ski's that are equipped with safety sleds, tow ropes, flares, VHS radios.  The Jet Ski's are customised to withstand large waves incase they get hit or the driver loses control.  Northcore sponsors my Jet Ski here in Newcastle, alongside my tow partner Sandy Kerr, Northcore has been really supportive in getting us all the right gear for the job.  You then have your board to fine tune, wetsuits to keep you gong in the wild British winter, which I get from Quiksilver.  Then you can add heat vests and impact vests to that list….you need a big shopping trolley to get involved really! Oh and last but not least you need a cameraman and a few GoPros to capture all the action!

Have you had any nasty injuries or wipeouts you thought wouldn't end?
My worst injury was a burst ear drum in a wavepool in Dubai in the desert! Then loads of random heavy beatings.  I try not to fall on those really big waves, you can't afford to make any mistakes.

Is there any music you listen to pump yourself up?
I connect to sounds like Ben Howard, Eddie Vedder and Coldplay.  I don't really have to listen to thrash, dance  or punk metal.  Usually seeing the surf firing is more than enough to get me psyched!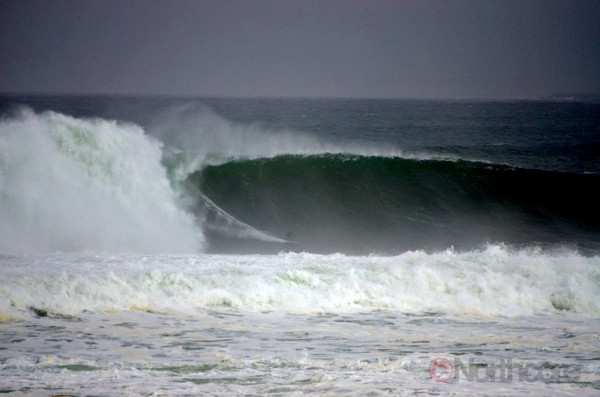 Do you have a fitness regime outside of the water?
I train a lot, even in the pool when the waves go flat.  I can blast out 75m underwater and hold my breath for a few minutes, I have a great swim trainer, James Welford who really pushes me in the pool.  I also do yoga and love the breathing exercises and stretching it involves.  In the summer I will also free dive and spear fish.
Any strict diet aside, after a magnificent surf session what would be your ideal post surf food and drink?
I don't drink alcohol or caffeine.  I try and keep organic veg in the mix as much as possible.  Saying that I devour hot chocolate and hippy teas! My favourite hot chocolate is by a brand called 'Apres' – it's a sports recovery hot chocolate drink!  After a surf my ideal feast would be any combination of pizza, curry, Mexican food…. or all of the above!
You've been very vocal and complimentary about the quality of Irish surfing. If you can capture it in a sentence, what makes it so good?
Ireland is blessed with some special waves and very special people, these make surfing over there a truly unique pleasure.

Most of the surf focus in Ireland seems to centre around the beasts that the Atlantic churns up around Sligo and Donegal. Are there spots round there suitable for beginners? Any other parts of the country you would recommend for a surf trip?
Yeah the whole coastline has little corners that suit everyone.  Even when the surf is 50ft at Mullaghmore the beach around the corner has 2 ft clean waves, which would suit a total beginner.  There is something for everyone over there.  Try signing up for surf lessons at Surfworld in Bundoran or at Lahinch surf school for starters but there are great breaks around Portrush, Cork, Strandhill and Easkey for you to explore.
Aside from taking on waves you've proved yourself to be a talented filmmaker any  interesting projects coming up?
We have loads of projects on the go, two major feature films in development with my company Lola Cove Films and some smaller short film projects, one of which recently showed on Channel 4 Shooting Gallery is called 'Beyond the Scars'.  The film we did for Northcore called 'Fathoms Left to Fall' is also still getting played at festivals around the world.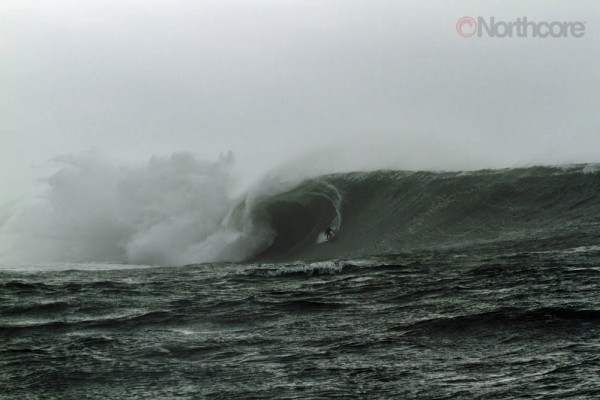 Let's give you a dilemma. You are given the opportunity make a world acclaimed, all-time classic piece of film, one loved by critics and audiences alike. But…the price to pay was that you could never surf again, would you do it?
Wow.. that is super mean, I didnt think Surfdome would be that harsh! Surely the film would have to involve surfing, so wouldn't I be able to get away with both of them at the same time!
Any shout outs?
Thanks for your time guys! I'll send shout outs to my sponsors Quiksilver, Northcore, GoPro and mostly to my wife Lauren and #cocothegangsta my epic dog!
For more updates you can follow me on twitter:
@gabedavies
@lolacovefilms