It's Thursday night in London. You're a chick. What do you do? Bars, pubs, gym classes and trying out the latest new burger joint perhaps? Perhaps. But these can all wait because Thursday nights have taken a kick turn into the world of skate. Venture beneath the tracks of Waterloo station for one glorified evening a month of skate, yoga and free cocktails. Tempted much? We thought so. Welcome to the House of Vans, Girls Skate Night and Yoga Session.
Don't get us wrong when we rocked up at HOV, we could just about push a Penny and a longboard. If it hadn't been girl's night, we would have run away crying – or just cracked on with a cocktail and burger – but we definitely wouldn't have attempted to skate. So, in the name of improving our skating skills, we decided to jump on a board and give it a go. People didn't look at us, point and laugh. In fact we made a friend pretty quickly who felt our beginner pain, gave us a few tips to get us started, and before long we were pumping the mini ramp.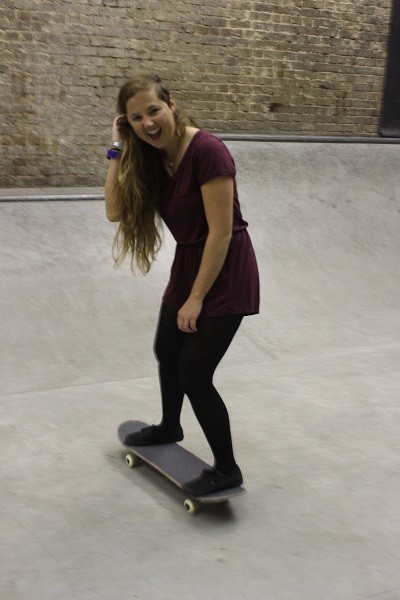 But what is it about a girl's only skate night that makes us more inclined to give it a go as females? We spoke to Alex, a regular to the Thursday night sessions from east London, after she jumped out of the bowl. At 25, she only started skating a year ago thanks to free Saturday morning lessons at House of Vans, and represents hope for women in their late twenties who are keen to get into skating. For fitness, the thrill of the ride or just to learn a new skill: it's never too late to get on board with the board. Girl power turned up to the max.
We asked Alex how she feels about a skate night dedicated to girls (and reckon she nailed it). "It's quite a guy dominated sport so you always feel a bit awkward if you go to an outdoor skate park. Now I feel more confident, and not too bothered about going to Victoria Park and doing my own thing. It's also a great atmosphere here in the tunnels with free drinks and yoga." Cheers Alex.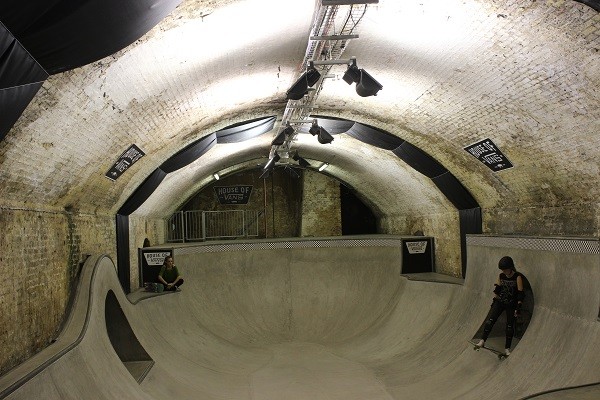 As Alex mentioned, it's not all about the skating. At 19:00pm the free yoga session kicks off. And anytime is a good time to grab your free cocktail at the bar right? Right. But in general there is just a great vibe through the night. Hungry? Grab a burger, nachos or sweet potato chips. One cocktail not enough? Sip on a Ginger Mule. Need to plug in your phone charger? There's sockets. Fancy watching a film? Chill in the cinema. Need to store your stuff? There's a locker for that. You get the idea. We tried to find something they haven't thought of but failed. There are even plants growing out of hi-tops and the lasting reminder to 'stay rad' as you emerge from this haven of cool under the tracks.
So, ladies listen up. Beginner skaters, seasoned shredders or zen seeking yogis alike: HOV has it covered one Thursday night per month and it won't cost a penny. Thank you HOV.
[su_carousel source="media: 29791,29792,29793,29794,29795,29796″ link="lightbox" title="no"]
---
More from Surfdome >