The Global Kiter Foundation is a non-profit foundation, established in 2011 by royal decree in Brussels, Belgium and its offices are based in Athens, Greece. This charitable organisation gives less-able people, youngsters and those from developing countries the opportunity to enjoy kite surfing and all it has to offer! Everyone has the right to participate in extreme sports; the only thing you need is a passion to live life to the fullest! We were lucky enough to speak with the GKF about their great work.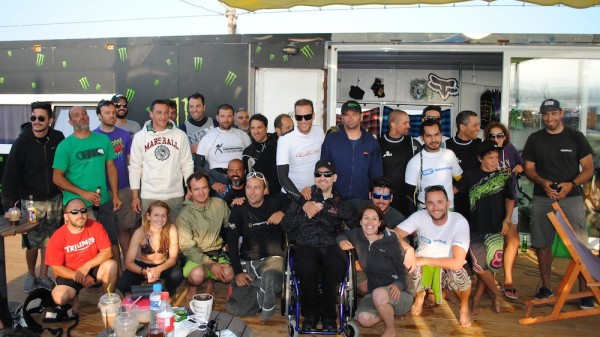 1. Global Kiter Foundation is a new organisation. Could you please tell us more about it?

Global Kiter Foundation was founded by my husband Charles and I in February 2011. It is a non-profit Foundation, based in Belgium. Our focus is on empowering people, helping them develop confidence and independence, and increasing the opportunity for social inclusion using our amazing sport. We believe in accountability, transparency and clean business ethics. The Foundation is the perfect legal entity to build these principles on.
2. What made you think of kitesurfing for charity and the environment?
Kitesurfing is an eco friendly sport. You only need the wind to ride in the water, on land or on snow. It is a sport that is in harmony with the environment. It only seems natural that we link the two together. It also occurred to us that an organisation didn't exist to give the opportunity to the kiting community to give back. Surfers have the Surfrider Foundation and SurfAid Foundation, Cyclists have the Armstrong Foundation, but there was nothing for kiters. This is an opportunity to give back as kiters, and do good at the same time.
3. How do you think sports such as kitesurfing can help people with physical disabilities?
It helps at two key levels; physical and mental:
-Physically as it gives an opportunity to exercise in the fresh air, making the most of being out in the elements with the wind and sunshine by the sea. It is an exciting sport; exercise is a natural and fun element of it.
-Mentally as it helps develop independence and confidence. The sport is full of skills that are easily developed in different stages. The result is achieving a freedom through a sport that many never imagined they could be part of. Another great benefit is the opportunity to break down social barriers. Volunteers are an important part of each event we carry out; it's wonderful to watch how well everyone gets on within a few seconds of meeting. The workshops and events create lots of new friendships.

4. In what way could people without previous experience in kitesurfing help with your cause?
People who don't know about kiting can help in many ways. They can volunteer whenever we organise lessons and learn how to help someone with a disability. Volunteers assist instructors by physically supporting anyone who needs it; this may just be holding the bar until they develop the muscle reflex to manage this themselves. There are lots of ways! They can also participate in the important beach clean-ups that are part of every event. Another great help is to spread the word about GKF; like our page on Facebook, share our posts, etc.- it all helps a lot.
5. How have GFK's actions helped the local Greek beaches? Nowadays, do you think that people are getting more sensitive about environmental issues?
I believe people are more sensitive about environmental issues, but they need to be engaged directly in order to take action. Unfortunately, our eyes have become accustomed to seeing garbage on the beach. Therefore, before cleaning the beach, we always get the same reaction: "the beach doesn't look so dirty" and "the municipality cleans it". But once we start and people actually bend down and start picking up cigarette buds, plastic bottles and caps, fishing lines and much more, their excitement grows and they realize that what they are doing is actually bringing results. Our action has helped educate people on 2 important fronts:
-Never leave your waste behind, and
-It is very easy to have a positive effect on your environment. Practice our motto: always leave the spot cleaner than you found it!
6. It is important to encourage everyone to participate in sporting activities. How do you persuade less able-bodied people to take part in such activities?
The best persuasion is for them to see what is actually possible. If we tell them they are going to learn how to kite, they don't believe it. When they see other people doing it, then they want to participate immediately. We have lots of guys coming to our events just to hang out- not just to kite. It also helps when they understand that this is all free- so many suffer from poor social security benefits, and don't have the spare resources to spend on a leisure activity.
7. People assume that you need to have a lot of physical strength and fitness to take part in watersports. Is this true for kitsurfing?
This is a very common myth! It is true if you want to take the sport to an extreme level, throwing high jumps and complicated moves. However, if you are practicing the sport at a normal level, for example enjoying cruising on the water, then no you don't need much physical strength. Actually girls tend to be less strong than men (physically) but they learn a lot faster!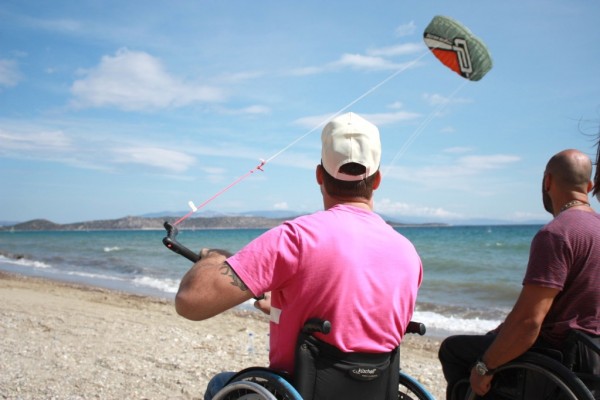 8. Can you give us some examples of how you coach people in their first few lessons?
The introductory courses are called 'Wind that Works' Workshops. We teach PWD how to fly small trainer kites (usually 2.5 meter), which means the kite doesn't have too much power while they learn their new skills. Once they master flying this type of kite, we then move on to larger 4-line kites with short lines, and we practice kite flying and all the safety systems on the beach.
9. In your mission, you state that Global Kiter offer training to youths in developing countries (Brazil, Morocco etc). How many youths in these countries have been impacted with this training and how did you do it? However, if it is still an on-going process, how do you intend to achieve this?
We are planning on starting this program in September/October 2012 in Mexico and Brazil. The youth in these countries don't have the possibility to receive professional training to become assistant instructors. We would like to open this door for them, so that in turn, they can become instructors and earn a living in their country. There are a lot of youngsters that know very well how to kite, but can't get jobs because they are not qualified and don't have any opportunity to change this. To achieve this, we will raise funds to send our instructor over, and organise as many training courses as possible.
10. What would you say is you biggest success story to date?
Seeing the smile on the faces of our participants is a great success. It never fails to humble me. Seeing them fly the kite, sharing jokes, helping each other out is simply amazing. Raising money for a cause is another one. We recently organised a race to raise funds for a fellow kiter who got injured last year and is now in a wheelchair. The Greek community got together and we raised 900 euros in 3 hours. It is great to see what strength people have when they rally around a common goal.
11. It must be a very rewarding job to do. What do you find is the best part of running the GFK?
I love every part of it! As we are a small team, we do it all, from organising the workshops to running them, teaching people, cleaning the beaches, and then doing all the communication around it. But I have to admit the best part of it all is when our participants come back for more. More than rewarding, it is humbling. I hope we can grow into a well-known Foundation and change people's lives for the better in many countries. I hope the Foundation is successful because I really can't think of anything else I'd rather do on a daily basis!
12. Where can we find you?
On our website, www.globalkiter.com, Facebook group: www.facebook.com/globalkiter, Twitter https://twitter.com/#!/global_kiter
By email: [email protected]
13. What events are you planning for this summer?
We are planning a few events this summer, starting with a 6-day workshop for people with physical disabilities (23-28th of June) in Marathonas, Greece. We are flying over Christophe Martin from France, who is the pioneer in developing a special seat that allows PWD to be able to ride in the water. Together, we will demo and teach PWD how to ride on a catakite, the first step before becoming an independent kiter. We are very pleased to also welcome Jenny, from Ireland, who started kiting a few months ago. We will coach her to start her first rides on the water too. We are also planning a huge Fundraising Endurance Race in Paros from the 5th to the 7th of August- riders from all over the world will take part in this very exciting challenge! We will be running workshops throughout the summer, including one exclusively for women with disabilities- supported by women volunteers. There are lots on, you can check out our Calendar of Events on the website.
14. Have you any plans for the future? Will you expand the scheme? Perhaps an international expansion is on the cards?
We are hoping to expand and bring our programs to as many countries as possible. We are in contact with people in Italy, Spain, Portugal, Belgium and the US, so we hope to start there very soon. We need to take it one step at a time though- we are restricted because of budgets at the moment. We are looking for sponsors who would be happy to help out, so if any come to mind, please pass on the details!
We would like to say a big thanks to Sandrine Werner for taking some time out of action to talk to us! You can find more information about GKF and upcoming events on their website www.globalkiter.com