---
There has been a pretty solid drive towards protecting all the things we need to enjoy the ocean of late, from going toe to toe with marine litter to making some spots a surfing reserve.
https://www.youtube.com/watch?v=auZUEbUgb_M
For most of us, although every surf we are pretty stoked and thankful, we kinda take it for granted that;
The water is clean and safe enough to go into
Its not going to be a toxic soup of marine plastic
Some 'Genius' millionaire hasn't built a marina in between our point break and the next swell
We can actually get access to the break

But you would…..right?
What other sport has these issues to contend with? Imagine your local footy team lacing up their boots, jogging onto the pitch to find it covered in raw sewage, or a construction worker stopping them and asking where their hard hat and high vis vest was! It wouldn't happen.


The worlds heaviest hitters in Surfing and Sustainability are getting together on October the 12th for the Global Wave conference. It's hosted in the UK and ends with this super power of Surfing's 'Greenest' taking their plans to the British government in London.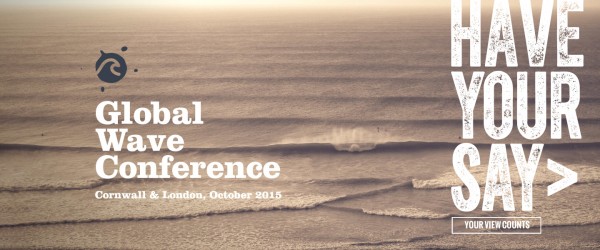 We want to have our say and see how we can help, so we are fully supporting the event.
We want to represent you, and for you to have your say too, we want to find out which of Surfing's sustainability issues are most important to you and why. So simply let us know your top concern and a few words about why you feel so passionately about it.
We'll pick the top 5 comments and bring these up at the conference and of course find out what the top issue is for us all: CLICK HERE
We are working on ways we can support the causes that matter to us all, looking after the places that put a smile on our dial. All the while limiting our impact on the environment and your impact by grabbing your gear from us.

Surfers – Tom Curren, Gregg Long, Brad Gerlach, Ramon Navarro
Surfing Environmental groups – Wildcoast, Surfers Against Sewage, Sustainable Surf, Save the Waves Coalition, Surfrider foundation, Centre for surf research
Environmental groups – World Animal Protection, Parley for the Oceans, Wildcoast, Ecocoast, The Ocean Foundation, National Trust, Sustainable Coastlines, The Environment Agency
Businesses Surf and non surf –  Magic Seaweed, Bureo Inc, Interface carpets, Volcom, Otter Surfboards, Firewire Surfboards, Surf Industry Manufacturers Association, Finisterre and of course us!
Academics – University of Waikato, Exeter University, European Centre for Environment and Human Health, Stanford University, Zoological Society of London, Plymouth University



We'll let you know how it all went down after the event and also let you know the results of our survey.
In the mean time, get involved – support your local sustainability groups, don't walk past that piece of marine litter, pick it up and be a voice! Get vocal about the issues that concern you.
We all make a difference to our world – it's our decision how much!
---
Don't forget to have your say, take the survey below.