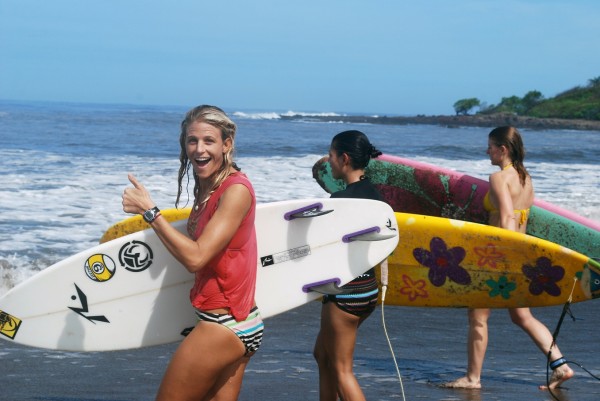 Cali girl Holly Beck has lived a life most of us can only ever dream of. Through her career as a pro surfer she has travelled to near enough every corner of the world on the hunt for waves. Now, with the inspiration she's taken from her many cultural experiences, Holly has put the days of competing behind her and settled down in Central America's Nicaragua.
As well as running Surf With Amigas (a surf and yoga retreat for women), Holly and her husband Kim make a living building Hip-E Habitats in some of Nicaragua's most beautiful locations. These self sustainable eco-lodges are charmingly unique and have got surfers all over the world booking flights straight to some of Central America's most remote surf spots.
We were lucky enough to catch up with Holly to talk pro surfing, barefoot living and her new home in Nicaragua.
Let's start with the surfing, how did you first get into it?
Unfortunately, I wasn't one of those kids who grew up at the beach. My parents didn't surf and weren't beach people, so I didn't really discover the beach until I started going with friends when I was 12 or 13. I used to spend hours on a boogie board in the shorebreak and remember seeing surfers riding waves standing up and thinking that looked like a lot more fun!
I told my mom that I wanted to learn to surf and she said "No way! Surfing is for boys. You should be sitting on the beach looking cute in a bikini, not out competing with the boys." It wasn't until I was 15 years old that I had saved up enough babysitting money to buy a used surfboard and wetsuit. From that point on I was hooked!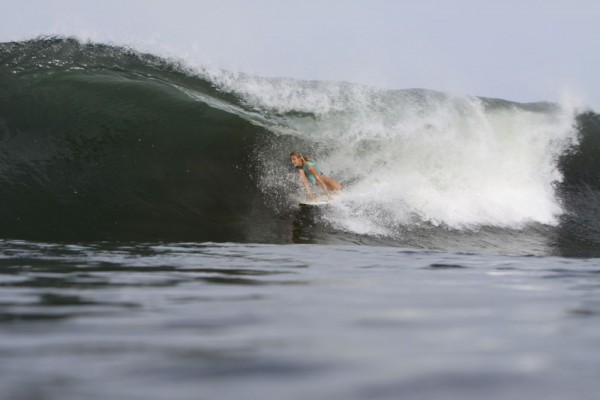 What's your favourite and least favourite memory from travelling the world as a pro surfer and model?
In the beginning I absolutely loved to travel. To set off to an unknown location on the other side of the planet with new people and just embrace it all and live in the moment was a dream come true for me. I got to go to some amazing places and met some incredible people. One of my favourite memories was travelling to Gabon in West Africa and surfing with some local kids that were riding pieces of wood. We switched boards at one point and I couldn't believe how hard it was to ride, while the kid was ripping on my board. We ended up trading for good. I left my board there and brought his home.
My least favourite memory was an 18 hour flight from South Africa to the US where I had horrible food poisoning after eating a big seafood plate on the beach in JBay the night before. I had never been so grateful that the airplane bathroom was small enough to sit on the toilet while leaning over the sink at the same time. I was so sick I was miserable, and I was travelling by myself so after I got off the flight, completely wrecked, I had to collect my huge board bag and drag it through customs. I thought I was going to die, but somehow I made it!
Where's your favourite place to surf?
I really love Macaronis in the Mentawais. That wave is so perfect with a good tube and a completely smashable lip. But it's so far away and so expensive to get to.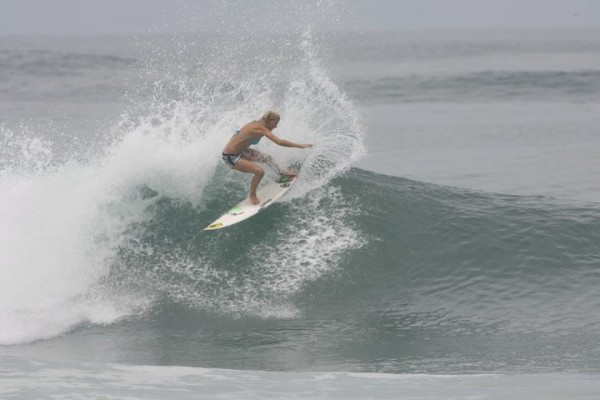 You've been lucky enough to travel to some amazing places, is there anywhere in the world you'd love to visit but haven't managed to yet?
I still haven't had a chance to visit Chile or Northern Peru. I'm really interested in those long lefts!
So what was it that made you decide to give up that lifestyle and settle down?
After 10 years of pretty much non-stop travel, I started to get tired of airplanes, airports, jet-lag, not being able to choose who I was spending time with, etc. I wanted to have dogs and a garden and a more relaxed, simple life.
Out of all the places you've visited, what was it about Nicaragua that made you want to call it home?
I first visited Nicaragua in 2006, but didn't fall in love with the country till the following year. It really has everything that I was looking for. It's relatively close to home (only 6 hour flight from CA), it's affordable, I speak the language, and there are a ton of really good warm water waves. There has also been relatively little development compared to other places in Central America so there was still a lot of opportunity as well.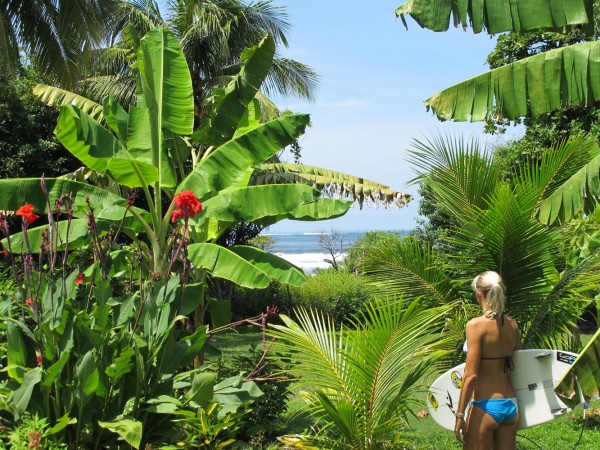 A lot of people associate Central America with instability and crime, is that the case for Nicaragua?
I feel very safe here. Nicaragua is statistically the safest country in Central America. You don't see guns everywhere like you do in El Salvador, and tourism is still relatively new so there aren't tons of thieves preying on tourists like there are in Costa Rica. Of course just like anywhere, there are parts of the capital city that you'd be best to avoid, but where we live out on the beach, the people are super friendly. If there is any crime at all, it's all petty stuff.
So now you're all about leading a self-sufficient life and giving back to others, part of that comes in the form of surf retreats. Tell us about these, what kind of things do you offer?
Of course in moving to Nicaragua and giving up pro surfing, I needed to find a way to make a living. I founded Surf With Amigas women's surf and yoga retreats because I love hanging out with adventurous women and inspiring them to reach their goals. We run week-long all-inclusive retreats for ladies who have never surfed before, and also ladies who already surf but want to be coached to improve.
The schedule is based around getting the best waves, but there are also daily yoga and a ton of other adventures like horseback riding on the beach, volcano boarding, and volunteering in the community. Our primary location is Northern Nicaragua but we also do a few retreats per year in Costa Rica and El Salvador.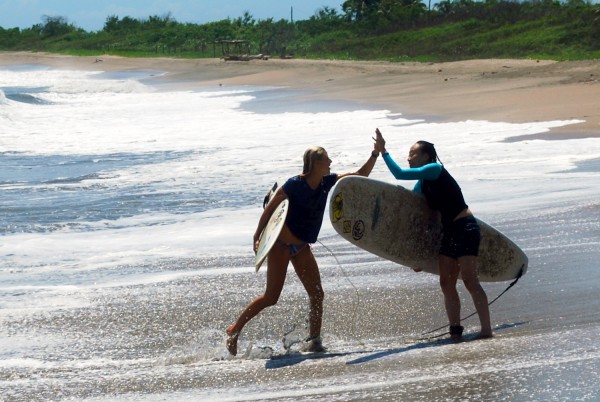 We adore the Hip-E Habitats created by you and your partner. What's been the most rewarding project so far?
Each project teaches us something. We started small with a 400 sq ft. thatch roof cabana that we've been living in for the past three years, but our newest project is a big 2.5 bedroom house with a large workshop area. It's fun to design elements like grey water systems, aquaponic garden, and keeping in mind where the rain comes from, where the bright hot sun shines, etc. It's great that the permit requirements in Nicaragua are really relaxed. You can basically build anything you want as long as you can dream it up, find the materials, and teach someone how to build it. I'm really looking forward to our new house being completed so I can start on digging the garden!
Are there any other countries you've been to that have good potential for surf eco-tourism?
Of course there are a ton of places out there for good surf and eco-tourism. One of my favourites is Ecuador. It has a small window for good surf  (only about 4 months) which is why I didn't choose to live there, but everything else about it is awesome. Tons of good, uncrowded surf and a lot of permaculture farms and eco-hotels.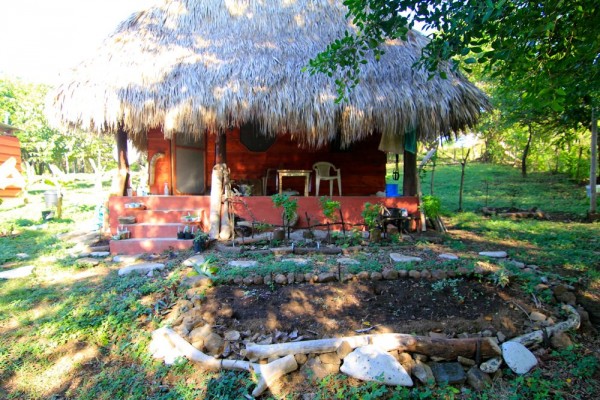 Finally, a huge congratulations on the pregnancy! Reckon you've got a budding little surfer on the way?
Yeah, thanks! We are really excited about it. I'm due in September and am hoping to surf all the way up until the baby comes. We'll see how it goes. I'm not going to force our kid to surf, but I think he or she will be naturally drawn to the ocean particularly since he/she will be raised barefoot on the beach with great warm water waves right out front!
---
With a massive thank you to Holly Beck. Stay up to date with Holly and her adventures at:
hollybeckadventures.com
surfwithamigas.com
hipehabitat.com