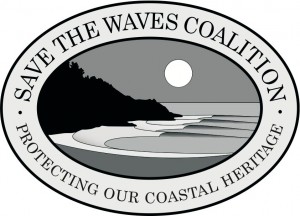 In September this year, the world's foremost figures in the surf environmental movement descended on a small Cornish beach. Why? In order to drive the agenda for protecting our surfing environment. Amongst heavy-hitting presentations, meetings, and collaborations formed over coffee, an elite squad decided on the eighth World Surfing Reserve.
The World Surfing Reserve program is run by Save the Waves Coalition – an NGO that is dedicated to protect surfers' favourite places. They use Surfonomics – a system that establishes the true value of a surf break. This, along with local planning laws and pressure group tactics, go a long way in protecting waves under threat from development.

So,  how did they decide on the next World Surfing Reserve? Check out the behind the scenes video here, where all is revealed:
---
We caught up with Nik Strong-Cvetich, the Executive Director of Save the Waves Coalition.
STWC carry out some awesome work. It must be amazing being a part of protecting these ultra-special spots on our planet?
It is an honor, and a responsibility. I think the best part is when it has value for locals and they get involved in protecting their own places.
In the last few decades, us humans seem to have gone a bit 'trigger happy' with developing our coastlines. It must feel a little overwhelming? How do you keep focused and decide on which projects to get behind?
 It can get a bit daunting as we are a small team and there are so many things happening around the world. We have to be quite strategic and we have to, unfortunately, let things fall by the wayside from time to time.
We are working on expanding our impact through mobile technology in the next year, where we hope to enlist surfers to crowd-source coastal threats using smartphones. There's plenty more to come…
Some say that the hardest-fought battles are the sweetest to win. Does this ring true with you and the battles you've had?
I think that the sweetest wins are those that are long-lasting – sometimes these are hard-fought, and sometimes these are serendipitous.
Creating World Surfing Reserves – areas that will be protected long beyond our years – must have a bearing of responsibility but also massive levels of reward. Where did your passion for protecting waves come from?
For me, what's rewarding is seeing communities stand up and take pride in what they have. This is so rare in the conservation world, which a lot of the time is about telling someone not to do something.
A lot of the time, WSR's protection has wide buy-in because people feel truly proud of the place where they live and surf and are willing to take steps to protect it. I guess my passion for this comes from years of being on unique coastlines and seeing people turn their backs on these cool places.
It's obvious that you personally and STWC care not only for the spots themselves, but also the local community. How important is it to engage with local surfers and their families?
It is everything. Without locals being stoked on their place, we have nothing. All conservation is local.
For both the local surfer and travelling surfer visiting a Surfing Reserve, what does a reserve mean to them?
It depends on the place. I think for the local surfer it is a badge of pride to be in a WSR and carries a responsibility. For a travelling surfer, it is an experience to be in these cool places and know that so many people care about them. It's sort of like visiting one of the 7 wonders of the world.
For the surfer on the other side of the planet who may never surf a Reserve, can you explain the importance of these far-flung reserves?
To know that there are places that are protected because of the things that make your spot so cool to you should inspire action and pride. Just because your place isn't a WSR doesn't mean that it isn't worth protecting. And who is going to protect it if not you?
Where next? How many more reserves can we expect? 
Currently we are taking on one WSR per year and we hope to grow that to take on new places. Spots like J-bay in South Africa, Guarda do Embau in Brazil and Pavones in Costa Rica are all really interested in this designation, and all merit the honor.
Should every surf spot have a degree of protection?
Yes, surf spots should have protection. Some of them could be WSRs and some could be through more traditional marine protected areas. It really depends on the local political structure and locals taking action.
No doubt you have surfed each of the eight Surfing Reserves? Which is your favourite?
This is a difficult question. I would say that they are all different and all unique. I love Ericeira – the waves are super good year round, the food is amazing and the level of surfing is high. I love Bahia de Todos too – the waves at San Miguel, Todos and Tres Emes are all fun and get good, the local community is super dialled on marine issues and there is an up-and-coming feel to the place. The wine is also amazing.
But then Huanchaco is also awesome – the ancient tradition of the caballitos de totora (traditional reed boats) are something that is part of the everyday culture. Plus, the waves are super consistent. I actually haven't been to them all yet…I still have to go to Manly! It was dedicated before I came on board and I'll be getting there in March 2016. 
---
And where are the other seven reserves?
Malibu, California
Ericeira, Portugal
Manly Beach, Australia
Santa Cruz, California
Huacho, Peru
Bahia Todos Santos, Mexico
Punta De Lobos, Chile
---