The smallest, lightest GoPro yet.
In the beginning there was nothing and from this came the holy grail of action cameras – the beloved GoPro. For as long as GoPro cameras have been in our lives, they have existed in their ever recognisable rectangular shape. However times are changing.. although the camera is undoubtedly great at what it does, its shape can prove awkward to mount where you want it. Well, don't worry the new GoPro Hero4 Session comes to you in the form of a cube, making it half as wide as its predecessor. Dropping on Sunday 12th July you can grab one direct from ourselves during the week! But be warned, they're going to go fast!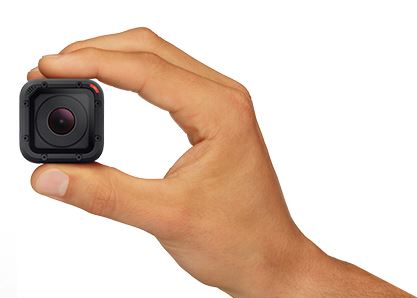 Wait, it can't really be that small!
No, really.. It is! Let's put this in to perspective for you. The Session is not only 50% smaller than its predecessor but also 40% lighter than the GoPro Hero4! If the image above doesn't give you an idea of it's size here's something to keep in mind – it's width is less than 1.5 inches. That's right LESS than the width of your bank card!
Can it still be mounted?
You bet it can! The Hero4 Session comes with specially designed mounts and accessories that help you make the most of its super small size. Better yet, they work seamlessly with other GoPro gear meaning you can instantly integrate it in to your set up.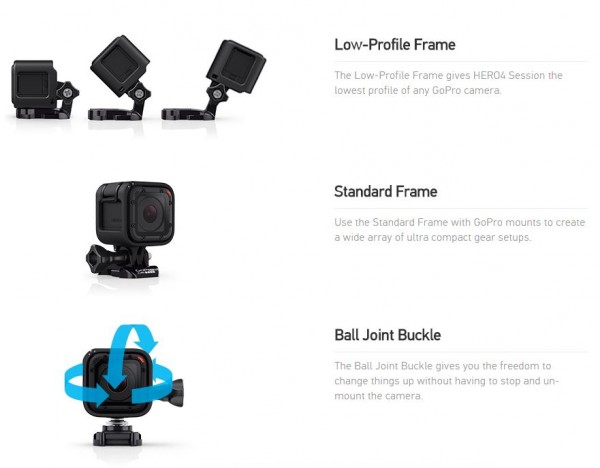 So where's the waterproof casing you ask?
Well, it's no longer needed. The GoPro Hero4 Session comes fully waterproofed up to 10 meters so you wont have to spend time faffing around with bulky housing.
But how will it be protected?
The Session's lens sits behind a clear shield which protects it from whatever chaos you may throw at it (in moderation). But that's not the only vulnerable aspect, let's not forget the ports for charging and swapping out memory cards, they've both been treated to pressure-sealing to keep everything solidly dry inside. The microphone has been designed to drain water in the same way a human ear does, so you can rest assured that switching from the water to the beach won't result in muffled sound.
But surely no housing means windy audio?
Nope! The Session comes with two microphones – one on the front of the camera and one to the rear. This way when you're filming in windy conditions the 'Dual Mic System' automatically decides which mic is best suited for capturing the optimal audio. What does this mean for you? Well less windy audio and crisper sound quality of course! What'll GoPro think of next?
What!? No swappable batteries?
If you're wondering how much juice you can expect from the Session, it comfortably holds enough power to shoot about two hours of HD video. To help conserve that ever vital battery life, the camera doesn't use power when not in use. But with the battery being sealed you're going to need to charge on the go, but don't panic just yet, the battery has a 90 minute charge time – giving you a chance to grab some food, drink or just keep on going!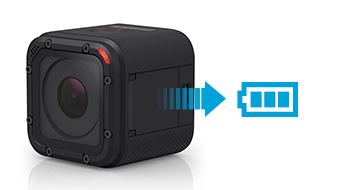 | | | | |
| --- | --- | --- | --- |
| | With Wi-Fi Off | With Wi-Fi On + Using Wi-Fi Remote | With Wi-Fi On + Using GoPro App |
| Video Mode | Estimated Time | Estimated Time | Estimated Time |
| 1440p @ 30 fps | 1:55 | 1:45 | 1:35 |
| 1080p @ 60 fps | 1:45 | 1:35 | 1:30 |
| 1080p @ 48 fps | 1:50 | 1:40 | 1:30 |
| 1080p @ 30 fps | 2:05 | 2:00 | 1:45 |
| 720p @ 100 fps | 1:50 | 1:45 | 1:35 |
Erm, what if I mount it the wrong way round?
Aha! Thanks to GoPro's 'Auto Image Rotation' you'll never have to worry about that! The camera detects that it's hanging out the wrong way and automatically flips the video capture 180° so that everything is back the way you intended it!
O.K. But what about the resolution and frame rate?
Rest assured that when your GoPro Hero4 Session is fully charged, it'll be capturing footage that will not only have you salivating, but will make you want to give it a watch almost instantly (we say almost, because if the waves are pumping.. we're not leaving). But chatter aside, here's the resolution and frame rates you can expect from your new-found adventure buddy:
Video Resolution
 fps
Field of View
(FOV)
Screen Resolution
1440p
30, 25
Ultra Wide
1920 x 1440
1080p
60, 50, 30, 25
Ultra Wide, Medium
1920 x 1080
1080p SuperView
48, 30, 25
Ultra Wide
1920 x 1080
960p
60, 50, 30, 25
Ultra Wide
1280 x 960
720p
100, 60, 50, 30, 25
Ultra Wide, Medium
1280 x 720
720p SuperView
60, 50, 30, 25
Ultra Wide
1280 x 720
WVGA
120, 100
Ultra Wide
848 x 480
Can I still take photos?
Yes! With 8MP photos and the availability of time lapse photos (0.5 – 60sec intervals) you'll be able to keep shooting as you would have with your previous GoPro. The photo fun doesn't end there either, with integrated burst photo capabilities at 10 frames per second you can rest assured that you'll be able to capture all the action how you see fit.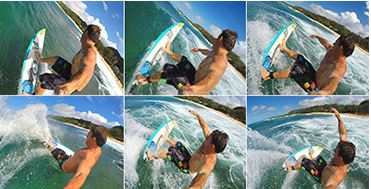 With only one button, how do I change my settings?
The new GoPro Hero4 Session is smaller and as such has had it's buttons reduced so as not to take up unnecessary space. But the question on everyone's lips seems to be about how they can quickly change settings. Well thanks to the GoPro App (available for free on iPhone & Android) you can easily alter your settings from the comfort of your phone. But if it's the video you want to get your hands on, the app also allows you to view, edit, delete and transfer both video and photos – not only helping you see your footage but also allowing you to make space on your memory card. The GoPro Smart Remote (sold separately) also lets you swap up your settings on the go, but you won't be able to access your footage.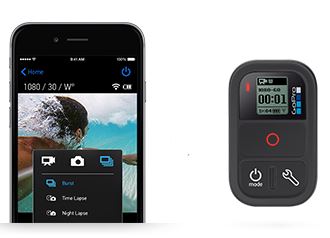 Are all my favourite features still included?
You bet they are! Thanks to the tech guru's at GoPro the Session despite it's compact construction still comes loaded with all the features you've come to rely on. 'Protune' cleverly unlocks the camera's maximum potential by delivering minimally compressed, cinema-quality video making it the perfect choice for professional productions. 'Auto Low Light' is another nifty feature from GoPro ensuring frame rates are intelligently changed depending on lighting conditions – guaranteeing you optimal performance when switching between bright and dark environments.
So what you're essentially saying is…
That GoPro have only ruddy gone and done it again! This time the addition is smaller and more compact but is still bursting with all the features you'll need to capture your next adventure. Whether you want to show your mates that triple cork you nailed in Tignes, that steezy 12-set frontside kickflip that Andrew Reynolds would be jealous of, or the sweet barrel you nailed from your time at Teahupoo – the new GoPro Hero4 Session has you covered.
Go on take a peek…

 
---