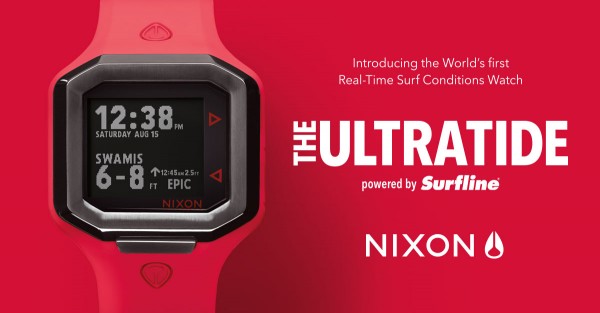 That's it folks, we'll never look at a surf watch in the same light again! Our friends at Nixon have given us a sweet little UK online exclusive, that came in the way of the Nixon Ultratide. Available in a range of colours – you won't find the Red/Gunmetal or Black anywhere else just yet!
Welcome to the Ultratide – single handedly changing the face of how surf report information is delivered and setting the bar at an all-time high. Nixon has brought us the Ultratide, the seemingly beautiful hybrid offspring of both tide reports and a beast of  watch.
It's taken two years to develop, but bringing such a revolutionary product to the market requires dedication and extensive research. Combining efforts with Surfline enabled them to tap in to the raw power of their leading global surf conditions network and deliver real-time data direct to your watch. That's right – tide, time, wave height, swell direction, wind direction/speed, water and air temperatures are all now readily available and all you have to do is glance at your wrist.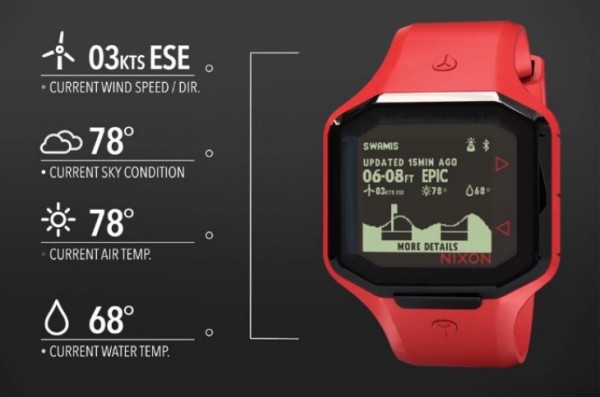 Forget what you think you know about tide watches, The Ultratide is like nothing you've seen before: it's the smartest and strongest surf watch on the market.
For decades tide watches could only use predicted information, now we have the ability to see 10X more detail than any other watch. Surfers globally have been referencing Surfline's data for 30 years via phone, fax, computer and mobile devices, we at Nixon are proud to be the partner to bring it to your wrist.
– Nixon Co-Founder Chad DiNenna
Using advanced technology to take surf watches to an entirely new level, Nixon and Surfline's goal in creating the Ultratide was not to change the way people surf, but rather give surfers more information and to deliver it in real time so you'll never not know.
The Ultratide will make sure you never miss an epic session again.
Unlike most other smart watches available on the market these days, the ultratide has no cords required to sync or charge. Syncing with your phone via Bluetooth ensures you possess the most accurate and up-to-date surf reports at all times.
But let's just highlight that again, we're not talking predicted swell and wave height here.. we're talking REAL-TIME data. So the second it's all kicking off at your local break, you'll know. All that's left for you to do is round up the troops or pelt it there solo.

MORE INFO:
Powered By Surfline: The global leader in surf forecasting for over 30 years.
The world's first surf forecast watch on your wrist.
10X More Locations: The Ultratide features more locations than any other watch with real-time access to Surfline's global network of over 2,700 locations and growing.
One And Done: Use one touch setup to sync the watch to your phone. Easy companion app makes things simple and seamless.
Custom Surf Alerts: Create custom surf alerts for your favorite spots, and your Ultratide will alert you when the surf is good (or just how you like it) at your selected spots. Never miss an epic session.
10X Data Points And Real-Time Reporting: Traditional tide watches have 1 point of data. The Ultratide gives you 10 data points updated in real-time via Surfline's feed.
Share Your Session: Find, follow, share. Tell your 1,000 (or more if you've got 'em) closest friends about your sessions with the Ultratide app.
No Charging Required: Throw away those pesky cables, the coin cell battery requires no charging so you're ready for every session whether you planned on it or not. Ditch the gadget cord. The Ultratide is battery operated, it's as simple as that.
Ultra Comfort: The silicone band is extra soft and flexible. Whale belly pattern on the back side of the band helps channel the water off your wrist.
High Resolution Display: Super crisp digital display. Choose between a detailed or simple home screen view, and change the font between black and white.
Strong: The solid stainless steel case and bezel means your Ultratide is rugged, tough and can withstand whatever Mother Nature throws at it.
Patented Locking Looper: In a 400 year old industry Nixon was the first watchmaker to patent a locking looper to make sure your watch stays on your wrist and not at the bottom of the ocean.
Auto-Geolocate: The Ultratide automatically locates the nearest surf spot to your current location.
We've been super stoked to get our hands on the Ultratide watch and have been eagerly waiting to find out what's kicking off at our favourite spots. So what are you waiting for? Don't miss out on a day of epic swell, get one of these bad boys on your wrist!
---