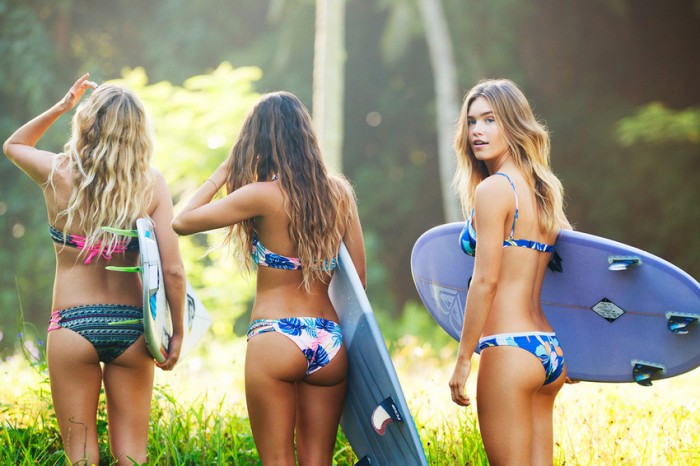 Holidays: for many of us it's the precious time in the year when we can set up our 'Out of Office' emails, switch off our phones and recharge. But, who wants to spend seven days just lounging by the pool? Don't get us wrong, we're all up for some R&R, (although in our view that would stand for 'ride and re-energise') but seven whole days of staying horizontal? Give us surfing, yoga, horse riding, stand up paddleboarding and exploration any day over beach towels and sun beds. All-inclusive? We'll take all-adventure thanks.
And that's where Fitcations step in – a certain type of holiday that's on the rise combining fitness with relaxation. A trip where you can wake up for a surf and spend your afternoons practicing yoga. Think surf camps, yoga retreats, healthy eating and mini adventures alongside evenings in bell tents and days soaking up the local culture. Bliss, right?
And the best part? There are so many great options out there with all the adventure organised for you – and all only a short drive or flight away! That's where our top 5 short haul fitcations come in handy! From the shores of Portugal to the waves of Morocco, we've found our favourite fitcations that you can reach from London in 3 hours or less. Alternatively, you can also check out our top 6 long haul fitcations if you're craving something more tropical. It's time to swap that sunbed for a surfboard and re-energise in style…
Mad To Live Retreats – Portugal
---
Surf Sistas – Cornwall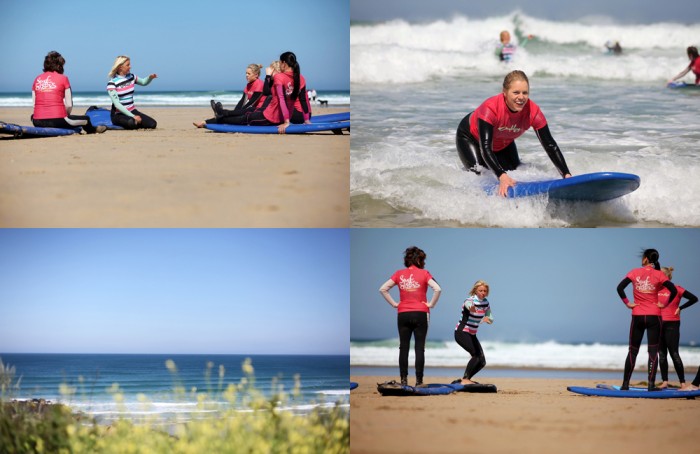 We know this is chicas-only but what better way to take a mini fitcation than by grabbing your favourite girls and heading down to the Cornish coast? Surf Sistas features epic wave-chasing, rad, like-minded girls and the opportunity to learn to stand up on a board before the weekend's out. Yes, perfect for beginner and intermediate surfers, Surf Sistas offer weekend trips so that you can practice your pop-ups straight after popping out of work – you can even get there from London on the Surf Sistas surf bus!
There's also so much more than surfing – there's stand up paddle boarding, yoga, spa sessions and even a Surf Sistas goody bag! Bed down near Fistral beach before getting up to check out the Cornish waves. Plus, if you're after something a bit wilder, then check out their Beach & Wild retreat weekends (as part of All the Good Things Retreats – their collaboration with yogi Hayley Johns) running in October. Think surfing, sea kayaking, wild swimming, wine tasting, cedar wood saunas and hot tubs down in Penbryn, West Wales and Mawgan Porth, Cornwall. Um, sign us up!
If this sounds perfect but you're craving something further afield then never fear as Surf Sistas also offer a Surf & Yoga retreat in France as well as camps on the beaches of Bali and Costa Rica… perfect for living la Pura Vida!
Surf Sistas offer weekends away to Cornwall from £299 (£230 without transport)
---
Star Surf Camps – France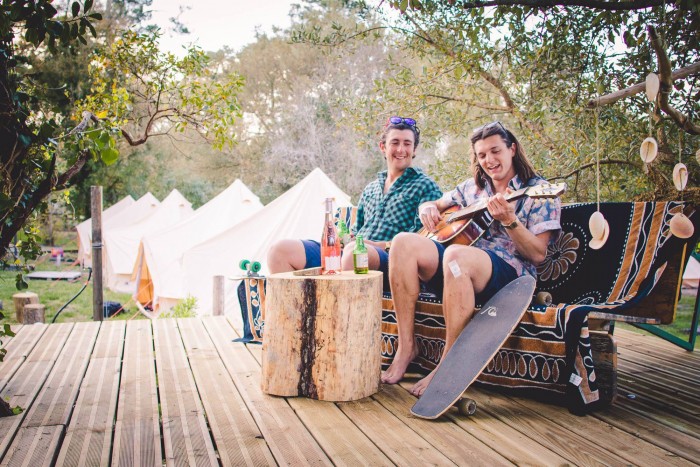 If surfing is what you're after then you can't go wrong with Star Surf Camps. Renowned for their passionate staff and surf instructors, they offer surfing holidays and surf coaches perfectly suited to you and your ability. Yet, there's also stand up paddle camps, yoga camps, skateboarding ramps, outdoor cinemas and live music nights (and breathe). Check in and check out from the routine to immerse yourself in the surfing way of life. Turn up on your own or with your mates for a surf holiday that'll give you plenty of time to re-energise and find your stoke.
Set up by three best friends, Star Surf Camps have camps in Moilets and Carcans in France, Santander in Spain, Fuerteventura and Bali. We're absolutely loving their French camps: Moilets and Cancun, both in the southwest of France. In Moilets, you can head into the waves before coming back and chilling in a hammock, watching a film in the three-tier outdoor cinema area, enjoy a session on the skate ramp or have a game of table tennis. There's also tarp surfing if the thought of being out of the water for too long gives you the shakes. And, the ultimate cherry on top? You get to stay in bell tents!
Cancun offers surf lessons, beach and sunset yoga sessions, skate and longboarding hire, a 'hammock hotel', live music and mountain biking…all while staying in tipi tents. We don't know about you, but that sounds like our idea of the perfect break… or just the perfect place to live forever…
Prices start from 349 Euros pp including food, accommodation, yoga and surf lessons. For more information visit Star Surf Camps.
Mad to Live Retreats – Portugal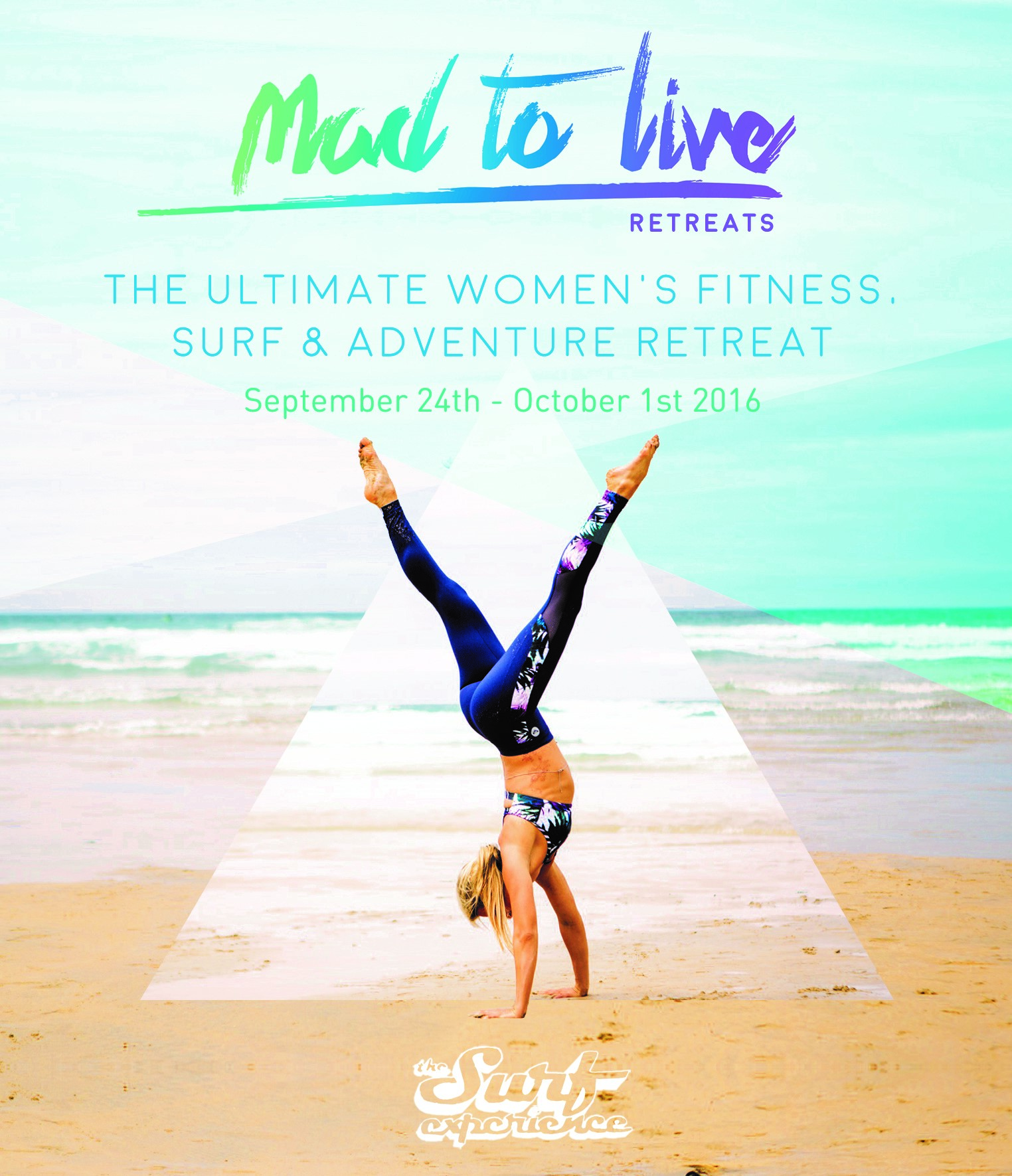 Known as the 'ultimate women's fitness, surf and adventure retreat', Mad to Live Retreats is the perfect solution if you've always wanted to learn to surf, progress, horse ride, get involved in beach workouts and yoga sessions and generally have an adventure of a lifetime with a group of like-minded individuals. Looks like we'll be signing up then!
This jam-packed, week-long retreat will be hosted by fitness instructor, Roxy ambassador, free-surfer and all-round adventurer and water babe Sophie Everard in collaboration with the Surf Experience (the original surf and lifestyle company based in the heart of Lagos, Portugal). Based right in the heart of Europe's thriving summer surf scene, you'll have every opportunity to soak up the electric atmosphere and culture as well as have days to kick back and relax on the beautiful beaches that Portugal is famous for.
Mad to Live Retreats sees a focus on physical and mental wellbeing, learning new skills and immersing yourself in nothing but stoke. With 7 days of surfing with expert tuition, sunset beach yoga sessions, horseback riding, one-on-one fitness training and sunrise trail running through the stunning Roman and Moor-settled Algarvian landscape, it's pretty much guaranteed that you'll walk away having had an experience of a lifetime.
And, if all that wasn't enough to get your sense of adventure and wanderlust flowing, how about the news that there will be an on-site chef preparing locally-sourced nutritious meals at your luxurious boutique townhouse accommodation? Plus, free gifts from Plenish Cleanse, Roxy, Pukka and more. Ladies, there's no simpler way of putting it: you'd just be mad to miss this Mad to Live Retreat. Get signing up now!
Price £800. Mad To Live Retreats runs from September 24th – October 1st 2016. Transport to and from Faro airport included free of charge.
---
Karma Surf Retreat – Portugal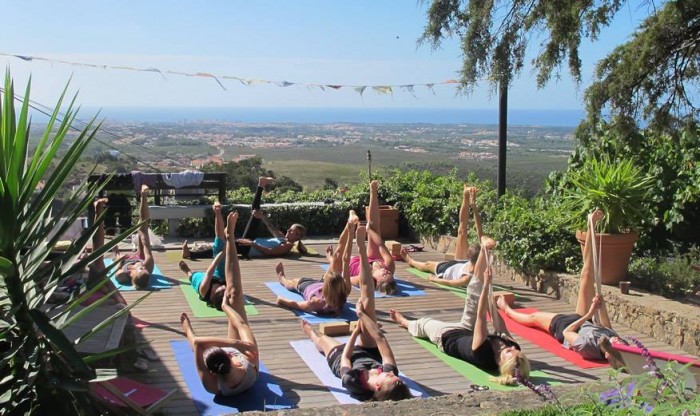 Labelled as a 'retreat' rather than a camp, Karma Surf Retreat is perfect if you're after something a little bit extra. Never having more than 12 guests at a time, they focus on the pleasure of surfing as well as offering packages for mountain biking, rock climbing, hiking and stand-up paddleboarding as well as the classic 'surf and yoga' combo.
Known as a 'small oasis of relaxation', every day starts with a morning yoga session by the pool or in the stunning gardens with panoramic views across the sea. The yoga instructors also surf, so they know precisely what exercises will get your circulation going for a day paddling and pop-ups. And after your surf lessons, you  can wind down with an afternoon yoga session to really find your zen.
At Karam Surf Retreat there's a focus on wellbeing with the addition of healthy food and relaxation to make sure that you leave revitalised and rejuvenated. Choose from a villa near Lisbon or one in the southwest of the Algarve. If you're getting a craving for Morocco, they also offer a retreat in Bali and a riad in Essaouira… perfect for soaking up some bohemian vibes in between those salty waves.
Prices start from 949 Euros pp, per week including yoga classes and surf lessons. For more information, check out Karma Surf Retreat.
---
Surf Maroc, Morocco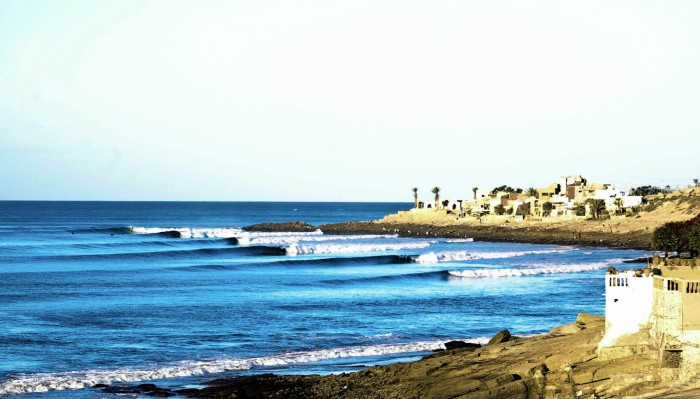 If you're wanting to travel further afield than Europe, you can't go wrong with Surf Maroc. Run by people who are 'obsessed' with surfing and yoga, Surf Maroc is a collection of four epic beachside locations to give beginners and pros alike the perfect fitcation. It's all based in the legendary surfing town of Taghazout in Morocco (40 minutes from Agadir airport) with laidback vibes and world class waves.
As well as organising surf guides, lessons, board and wetsuit rental, Surf Maroc also gives you the chance to unwind after an epic session with dynamic Ashtanga and Vinyasa Flow yoga classes… all in front of the ocean or on a rooftop. There's also nutritious breakfasts and optional trips to Paradise Valley, Agadir, Essaouira and Marrakech to really unleash the adventurer in you… and barter your way through the medinas.
Surf Maroc offer all-girls surf camps, Yoga Surf Retreats, coaching specials and surf guides to fill your summer with stoke. Alternatively, you can choose from their wide range of accommodation for surfers – head to the serene yoga centre at Villa Mandala, chill out in the Taghazout Villa or stay in a beachside apartment. If only we could head there every week…
Prices from £259pp for the Surf Guiding Package. For more information, check out

Surf Maroc.

 
---
Wondering what to take with you for your fitcation? Check out our handy guide with:
 Adventure Calling: What to pack for your fitcation? 
---