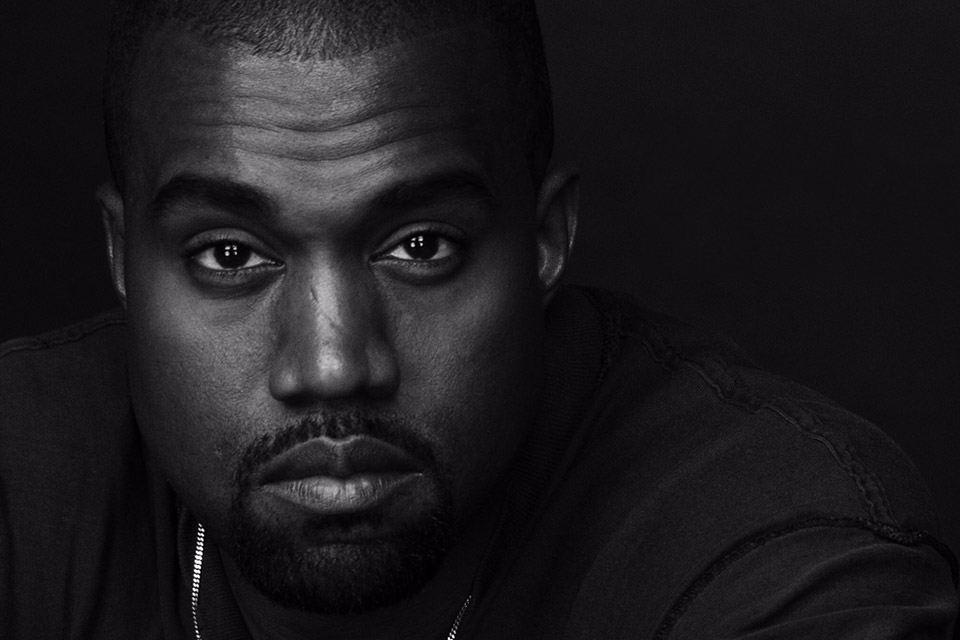 Yo, surfers, I'm really happy for you, I'ma let you finish, but we've got one of the best boards of all time! One of the best boards of all time!!
With Kanye's recent visit to the IKEA headquarters in Sweden, there's been a lot of hype as to whether he's going to be getting into bed with everyone's favourite flat-pack wizards. However, we're now able to reveal the real reason for the Hip-Hop giant's Scandinavian adventure.
Introducing Kanye's newest entrepreneurial venture – yes, you've guessed it. Yeezy Surfboards are now a thing.
After a heavy session testing some of Sweden's finest waves, the business mogul only popped into the IKEA headquarters to ensure he had enough meatballs to feed his hungry entourage of pro surfboarders.
Here at Surfdome, we've managed to secure the first drop of the 'Yeezy FLWTR' for SS16 and we're super stoked to be one of the first people to be able to show you what is possibly the greatest surfboard in the world.
I am Warhol. I am the No. 1 most impactful artist of our generation. I am Shakespeare in the flesh. Kelly Slater. Walt Disney. Nike. Google. – Kanye West
The Yeezy FLWTR:
Swifter than a llama and agiler than a honey badger, this board encompasses everything surfing never knew it needed or wanted. The Yeezy FLWTR sports a volume that outshines the loudest setting on any TIDAL track, making this board twice as buoyant as Kim Kardashian's best assets.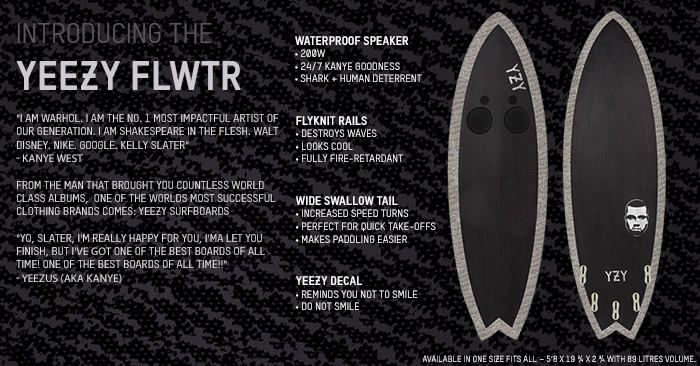 So what are you waiting for? Get onboard and get out there, because now you too, like Yeezus can walk on water (kind of…).
 
The Team:
Kanye is a serious man, Kanye doesn't do half measures and Kanye definitely wasn't content with a second rate team to be fronting Yeezy Surfboards. With at least 3 hours worth of googling, he had decided he had found the holy grail of surf, a lineup  to end all lineups. The pièce de résistance, the crème de la crème, the college drop out of teams. With only a few strict rules to follow (no smiling, ever), he quickly assembled what has come to be known as 'The Yeezus League'.
So who has Kanye handpicked for his game-changing squad? Well, we'll tell you!
Mikie Kitaruth

A Mauritian native who's been pegged to be in for a Big Wave nomination this year. ESPN recently named him one of the ten best up-and-coming surfers and it looks like they hit the nail on the head. He's also been "linked" to Alana Blanchard in previous years.

Conor Mitchell

Standing at only 4-foot tall, this super grom spent a lot of time honing his skills on the south coast of England and recently received the seal of approval from none other than his childhood hero Alan Stokes who stated "His feet are heavily out of proportion, but this seems to give the grom unprecedented stability".
Loulou 'Pikiki' Baylis

With a penchant for a cheeky man bun, the eldest of the Baylis twins is a natural born shredder. She has spent the last year steadily climbing the WQS ranks and is one to watch in 2016.

Louise Burton

Born on the mean streets of Alton, this skater turned surfer exchanged the mini ramp for making waves on the surfing circuit. Now fully recovered from her major knee surgery, she's boosted her ranking to 87th during the European ASP World Qualifier Tour.
Stoked for the Yeezy FLWTR? Can't wait to get your hands on it and show off at your local break? Well sound's like you need to leave a comment below and let us know what about it excites you the most. You know, or you could just buy one right? Oh…  wait.

More from Surfdome