From skateboarding cats to surfing mice, you probably think you've seen every variation of the theme going… but we're guessing you probably haven't encountered a skateboarding skeleton until now. Darren Pearson's 'Light Goes On' is a lighthearted and visually exciting piece. Featuring the ebullient talents of a light painted figure, the video took a year to make.  We're besotted with his work here at Surfdome.com, which is why we're thrilled to have scored an interview with the man himself.
 

 
Let me start by saying that your work really is incredible. How did you get into light-effect
photography?
Thank you! I got into it after seeing an image done by Picasso and Gjon Mili back in 1949 – it was
in a LIFE photo book and I asked my friend Mike how it was achieved. He explained the concept of
long-exposure photography to me.
Light Goes On is an arresting and lively piece. Featuring a skeleton skateboarding (and
generally being awesome), the video was really fun to watch. What was the concept
behind it?
The concept started as an experiment: to see if I could animate a complex light-painted figure.
After figuring out that I could, I began to think about how far I could take that concept, which
resulted in a full skate video for the character. I always thought skate videos packed the biggest
punch when all the tricks just blew you away! So I tried to make the bag of bones do the most
insane tricks possible, taking cues from some of the most incredible professionals in the industry.
How much work goes into creating a short animation like this?
Every frame takes about 2-3minutes to illustrate, and every sequence is composed of 20-70
frames. Roughly, one night translates into about .5 seconds of screen-time. It's totally insane!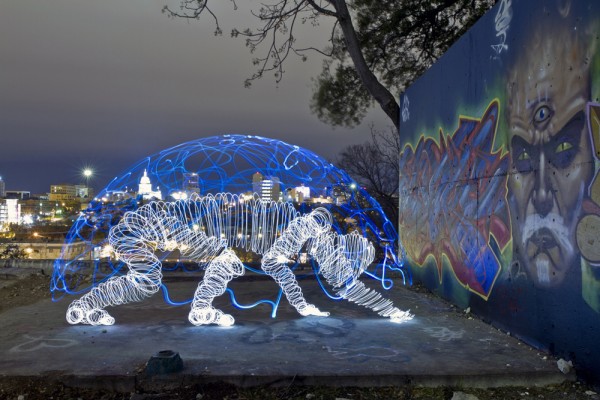 What equipment do you use?
I used a Canon 7D and a Canon 6D for this project with Zeiss lenses 28mm and 18mm. Along
with my trusty Manfrotto tri-pod.
You're a full-time illustrator too. Where do you get inspiration from when you're coming
up with creative ideas?
The inspiration comes from just about everywhere – friends projects, road trips, blogs, art
shows, pinterest, etc. The key is honing in on what the most important story is.
This is the equivalent of asking a parent to name their favourite child, but if you had to
pick a piece you're proudest of, which would it be?
I'm most proud of Bioluminescent – An Octopus I illustrated at WindanSea beach in San Diego,
CA. It's under my 'animals' series at dariustwin.com.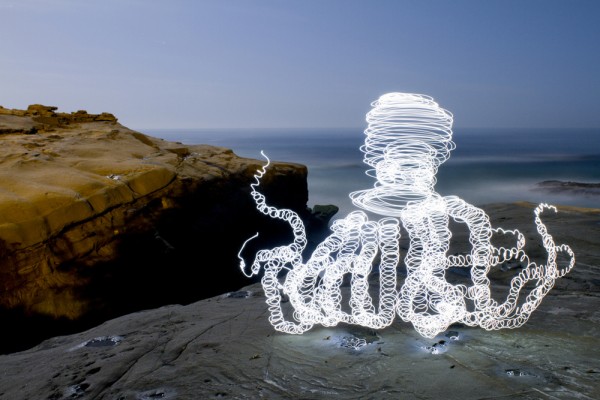 Who are your all time heroes, both professionally and personally?
Calvin and Hobbes, Indiana Jones, Picasso, Mel Brooks, Bill Nye, Banksy, Chris Hadfield, my
family.
Amongst other spectacular sights, you've featured surfers and skateboarders a lot in your
work. Do you have a personal passion for the beach and skate scene?
I grew up in San Diego, CA, which is renowned for it's incredible surf history and culture. The
beach will always be a place of freedom, power, peace and awe for me. From the first time I saw a
kid kick-flip off the curb while I was in 6th grade waiting for a ride after school, it dawned on me: I
needed to skateboard – I have ever since, and it's much better than walking.
Where do you see yourself going with your art in the future?
I'd love to go to Paris and be present for an art show my work is featured in. It's for the Light
Painting World Alliance – an international exhibit featuring the best light-artists in the world.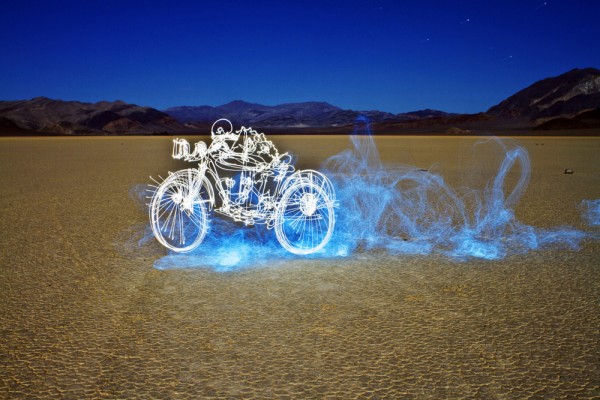 What advice would you give to other aspiring young talents who want to head down the
same path as yourself?
Do it for love and share your experiences along the way.
Check out Darren's work on his main site or Facebook. When he's not light painting and illustrating, Darren has also somehow managed to find he time to set up a clothing line, The Danger Brand, with his girlfriend.