Man Made Stoke: Words by Alan Stokes, photos by Celine Gehret & Alan Stokes
Surfing is ever evolving! Why? Because as surfers it's our deeply rooted obsession for everything from the first wave to yesterdays epic head dip that keeps us looking for one more thrill. It's a beautiful thing and makes for a very exciting and colourful life.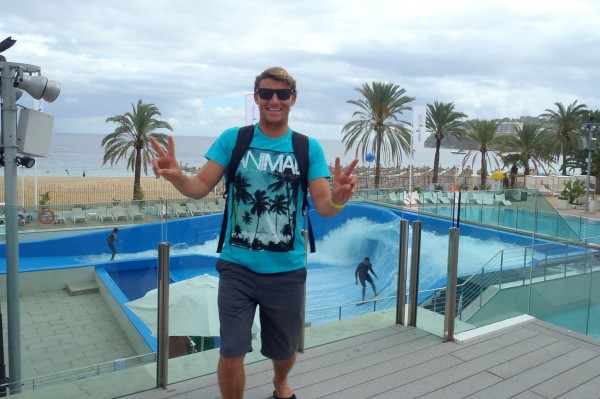 The evolution of man or woman versus wave, when you look at the history of the sport is now progressing faster than ever before. The materials now available to make cutting edge, high performance craft for small wave progression or big wave craziness has helped mould what we can now achieve on a wave. Add the bonus of the world wide web into that mix and people all over the world can watch the latest and greatest do their thing  live, it's the perfect recipe for a evolutionary cake.
So where are we NOW and where is this evolutionary juggernaut heading? Some soul surfers or narrow minded thinkers, as I like to call them would say surfing lost it's cool along time ago. Well I would have to disagree and say "Maybe you lost your cool when you failed to keep up with the pace amigo"… Only joking!
I like to think of my self as a soul surfer/kook, someone who in my eyes, lives, eats and breaths surfing in all its forms no matter how or what board you ride. For me its all about the experience of wave riding.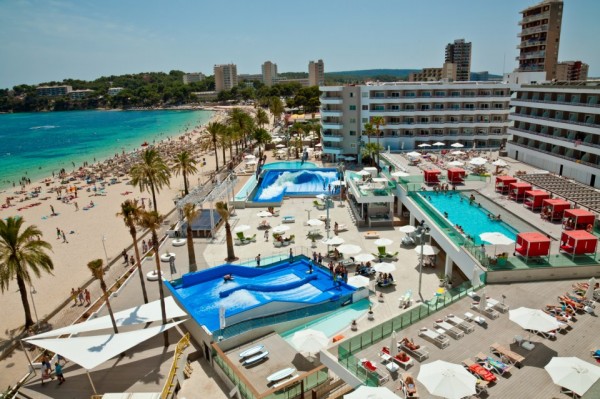 It's this take on surfing that has opened doors and new experiences for me. I've just got back from a surf trip with my girlfriend Celine, but it's not the normal surf trip I'm used to. For starters my socks have no sand in them, my arms (although aching from all the wipe-outs) have paddled no where and my eye brows are strangely salt free! It's also why I'm here wrestling with this article trying to make sense of surfing and where its heading.
This article is called Man Made Stoke, why? It seemed like a fitting title, I've just been surfing on the new FlowBarrel 10 in Majorca Spain of all places. It's the only one of its kind in Europe and my god its strangely addictive!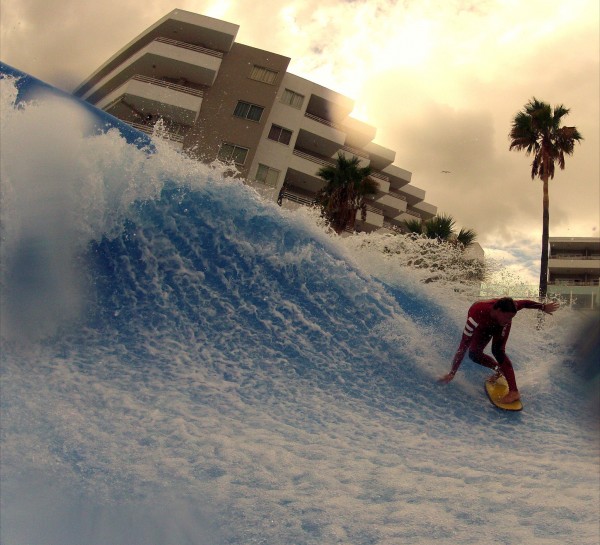 Surfing is now in an era where as surfers, we have the opportunity to re-create what we love about the sport by literally building new surf spots. Imagine even suggesting that idea down the local pub 20 years ago! You would be asked to display your finest set of push ups as a punishment, much to the amusement of your mates, and then be requested to get everyone a drink.
But there are a few courageous men out there who I'm sure were subjected to a few push ups at the local bar but proceeded to push the boundaries of their dreams to create such an ideal and boy are those few extra rounds paying off now.
Surfing is on the eve of something new, something that will change how and what people do on surfboards forever, the evolution of wave pools and wave machines has arrived.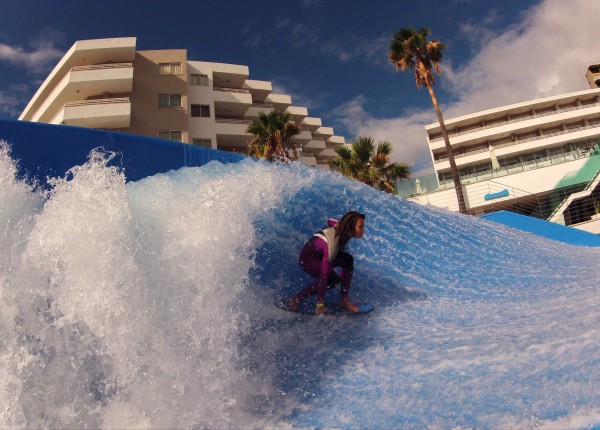 Tomas J. Lochtefeld from La Jolla California started the ball rolling back in the early 80's. He was way ahead of his time and today his dream has started a chain reaction with the likes of 11 x World Champion Kelly Slater and Australian board shaper Greg Webber both putting their energies and expertise into creating separate man made wave projects.
I had the opportunity to speak with Tom about how it all started, what motivates him to carry on and where he thinks its all heading.
Thomas J. Lochtefeld: "I like to create things. Big things. The first was Raging Waters in Los Angeles. It had a huge sand bottom swimming lagoon that we converted into a wavepool. I was so-jazzed when we were ready to turn it on. I brought my Bing Bonzer and sat out ready for the switch to fire. Utter crap. Disappointment to say the least. I thought about the waves I like to ride – hollow suck-outs, best exemplified by a ledge in my hometown of La Jolla called Big Rock. There the water would suck back out over the reef, then into the maw of the incoming barrel. This was the goal. The Eureka moment was extending the reef up the face of the wave, i.e., the surfer only rides on the top layer of water. The FlowRider was born.
In 1991 I built the first Wave Loch Flow Barrel in New Braunfels, Texas. Initially we couldn't even ride it. The bodyboarders were the first to survive — Mike Stewart, Pat Caldwell, Jay Reale, and Brian Press.
Stand-up riding began its quantum leap when in 1995 or '96 when I brought together two skaters, a surfer and a snowboarder (Tony Hawk, Chris Miller, Kelly Slater and Terje Haakonsen). We did a three day experimental design/ride session. The riders gave us the feedback and Carl Ekstrom, Al Merrick, Stan Pleskunas and Micky Munoz were hacking at the boards. But, Carl was the master shaper."
Alan Stokes: "I've seen a picture of Kelly holding what can only be described as a normal performance thruster with the fins knocked off, did the jets do this or was it pretty obvious to everyone that fins were no longer needed. Being able to control a wave and length of ride you must have seen performance and equipment evolve at a rapid rate?"
Thomas J. Lochtefeld: "On the one hand the evolution did occur rapidly, however, not always was there success. Blind alleys are the rule, not the exception. Fins and channels are an example of such a blind alley. You would think they should be of benefit, however, it is the rail, rocker, board thickness and width that define your means of control."
Alan Stokes: "How do you see the Flowrider's evolving? From a surfers point of view after riding the FlowBarrel 10 at Wave House Majorca I was amazed that certain aspects felt just like surfing ocean waves, when turning on rail or pumping in the tube the sensation felt the same. A longer barrel would be incredible but then longer bigger barrels is what drives us surfers. What are the skate and snowboard influenced guys looking for?"
Thomas J. Lochtefeld: "Flow shape evolution is definitely the next step. Bigger size, different materials (to enable a softer landing). As for skate and snowboard fans, they want rails."
Alan Stokes: "Wave House Majorca is the first of its kind with access to ocean waves on the beaches just around the corner and now the FlowBarrel 10 in the south it looks like on a chart Majorca could be considered a legitimate surfing destination, the concept of building a fully functioning accommodating wave park for board sport lovers has become a reality.
Are there any limitations or is the dream to effectively build the equivalent of snow resorts or skate parks?"
Thomas J. Lochtefeld: "No. Surf Parks definitely will happen. It is evolving as we speak. Right now, for example, I am working on several mega-projects in Brazil and China."
Alan Stokes: "I guess the question all surfers want to know is how big a wave could be created and what needs to be taken into account to do this? I'm thinking once you wipe out getting away injury free is obviously one of the priorities, but what other things start to factor in? For example would the power of the jets be too much for an individual to handle?"
Thomas J. Lochtefeld: "Theoretically, the only limit to the size of the wave is the energy one has available to pump the water. The ultimate set-up would be water from the base of a dam. I once was working on a project in Southern California that had a 100 meter high dam. The wave could have been 50 meter's high. The bast**ds chickened out!"
And on that note I think we can safely say surfing evolution is in good hands!