What does the name Michael Fish MBE mean to you? Most likely you know him as the iconic weatherman who famously denied an oncoming hurricane, right before a storm rampaged the UK and France in 1987.
However, from this moment, the name Michael Fish will be synonymous with B.A.S.E jumping!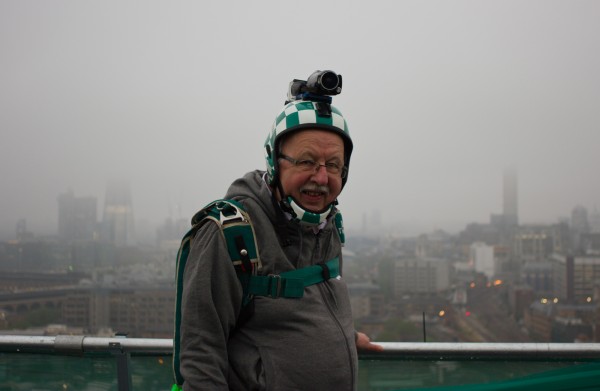 That's right, intrepid clothes designers and Eco stalwarts Rapanui managed to convince Mr Fish to do an urban jump, in the heart of London, all in the name of climate change. 68year old Michael Fish made the free-fall jump, landing by parachute, after training with experienced urban B.A.S.E jumpers.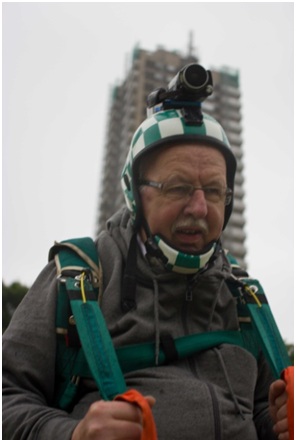 Michael Fish MBE said:
"I decided to show that anyone can take action and change. B.A.S.E. jumping  (where you throw yourself off a roof, freefall, then open a parachute) is possibly one of the most dangerous things one can do with themselves. I decided to do one myself. If a 68-year-old meteorologist / fashion icon can do a B.A.S.E. Jump off a block of flats, surely things like riding a bike instead of driving, or buying more sustainable products at the shops can't be so hard?
Raising awareness of climate change is really important, because there is no doubt whatsoever that if we carry on the way we are there will be shortages of food, shortages of water, towns and cities will be flooded, there's all sorts of chaos that could arise, in fact some of it is already happening.
We have to something about it now, not wait until it's too late. If some of us have to make sacrifices, like risking our lives by jumping off buildings, then so be it"
Wise words from flying Mr Fish.
Give it a watch below to watch undoubtedly one of the strangest B.A.S.E jumps you'll ever see.

 
There are many reasons why Rapanui are unlike most other clothing brands. For one thing, all their production methods are eco-friendly, with wind and solar powered factories, eco-textiles and a collaborative project with Marine Conservation. They also manage to constantly create unique, fashionable designs that you will want to wear for their design, and not just for the excellent cause your money goes to.
After this endeavour, Rapanui have managed to take one step closer in becoming your new favourite brand. Check out our range here.