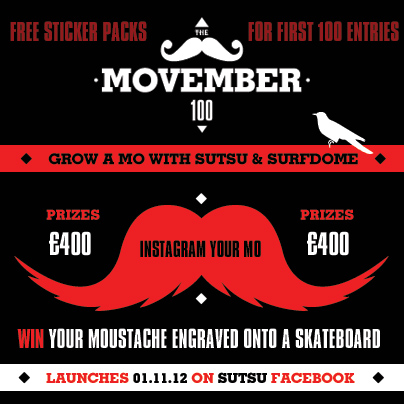 My moustache brings all the girls to the yard! Yes, that's right… it's that prickly lip time of year again when dodgy facial hair in all shapes of sizes come out of the woodwork!
To support all you Mo warriors, we've teamed up with Sutsu and put together an AMAZING prize pack to ensure you see your tash through to the end of your Movember campaign.
The first 100 entries in our competition will receive a MO Sticker pack & ONE lucky winner shall receive:
Laser engraved Sutsu skate deck with the winning MO graphically represented.
Sutsu graphically represented MO Tee.
Movember based Sutsu goodie bag. Value of £250.
To WIN, this is what you need to do:
Post your Movember photos using Instagram or Twitter with #movember100 throughout November @SutsuBoardwear & @surfdome to enter the competition.
Increase your chances to WIN by posting regular photo updates of your Movember campaign to us.
Our friends at Sutsu will also be donating £1 to Movember for every online purchase on their website during the month of Movember.  The Surfdome Mobro's  also will be generating dosh and awareness for the cause so keep an eye out for the updates & to make a donation, please visit the team page here. 
We look forward to all seeing all your shots! On your mark, get set… MO!