Once upon a time, before the commonality of skate parks and GoPro cameras, the 1965 cover of San Diego's LIFE Magazine featured the world's first female pro skateboarder, Patti McGee, performing a handstand on her tiny, basic board.

Back in 1965, skateboarding was branded the new 'craze'; 'a menacing fad'– and at the forefront of this hype was a girl – a concept which people today would be hard pushed to believe when talking about a sport which is undoubtedly dominated by men.  Despite her gender, Patti McGee flourished within the 1960's skateboarding scene and enjoyed her time in the spotlight for almost a year, until publicity died down and people eventually moved on to 'the next big thing'.  Patti was one of many iconic skateboarders who have lent a very important hand in shaping skateboarding and enabling it to gain the cult following it has today.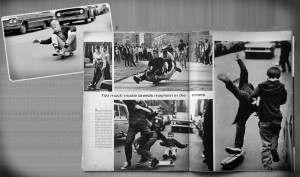 Photographer Bill Eppridge, who worked for LIFE magazine at the time, recorded the popularisation and perils of the fad for the 1965 issue by capturing imagery of stylish New Yorkers cruising through Central Park, conjuring up a feeling of exciting retrospection.  These pictures document a societal shift which has since become an ever-expanding subculture, exciting and enthusing millions worldwide.  Through combining a feeling of free spiritedness with a classic 1960's aesthetic, Eppridge created a collection of photographs which remind us what old school skateboarding is all about – having fun!