It's like acrobatics but without any safety net. It takes place in the streets and it's breathtaking. It's nothing else but Parkour!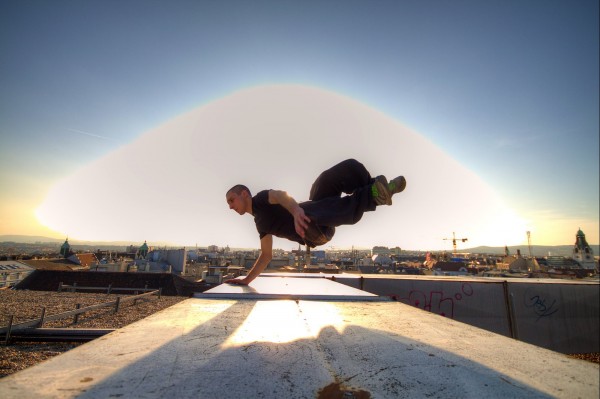 This extreme and sometimes dangerous sport was popularised by David Belle in early 90's. The main purpose of the discipline is to teach participants how to move swiftly through the environment by vaulting, rolling, running, climbing, and jumping. Parkour practitioners are known as "traceurs". David teaches that the fundamentals of Parkour are learning to trust yourself and that at first, safety should come before anything. The philosophy is always to advance, never to stop. It's a way to expand limitations that we, and our environment, are presented with. When a tracuer runs up to an obstacle or a high wall they will always find a way to overcome it, and they apply this to other problems in their lives.
http://www.youtube.com/watch?v=wkNqlSGwI7I
Free running is a variation of parkour. Creativity, self-expression and an ever evolving arsenal of tricks means that every runner has a unique style and an individual method of using their landscape. It's amazing to see bodies flying over urban obstacles and seeing people sprinting towards walls and somehow vaulting them. Seeing them inspires shock and awe but also imitation. Parkour and free running has spread across the globes and experienced traceurs are passing down their knowledge. London for example has several established schools – http://www.parkourgenerations.com/'

There is no equipment required, although practitioners normally train wearing light casual clothing. If the runners wear anything on their upper bodies they stick to light clothing such as t-shirts, sleeveless shirts or crop tops. On their lower bodies, as range of movement is the primary concern, tracksuit bottoms or shorts would be favoured. Comfortable running shoes that are generally light, with good grip, and flexibility are essential.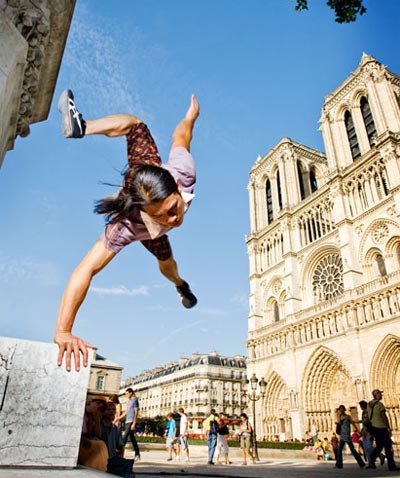 You can't help but be impressed by Parkour. They are urban artists with total body control, unmatched flexibility, mathematical precision on their moves and cat-like grace. They fly through the city landscape, while the rest of us are just walking…