We wish we could hire several airbuses, rent out a mahoosive fancy hotel and invite all our Surfdome followers to watch the world's best take one of the most challenging waves on the ASP tour! But in reality, we only have the capability to send a lucky duo to the golden French sands.  With so many surf crazed hounds to choose from, we simply asked "why we should let you go" to help us make that important decision.
We'd like to say thank you to everyone who entered, there were many convincing arguments which we could all agree on! One entry particularly caught our eye from Shauna Breen, and we're stoked to say that she will be attending the Quik Pro with her boyfriend who fought his way into a girls size 6 wetsuit just so he didn't miss out on a surf! Check Shauna's fine work below and some of our other favorite entries who will receive a little Surfdome present.
If you're not lucky enough to attend the event, remember to watch the live action here and stick with us on Twitter and Youtube for the latest Quik Pro news!
The Winner: Shauna Breen
Dear Surfdome,
I think if you send me to France,
I'd probably start to dance,
It's such an amazing prize,
To get over and see all those guys
From Kelly to Taj (and fingers crossed for Dane too!)
I'm really psyched to see just what they will do!
There'll be hacks and carves, tubes and airs
And John John and Medina doing it all with no cares!
To witness the awesomeness all firsthand,
Well that's more then I could ever have planned!
Between the Groms and the trials,
And then the big boys arrive
This World Tour stop number 7
It sounds just like a little piece of French surfing heaven!
And we all know there's plenty of surfing
And that would be more than enough for me,
But the Quiksilver Pro is jam packed
There's not a chance you could ever get bored!
With concerts and skating, riding and more,
After all this action you'd nearly be floored!
Surfdome and Quiksilver are a great combination
Coz winning a prize like this would fill most people with jubilation!
This prize is so fantastic,
To win it would really make my day!
And to get to see King Kelly
Would definitely have me smiling until next May!
(Oh, and have no fear
Surfdome is where I'd be going for all my holiday gear!)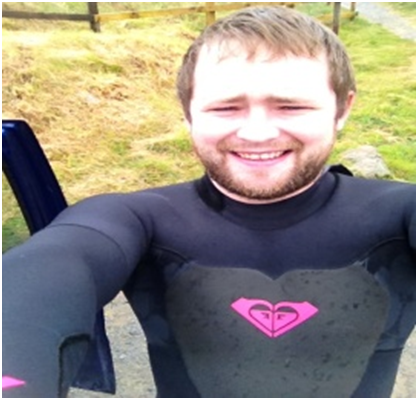 I really think you should send me and my boyfriend to the Quiksilver Pro. (That's him->) He loves surfing so much that he would rather go squeeze himself into a girls size 6 wetsuit (thank God for hyperstretch!) instead of have to go home and miss out on a great afternoon surfing session. As much as we love going out for a good surf session ourselves, watching surfing is so inspiring to us. I'll watch anything, it doesn't matter whether it's free surfing or contests, it's all so mesmerizing to watch – big waves, tubes, aerials, powerturns, everything! I'm especially partial to Moments 2 (anything with Dane, Kelly and Craig Anderson, how can you go wrong?!)
It would be so amazing to win this contest because to go over to Hossegor and to get to check out the action LIVE would be some experience. And it would mean my boss wouldn't have to give out to me again for watching surfing while working, again! – and the Quiksilver Pro is going to clash massively with working hours (silly France and their time zone!), but I know where my priorities lie!
To get the opportunity to experience surfing like that would be simply unreal, we don't see too much of it on the south coast of Ireland I'm afraid!
Imagine, for example, someone pulled off an amazing Hail Mary in the final, to say we were there and actually saw it happen, that would be some memory to have and doubt I'd forget it forever!
To win this would be a really big deal to us! (And I would definitely promise to bring the Surfdome team back a present! Or not, if it breaks rules?!!)
Thanks for reading! Fingers crossed!
Dean James (click for full size)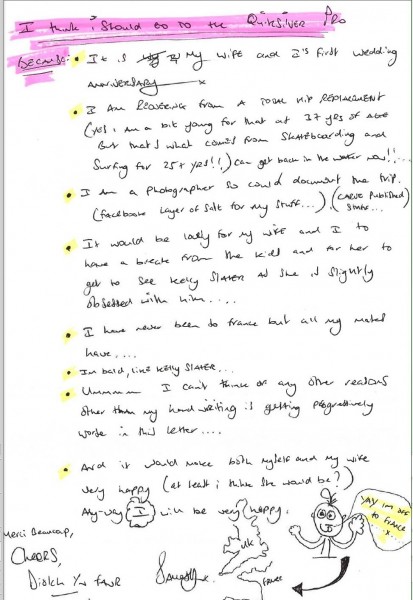 William Imrie
Firstly the usual stuff, I'm an enthusiastic surfer and love to watch the ASP live webcasts whenever possible, since I'm from Northern Ireland they are often late at night :S but they beat whatever is on TV anyway.  Here are a couple of recent photos of me surfing our small end of summer waves in Portrush.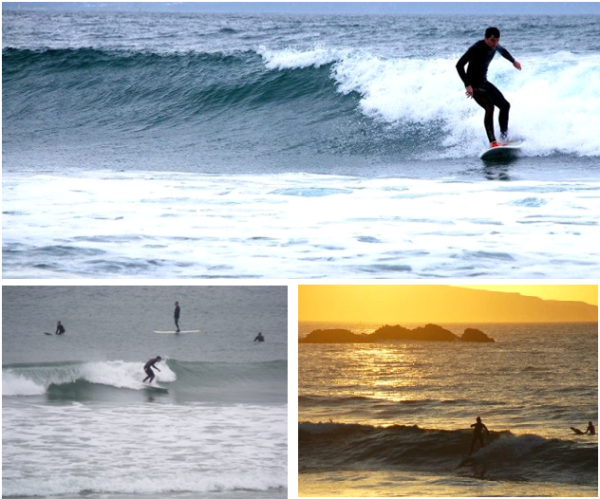 Some other reasons I think I would be a good person to send to the Quiksilver Pro is because it would be a new experience for me.  Being from Ireland we often have pros visit our world class waves but these are often unadvertised as they are usually filming etc and don't want the hindrance of tonnes of local surfers looking for their autographs and photos and stuff which is fair enough.  However there are no high profile events which attract the calibre of surfers which the World Tour does, this means we never get the chance to witness the experts at work.  It would also be nice to shed my 5mm wetsuit, soon to be 5mm plus gloves, boots, hood and thermal vest when winter kicks in, and get a surf in something a bit lighter, I'd probably brave it in my Quiksilver boardies ;P
It would also be cool to get to take some pics of the pros cos I love photography and videography and editing.  This is a wee shot I took of my friend and fellow QUB Surf Club member Sarah with a quality Irish sunset.If not I'll just watch it all on the webcast haha, Thanks.
Timothy Penny

Nick Madsen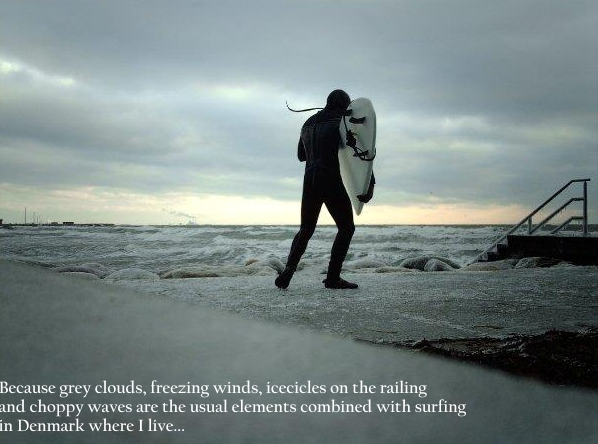 Will on Google+