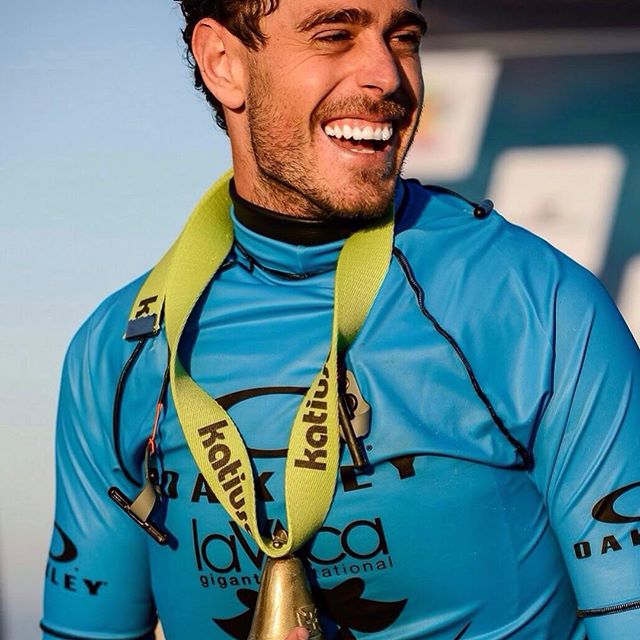 Tom Butler is one of the best big wave surfers in Europe; he's been part of a tow team that won an XXL award, surfed some of the biggest days at the top big wave spots in Ireland and Nazare and this winter has seen him place 2nd in the prestigious La Vaca big wave contest. In the past year he's surfed some of biggest waves of his life and suffered from injuries that have kept him from the water. We had a chat with Tom as he recovers back in Newquay after an amazing 2015/16 winter season.
---
You've had a pretty eventful winter so far. It's been a tricky Mullaghmore season, you surfed your first big wave contest, had XXL Nazare sessions and huge days at home. Can you sum up your winter so far?
The winter went off for me between October and New Year. I then picked up an injury and had to take my first ever break. After New Years I took about 2-3 weeks off training and surfing – my physio said if I hadn't told him the mechanism of the injury he would have said I'd been in a car crash! I had my top 4 vertebras squashed and damaged to my left scapular.
A chain of different wipe-outs caused me to buckle and add the 10,000 miles of driving from Newquay to Scotland, Scotland to Ireland, Ireland to Spain, Spain to Nazare then the Algarve and back to the UK. I was wrecked by the time I parked up on my road in Newquay.
I gave myself a pat on my broken back when I did get home. I was stoked to score one of my biggest Mully barrels amongst an average season up there. Placed 2nd in my first big wave event on 1wave in the final a 9 outta 10 (my leash failed so I missed about 30 minutes of a 45 min heat) and managed to catch my biggest paddle wave at Nazare so far on Garrett McNamara's 12′ 6 board!
I wanted to get amongst the El Nino madness but I was down on money and had no guns left. I was injured also, so not the best time for me to go. It's been hard watching all the rides go down at Jaws and Mav's, but at the same time it's been good to sit back, take inspiration and get fired up to do the US and Hawaii in the future. I'm 26 so will have many a season ahead.
[su_carousel source="media: 34347,34345,34346″ limit="10″ link="lightbox" width="700″ height="200″ title="no"][su_carousel source="media: 34345,34346,34347″ limit="10″ link="lightbox" width="700″ height="200″ title="no"] [/su_carousel][/su_carousel] From being a Newquay grom and a performance surfer winning English championships, UK Pro surf events and competing week in week out, you've made the move to the big wave free surfing scene. Was there a turning point when you knew you wanted to concentrate on surfing big waves?
I surfed the Cribbar at 16 around October time and then along with 20 other youngsters from my town we hit Indo and then the Gold Coast in Australia. I then left the Goldy and went to Hawaii for my first visit in March. I arrived on the North Shore and Nathan Philips met me and took me under his wing. He encouraged me to charge into some 10ft Sunset and 8-10ft Pipe. He also pushed me into ripping the golf course apart… The waves were not the biggest and best so we played shit loads of golf together! Nath was charging Pipe, catching bombs on the biggest and busiest days! I went back to Hawaii when I was 17 for 4 weeks, but haven't been back since.
In big wave surfing you get bitten by the bug and at some point and that's the turning point. So around 16 after I surfed the cribbar that was me. From then on, all the dreaming, visualisation and goals I set were centred on bigger oceans!
Best big wave spot you've surfed?
It has to be Nazare! It's warm and breaks from anywhere between 2-150 ft. The beach is about 20 different waves in one. Sometimes it's slabbing 15 ft square, go up the beach a bit and there's an almost point break style right. At 20ft, the tide goes and a huge left off the lighthouse appears. The only problem is the logistics and having other like-minded people to surf with. It's becoming busier now and I believe this is for the better. More surfers in the line-up make it safer. However, there's just a split in abilities at the moment. The guys who have surfed out there for the past 4 seasons are really only paddling it now. Whereas some of the crew who are getting a taste for the spot are towing and people are doing both at the same time. AS long as everyone respects each other's space, it should be doable using the two different big wave approaches. You always need a ski in the water if you're paddling, it's impossible to return back to the takeoff spot after a wave on a big day under your own steam.
What big wave spots are on your list to surf in the next few years?
All of them!
Worst wipeout?
Probably one of my first big ones when I'd just started towing bigger waves. It was a 20 footer. I lined up the barrel at Mully and it didn't open so I tried pulling straight and around the barrel. I didn't have the time and the wave landed on my back leg. I was so inexperienced I wasn't even wearing a real life jacket just an impact vest. The wave pushed me about 15 meters deep and the force pushed me inside my wetsuit. My head was located half way inside my wetsuit underwater. I put my suit on correctly in the dark sat on the reef and then had to start swimming up.
You ride massive boards what boards are in your quiver?
At the moment not that many, the big guns have been damaged of late. I have or have had a 7'6, 8'6, 9'6 and a 10'6. A priority this summer is to budget enough and buy more guns. I'd like to go into the season with about 6 more boards ranging from 8'0 – 11′ 8 and if I make a trip over to the US get a few guns there. It's obviously a nightmare taking a board on a plane above 9 ft long. This isn't even starting on the weight! I'm sweet to drive around with loads of guns on this continent but flying with the biggie's is hard and I know my 9'6 and 8'6, inflation vest and full winter surf kit plus two leashes, two sets of fins is just over 32 kg!
---
Shop all Fourth