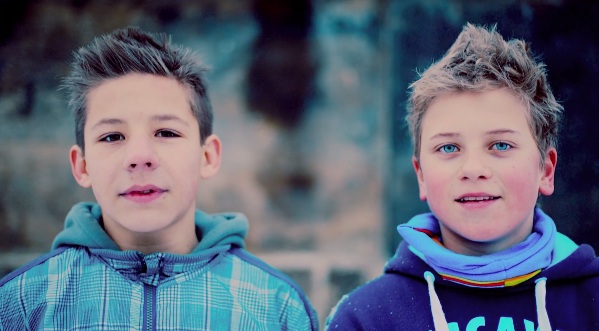 Parkour or free running is now a globally recognised sport first developed by Raymound Belle, David Belle and Sebastian Foucan during the latest 1980s. It's no longer a niche past-time: everyone below 40 is aware of parkour and after much innovation and hard work, it's taken very seriously as a sporting discipline.
 

 
Where did the inspiration for Schnee Running come from?
We had a great winter with mild temperatures. When I was skating at a new park Leo and Jo came around doing flips from the swing as you can see in the video. Since I have worked before with some of the best free Runners like Jason Paul from Team Farang, I was really interested in what they could do. So I went and spoke to them – I'd never seen a free runner in Dresden until that point. We got connected and filmed the clip one week later. The weather was icy cold ad it was snowing all day but I thought that just adds to the spectacle.
What is Dresden like as a city? Why did you choose it for filming?
I first went to Dresden around 2 years ago. The great thing about the city is that you have a lot of places going in all different directions; there's old majestic buildings on one side of the river whilst the other is filled with hipsters and abandoned buildings and all the typical counter-culture fare. Around Dresden there is the Elbsandsteingebirge which is a spot where a lot of Hollywood films have been shot, the most recent being Cloud Atlas.
My favourite thing is the lack of crowds, though. To film something like this in Munich or Frankfurt would be much harder since security is everywhere. Dresden, since it is a city from the old east countries, has really developed over the last year and a lot of young people are surfacing – just like Leo and Joe. Why? Because Dresden is the city with the highest birth rate in Germany.
Is the parkour scene big in Germany?
It's smaller than skating but still popular. Skateboarding, surfing, it all comes from America. Parkour however, comes from France and began to develop in Frankfurt some time ago. Because of that, there's a scene in the west of country and it's still development. With kids like Jo and Leo about we'll see a lot more coming up through the ranks.
How long did the whole film take to shoot?
We shot for about 4 hours. Yeah, that sounds amazingly fast, but the kids were doing nearly every move first try. When filming skaters, I have a lot of time to adjust the framings but with Leo and Jo it was hard to follow. As soon as my camera was there, they already had an idea for the next trick. Working with them was so cool but you know this age can be difficult sometimes. That being said, they're the most relaxed, motivated and nicest kids I've met.
Is parkour a new interest for you? Can we expect more free-running films?
Well I shot Red Bull Wings Academy last year but for now, I think I'm done with parkour. My friend Frank Sauer is an expert on free running videography (see here for more) and has one of the best eyes in the sport. I think next, I will produce the another Beast clip and we will see where we go from there!
Cheers Sebastian!
Thank you guys.