You've probably heard the name of many a talented skateboard artist in your time, but we're confident that you'll never have encountered one like this. Known for his arresting Sharpie art, Mark Rivard predominantly uses skateboard decks as his ready-made canvas.
Having been fans of his work for some time, we were stoked when he agreed to answer our questions.
What inspired you to launch the Mark Rivard Skateboard Art Education program?
The educational work came from the need to give back somehow. The truth is, being a career artist is a very selfish existence.  If you think about it, you really spend all of your time working through your own head and not being present anywhere else.  It's inherently selfish.  I had been exposed to my "15 minutes of fame" and I didn't want to just watch that momentum slip past me.  I had a story to tell and a platform had been laid to do so.  It was just a matter of looking at what was possible and creating something.  I had been asked to speak at various schools in the past as a casual visiting artist and I really felt good about what the kids were taking away from those experiences.  It was a bit of a no-brainer when I look back that this would become part of my career.
What do you find most rewarding about it
The absolute most rewarding projects I've ever been involved in were the result of working with the youth.  It wasn't an art show or commercial project and didn't receive a great amount of media coverage, the rewarding part was seeing the kids get hyped on what they "COULD" do.  When I'm walking the halls of a school and I get to chat with the kids, have conversations in passing and watch as piles of students board buses with skateboards under their arms, I'm stoked.  Not only do I give them an artistic outlet, but they are exposed to the life of skateboarding and they are thinking about everything differently.  No longer is the skateboard just a toy, it's become a tool.  And you can literally see the wheels turning.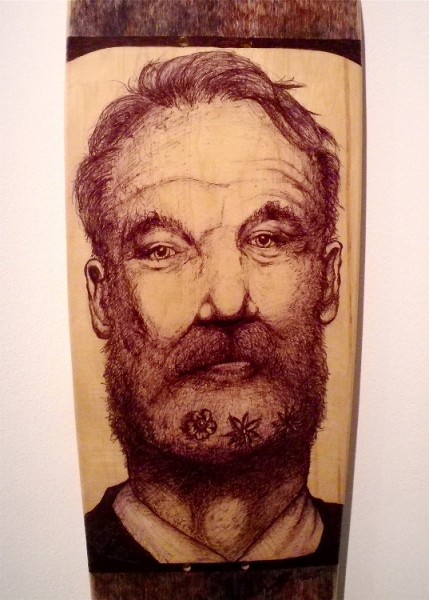 Image courtesy of Mark Rivard
You've said in a previous interview that you're yet to find a better skateboard illustration tool. What is it about the Sharpie that has given you so much creative freedom?
I just landed with a Sharpie on happenstance – it was just what was sitting next to me the day I decided to draw on my skateboard.  I did it so much that I learned how to manipulate the markers and use them like a paintbrush.  I think it was just a matter of comfort; they worked well and I grew comfortable using them.  The ink is different than anything else out there too. I'm sure there are other instruments that work well but I love how versatile the Sharpies are.  Over the past ten years they have been incredibly supportive of what I do so I stick with them, much like a skater is loyal to his sponsor.
You're currently celebrating your 10-year anniversary – congratulations! What has 2014 got in store for you? 
Well thank you so much!  Ten years is hard to fathom really, I never would have thought this much would happen from a silly hobby, but I'm thankful to everyone that has ever supported any of my projects and efforts.  I just returned from a three week project in Dubai where I was the Key Note Speaker at a school there.  I spent a few weeks working with their students on an art project where we had 6th and 7th graders draw the Dubai skyline on a skateboard.
How did that work out?
Ambitious as it was, they killed it!  The boards looked great.  I spent a lot of time getting to know the art community out there and am looking forward to bringing more skateboards to the UAE and future project with schools there.  I popped through London for a day on my way there and checked out a few galleries like Lazarides and Outsiders.  I'd love to get a project going in the UK!  Let's get it going!  UK 2014!  This year is already stacking up great though.  I've got a few different series' I'm hoping to finish like my Flag Series and the Icon Skateboard Series.  I have my own gallery here in Minneapolis that I'm hoping to get more shows through, so that's exciting.  And I'm going to paint. I feel like my work is in constant development and I can't wait to see where it goes next.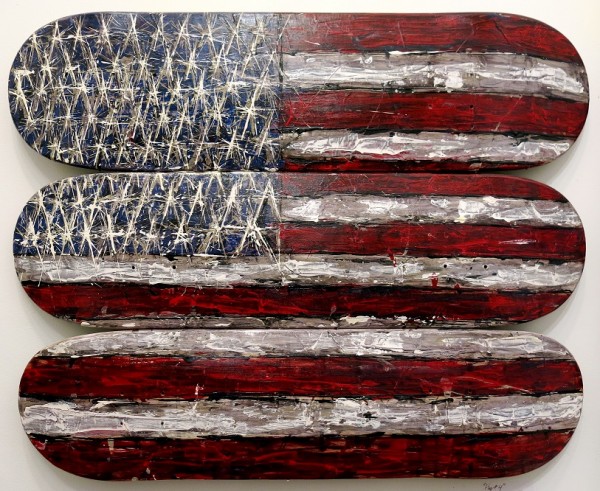 Image courtesy of Mark Rivard
Boardsports can give an artist a canvas. Would you ever like to provide artwork for a snowboard or surfboard? If so, what do think you'd draw? 
I've been sitting on a few blank snowboards for a while now and I just haven't been hit with the right idea yet.  I'm totally down for it!  I think with the snowboards, I'd keep the mountain vibe in some form.  I lived in the Colorado Rockies for years and it's definitely a major part of my life, so my connection to the mountains lives on even though I'm now full-fledged city dweller.
Any surfboards on the horizon?
The surf vibe is something I've always loved too. I swim about as well as a whale rides a bike so every time I try to go surfing it feels like I'm dying, but I love the beach.  Doing a surfboard series while spending a couple of weeks parked at the beach would be a dream project for sure – who knows what kind of subject matter would come from that! It would probably be more along the lines of darkness and death via drowning…
You were once invited to speak about the differences between American and European Youth and Pop Cultures. What would you say are the main differences there?
There always feels like bigger sense of self-consciousness here in the states.  Which is a bummer.  I love the Euro free feeling!  I wish that kids here would be more encouraged to truly live out their individuality.  I don't think our culture supports that enough and it's one of our major downfalls.  I've not been able to spend a super significant amount of time in Europe but when I had my show in Belgium about 7 years ago I got to know a lot of the kids in that area that skated and the reality is that kids are kids no matter where you are.
What do you like the most about working with them?
They all have the main objective of having the best time possible in their day-to-day life.  I think that is inspiring and I wish more adults were exposed to that attitude from time to time.  That particular instance was actually the first time I was invited into a school to speak.  The students were incredibly curious and one thing I noticed is their fearlessness to ask questions.  I admire that.  In the States I find that a lot of the time a student will hold back from pursuing something they are curious about for fear of social backlash and this is a disturbing notion.  Not always, but it's a noticeable difference between the two continents.  I aim to change that.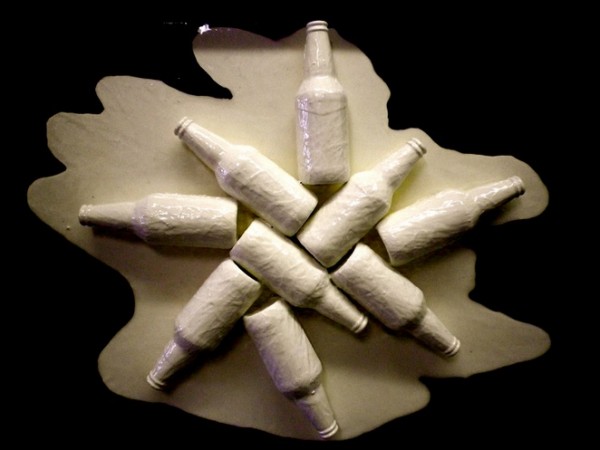 Image courtesy of markrivardart.com
Being an artist in today's climate is difficult for some and impossible for many. If you couldn't make a living from it, do you think you'd still continue to draw? 
YES. You have to be pretty crafty to make a living in this game, but if it's your main objective you'll probably fail.  The truth is drawing pays very few bills, it's all the other things that generate income.  Nobody gets into this business to make money, it's not like selling stocks.  If it happens that you can take in a little income you are one lucky artist.  Luck isn't real, it just means you've worked hard enough and smart enough to create value.
You have to pursue the things that you want to do even without the initial payout if you think they can ever manifest into a career.  Working in a creative field is an odd business structure because you're selling concepts.  Sure there will be physical products but it's the concept or idea that makes that object powerful enough to have a monetary value greater than the costs of the materials.  That in itself is a tough sell.  I use art to tell a story, I use storytelling as my outlet in many different mediums.
If I wasn't able to communicate I would be dead, it's the only way that I can make sense of the world around me.  I am lucky that my growth as an artist has created an audience that allows me to keep creating at a bigger and better level.  As an artist you are for better or worse a performer on some scale your audience is your market.  Even Banksy, his performance is elusiveness and his audience has bought it big time.  His art is his product but his elusiveness is the performance and it's a really intriguing performance.  Look at the movie business, same idea, and we all know how hard it is to sell a profitable film much less create something people want to see.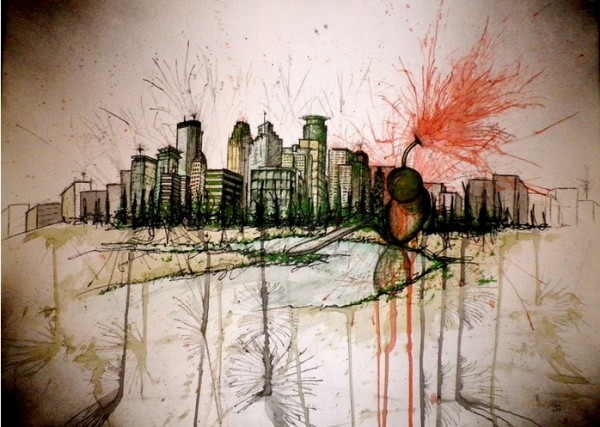 Image courtesy of markrivardart.com
If you could collaborate with any other artist, who would it be and why? 
Kids. I would love to do a skateboard art show where the boards are all in collaboration with students.  I think the energy of something like that on a truly large scale and proper venue would be very inspiring.  If I could have 50 different students hand me their own ideas on boards, I add my own feel, and we would pass that back and forth for a few rounds until we had a dynamite piece, that would be cool. Seeing 50 different ideas of pure, innocent self-expression and then building on that in my own style would make an interesting show.  Aside from that ongoing idea, there are so many artists that move me.  Spike Jonze, David Choe, Mark Gonzales, David Rathman, and on and on and on…
What's your biggest source of inspiration?
The will to live.  The idea that I could be remembered.  The idea that I could change something in this world.  I don't know really, it's a moment-to-moment thing truthfully.
What's piece are you proudest of?  
Probably my first sketch, "Beginnings".  It was on my first skateboard and it's the Minneapolis skyline in Sharpie.  That board sparked a life for me I never dreamed I could have.
What would you say is the best part of being a skateboard artist?  
Having a platform to speak the things I see and think about.  It's given me a life far greater than anything else I could imagine doing.  It's a life that lives on past your own, whether you have a name for yourself or not your creations will live longer than you and that is something I like.  Besides, what else would I do?
> Massive thanks to Mark for this interview and we wish him luck with all future projects. Keep up-to-date with what he's been up to and what he's doing now on his official site.