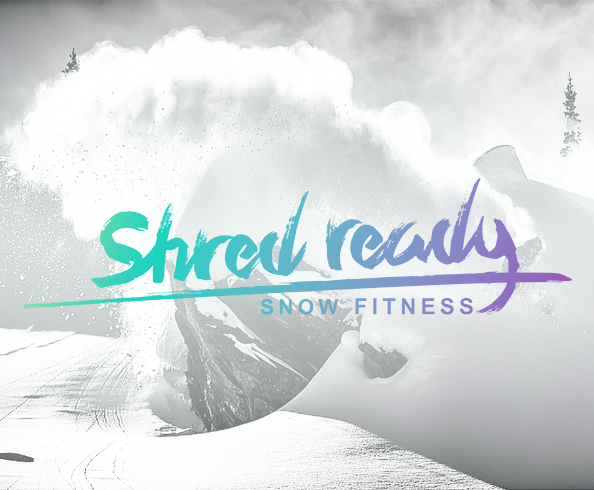 Some people get down about this time of year – the nights are drawing in, the temperatures are dropping and everyone is having to wear more layers. For us though, the onset of winter only means one thing: it's time to get stoked and get ready for the mountains!
Yes, instead of having to get beach-body ready, our minds now turn to toning those quads n' glutes, amping our agility and strengthening our stamina so we can shred harder, and for longer. Now that October's here, all we can think about is hitting the white stuff!
So, what better time for us to hear about Sophie Everard and her rad new Shred Ready sessions – a new fitness class tailored specifically for skiers and snowboarders in London.
---
The Class…
On Tuesday evening we headed to Roxy and Quiksilver's HQ in the heart of Shoreditch, all set for the first Shred Ready class. Walking in, the smiles were beaming and the stoke was high.
Sophie wasn't exaggerating when she said we'd bring the sweat. This class is an hour of high-intensity training. We're talking sets of push ups, inchworm planks, push squats, jump jacks and tricep dips – all designed to enhance your strength, power, agility and endurance. Throw in some rotations, spins, squat jumps and partner work, and you've got the perfect recipe to get those legs and cores ready for days of shredding from first tracks to last chair.
With heavy music pumping, (most of tracks you'll recognise from those snow movie binges), and The Art of Flight playing in the background, our stoked levels were only raised even further. We even got to practice our 180s and 360s – perfect for enhancing muscle memory, balance and coordination whether you're a novice on those boxes and rails or a seasoned rider in the park. Even if you're landlocked in the city this winter, this class is the perfect antidote for those mountain blues.
After 15 minutes of stretching out our muscles, we were treated to a delicious peanut butter smoothie, homemade by Sophie. Or you can have a beer, if, (like me), your body was screaming for the naughtier option. A tour of the Roxy, Quiksilver and DC offices, raffle and good vibes finished off an amazing night that we're still smiling about, and our muscles aching from…
Shred Ready is planning to be held every month, with the next class dropping soon!
The next class will be announced on www.madtoliveblog.com, with information on how to book…Stay tuned!
Shred Ready: Surf Fitness will also be coming in hot for the Spring!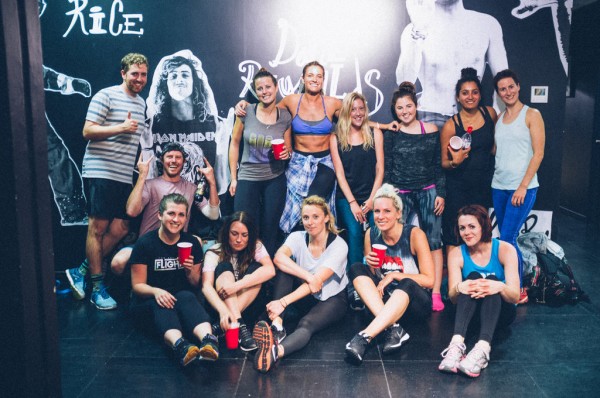 ---
"Live with passion and love, adventure often, and keep it real!"  – Sophie Everard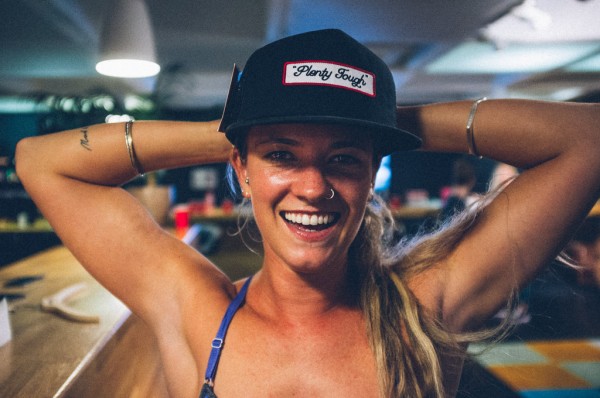 Sophie Everard – Q & A
We caught up with Sophie – Founder of Shred Ready, fitness instructor, Oakley PR extraordinaire, freelance writer, surfer and shredder – to chat all things Shred Ready, snowboarding, and peanut butter smoothies!
Sport is obviously something that's central to your life – What's it like balancing being a qualified fitness trainer and rad PR lady for Oakley?
It's awesome being able to work within my passions, something I always wanted to achieve.  I invest in what I love, and whilst my days can be really busy, I am stoked to work in an industry that I truly love!
What's your background with snowboarding? How long have you been riding for?
11 years ago I moved out to France to do my first season.  Having grown up in Greece, I went skiing every winter as a kid, (yup, there's shred in Greece!) But, I wasn't familiar with the whole crazy, wonderful, beer, cheese and caramel vodka-fuelled, stoking-your-brains-out notion of doing "seasons". I just knew that I wanted to learn to snowboard and be in the mountains! Today, I am in love with everything to do with riding and being out in nature.  My passion lead me to work within marketing, PR and editorial for action sports, including stints at Vision 9, Factory Media and Oakley, freelancing as a surf and travel writer, and of course, becoming a fitness instructor.
What inspired you to launch Shred Ready?
With so much of my personal and professional time dedicated to the sports I love, particularly surfing, snowboarding, cycling, fitness (erm there isn't much that I don't enjoy) I was keen to explore how to best prepare and hone my body for these sports. [I wanted] to ensure that I was truly getting the most out of them, allowing myself to progress, and to be ready for last minute trips to the coast or mountains.  With such an awesome, colourful contingent of passionate riders in the UK, I really wanted to create something that got people stoked about the forthcoming season, and most importantly, get their bodies in prime condition.
Why is it so important to be 'Shred Ready' before heading out to the mountains, and how does your class get people's bodies prepped for the hill?
We aren't blessed with year-round mountains on our awesome little island, and we can all be guilty of heading out to the mountains and finding ourselves in pain/injured. I mean, come on, who isn't spent the first night after riding with aching glutes/legs due to lack of preparation?
Most of us head to the mountains in winter so aren't riding year round.  I really wanted to cover all the critical components to snow fitness to ensure participants understood just why these key facets – including strength, power, agility and flexibility – are so critical to the winter sports we love.  Investing in training for this enables you to ride longer, harder and to prepare against injury.
You had a constant 'undercurrent' of high-intensity throughout the workout. Why is this particularly important?
Incorporating high-intensity training into the workout ensures we are developing the correct energy systems and boosting our endurance. This is particularly critical if you're into freeriding, or indeed freestyle, especially with those long hikes up to the top of a kicker.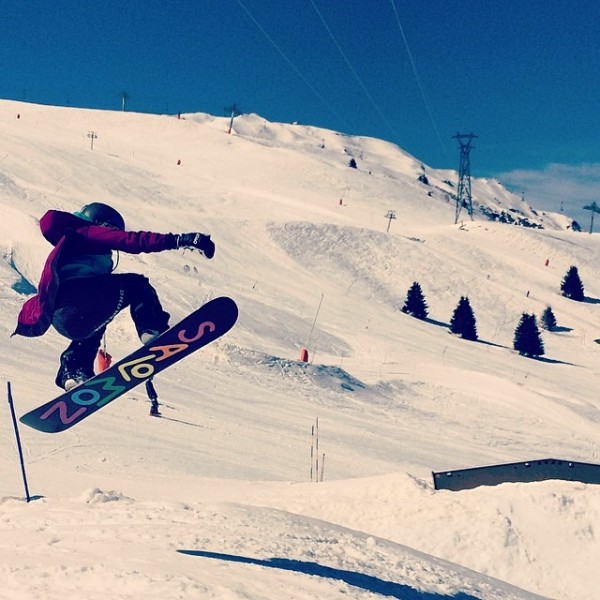 There were a ton of jumps in your workout too, (we loved practising our 360s). How will this help prepare anyone thinking about getting into the world of freestyle?
Explosive power and better leg strength helps us taking off when we jump, ensuring better pop and enabling you to clear that big kicker you've always wanted to.  Getting to grips with the sensation of spinning and rotating the body is fun as well as getting the body used to those rotations.
Apart from attending your classes of course, what are you top tips for keeping fit during winter?
I love mixing up my workouts, incorporating strength training, (great for action sports), such as free weights or kettlebells with fun classes like boxing and spinning.  High intensity is a great way to get the most out of minimal time if you're pushed for it during the week.  Keep mixing things up and challenging the body, find things you love to do, it doesn't have to be a drag.  As well as challenging yourself it's meant to be fun, and most importantly, make you feel great.  Keep the stoke burning during the winter months!
What's your typical exercise routine on those days when you're not teaching?
Fitness makes me stoked so I can often be found smiling and sweating in one of my local gyms.  I do a lot of strength training, mixing up circuits with free weights a few times a week, interval training, boxing, runs around the park or spinning, and yoga for stretching and zenning out.
We were super fans of those peanut butter smoothies after the class! What are your top nutrition tips to fuel your fitness?
Peanut butter is the cure…haha!  If you aren't fuelling and refuelling the body properly, you are just not going to get the most of your workout.  To repair after training, your body needs protein and carbs. If you ain't feeding it, you won't get results!
Likewise, before I go into training it's important that I am fuelled and ready – peanut butter on apple, banana, avocado on rye with a shot of espresso, this fires me up and allows me to perform to my best.  Smoothies are a great way to get a hit of nutrients and vitamins- I love a frothy green shake with vital minerals and vegetables to replenish my body.
We hear you're a mega-keen surfer too! How often do you get a chance to get out on the water, and where's your favourite spot?
I LOVE surfing.  Although I live in London, I keep the dream alive.  I think what is so rad about the snow and surf scenes in the UK is that for those of us not based in close proximity to waves or mountains, we keep the love and culture alive through amazing creative and active pursuits like the London Surf Film Festival, Freeze, and the Shred Ready classes.
It's inspiring how stoked people are about these lifestyles and sports and that is inspiring.  Surfing in the UK is awesome. As often as possible I jump into my friends' car after work on Friday, and all zipped up in a tent in Devon by 11pm to wake up for a dawnie.  I love to travel so save as much of my money as possible for long-haul shred trips.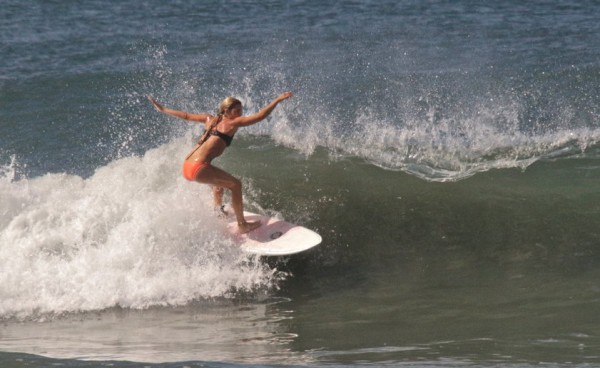 ---
 For more information on Shred Ready, and to check out more about the lady herself, head to Sophie's MadToLive blog.
Instagram: @SophieEverard
Twitter: @SophieEverard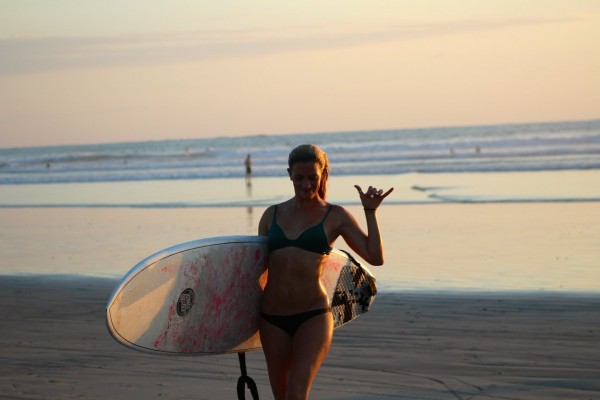 ---