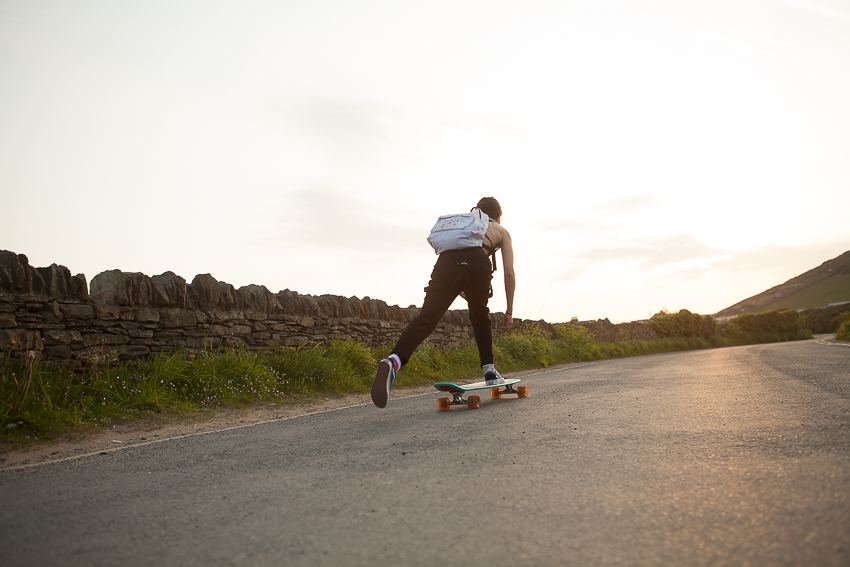 These women skate. They don't care what other people think about them; the way they talk, the cut of their hair, their body shape or the clothes they dress themselves in. Whether it's because the sports bra and jeans are supportive as they pump it or the shoe is secure enough to push it, roll it and ride it – they wear what makes them feel comfortable. Why don't they sweat on all those little things? Because they just want to nail that trick, ride faster, drop in harder, feel a sense of achievement, laugh with their friends… they skate because it makes them feel alive.
And when it comes to bikinis, these women don't reserve them for splashing in the salty stuff and cartwheeling in the sand. Forget that. From the city streets to skate parks and beyond: they live in it. We had a chat with Celine and Louise to find out more about them, what motivates them, and how they take their bikinis so much further than the beach.
Celine M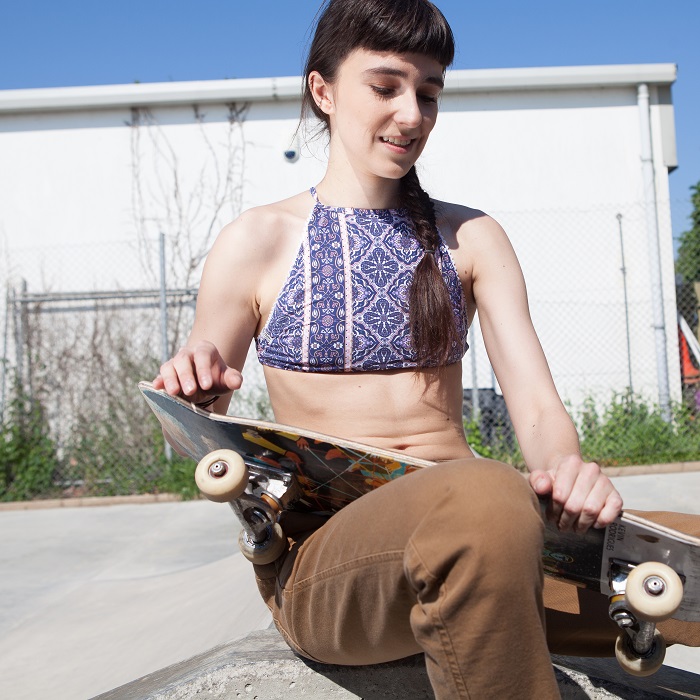 Celine wears: Rhythym Persia Apron bikini top, Carhartt Casey Ankle cargo pants
How did it feel when you first stood up on a board or landed your first trick?
The first time I pushed on a board it was a disaster; honestly, it looked like I would never be able to skate. I was pushing behind my house with my friend and we were filming each other because we were standing on the board for more than two seconds and we were like "ahhhhh!" like watching some videos on YouTube of how to push because we had no idea! We were basically learning on our own thinking "woah it's going to be a long process to get something done". In the beginning, I had little hope for my improvement because skateboarding is such a long way to get the basics done but then when you land a trick it's the best feeling ever. You feel like this is something amazing, you're like the best of the world, you feel so happy, you feel like everyone knows about it but no-one knows, you just feel celebration in your head and in your mood, feel so happy. When I landed my first trick, I just couldn't stop smiling all evening and night and kept talking about it and watching the video back of my new trick.
What's your new trick… the first one you properly nailed?
My first one on flat was a frontside pop shove it. I think I did this trick in such a good atmosphere that I nailed it straight away. I did it perfectly! After I was over thinking, like ever since I have never landed it again. My first trick on the ramp were rock to fakie, I landed it first try when I first dropped in. I dropped in on a mini ramp and did rock to fakie straight away. My boyfriend was like "what the f**k, you dropped in straight away and did a trick". It felt like it was a game, I was not feeling any fear, just telling my body to go down and do this, do that.
Are there any girls out there that inspire you to skate?
Probably the girl from America because she is really good. I want to be a skateboarder, not a girl skateboarder. I try to push myself and actually I'm getting inspiration from girls who get really good but then keep watching videos of guys just to see their style and just get back on my board otherwise I fall. Guys give me the strength to be brave, girls give me the fun and being able to share my motivation.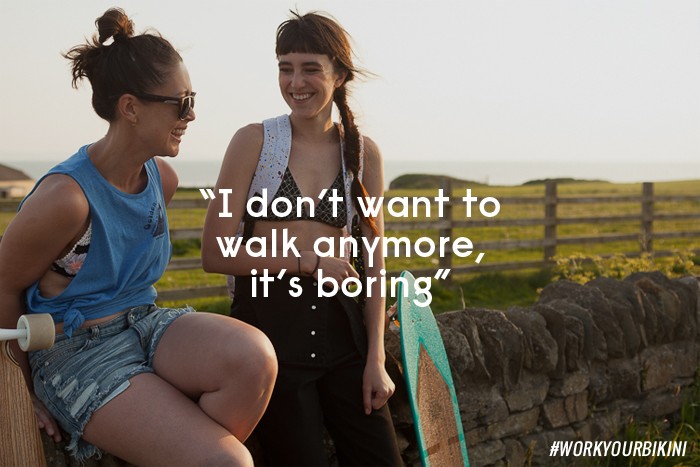 Left to right: Tasha wears: Roxy Goldens Muscle top, Rhythm Seychelles Bralette bikini top, Rusty Wonder Walkshort denim shorts, Dragon Marquis Matte Tort sunglasses

Celine wears: Hype White Primary Speckle backpack, RVCA Palm Triangle bikini top, Afends Elliott dungarees
Why do you love to skate?
For me it has become an addiction; I have to do it. If I'm not doing it I feel like I'm missing something. Like now, if I leave my house without my board, I feel weird. I feel like I am losing something. I can't leave my house without my board. If I go somewhere for a party and I can't bring it I feel bad. Imagine if I could go skate after but I don't have my board? I feel like I am going to miss out on a session. I need to have my board with me. I don't want to walk anymore, it's boring.
What's your advice to someone who might be curious about skating but hasn't yet tried it?
If you haven't tried yet, just give it a go. You're not losing anything to try. I think people shouldn't stop themselves for anything. I wanted to do it, I did it, and it worked. You can do everything you want, if you want to just do it, then do it. Like Nike! You don't have to give yourself excuses, everyone can do it.
Do you have any other interests besides skateboarding?
I like playing tennis! I'm also pole dancing, for so long I've wanted to do pole dancing! I've seen videos on YouTube of dancing and pole fitness. So I started, but not in a sexy way like striptease… it's a proper activity, so I decided I just wanted to try it. It's just like skateboarding, you push your body, you push your strength and get stronger and healthy. Then you learn tricks and give yourself a challenge. I won't limit myself to one activity; I'm just going to do everything that I enjoy doing.
Do you have any tips for women to take their bikini from the beach to the streets?
Yeah! I like wearing sports bra style bikini tops as it's so good for summer. I'm skating with trousers and a sports bra style at the moment. Plus it's a more feminine way of wearing a sports bra. So yeah you can wear bikinis for so many different activities, I know girls who wear a bikini with a sheer top for summer. Before skateboarding and my new lifestyle living in London, I was more into fashion and looking good but I wasn't comfortable. I'm in a different vibe now and my way of seeing everything; I just want to be comfortable and happy. Before was all this superficial stuff.
What's changed?
I don't wear makeup anymore, I don't care, I'm just doing stuff to make me feel happy, I'm eating good food, I'm training my body to be strong for skateboarding and pole dancing because both of these need so much strength. I think pole dancing, even more, to be honest, because you have to lift your body and just hang out on your arm. I want to make my body strong – not to look good – just to be able to do my activities. When I see people going to the gym just to look good and have good selfies on Instagram; that's just sad.
What's your favourite bikini type for your activities?
If I go swimming at the beach, I love the bandeau style because I was to look nice as a woman. If I do an activity, it's more about the comfort. I wear crop top for skating every day. No bra. When I skate I think, don't fuck up the trick, do this, try that, I am thinking of skateboarding so I just want to be comfortable. I'm happy with small breasts, I would never change my body! I know I'm like that and it's the way I am so I'll keep it. I feel like I look a bit like I'm 12 years old sometimes. Even though I'm trying not to think superficially, maybe sometimes a few details will still be on my mind. Everyone has these little complexes on their body, but it doesn't mean I want to change it… it just means I'm… complaining. 
Louise B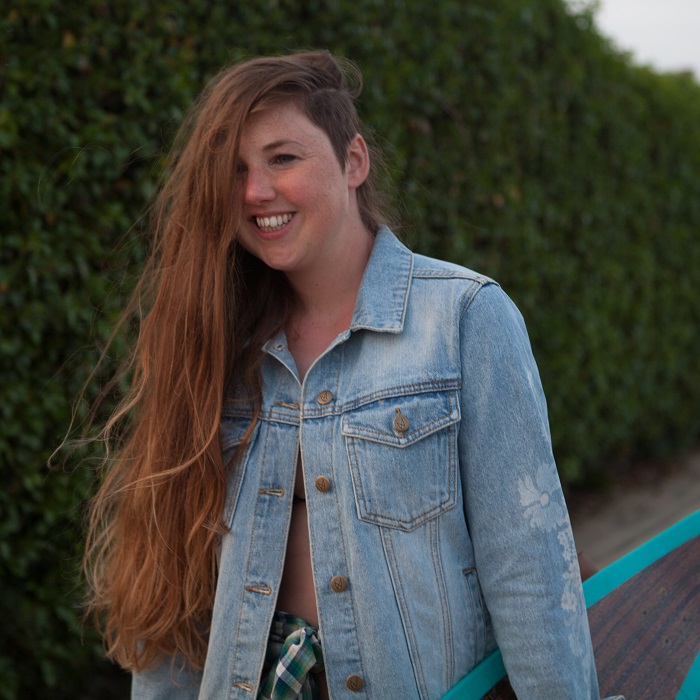 Louise wears: Minkpink Blue Skies Print denim jacket, Esprit Twill Check long sleeve shirt (tied around waist), SWELL Charlotte bikini top (worn underneath jacket)
Why do you love to skate? 
I think it's mainly the feeling of being on a board and working towards something and conquering a fear. But there's also the adrenaline. You get something out of it. I guess that's what you get when you overcome a fear and do something that's way out of your comfort zone, and that you don't think your body would ever be able to achieve.
When did you start skating?
Six months ago – so it's all still a bit new to me. I went on a trip to Bali in November and I was surfing and doing yoga and then I came back to London and just felt trapped all of a sudden. So I enrolled myself in House of Vans' free skate school and it was just myself and a lot of children and I just learnt that way. I started recognising people when I was there and it just felt like home. It's just a really fun thing to do!
If you try at something (many, many times) then you will get it in the end. There's that feeling in the beginning where you're like: "f*ck, I don't think I'm going to be able to do this". But, when you do there's such a cool sense of achievement. You feel like you can do anything you want in the world. It's empowering.
What was it like starting something new when you're perhaps a little older than when people would normally start?
It was really scary. I almost turned around when I was waiting outside House of Vans that very first day. But, I went in anyway and I was just with loads of kids of all ages – no one my age. I saw an older man there so I was like "okay, cool, he's having a go". And then at the end of the session I met these two girls who were also in their late 20s and it was their second or third time at the skate school. I was like "oh my god, I didn't realise people my age did this and started this" and they just said that they started together simply because they just wanted to get into it. 
There's a community of people out there, and then obviously I went to girl's skate night that night. It was really scary at first, but I guess I wasn't focused on all that kind of superficial stuff. I just wanted to ride a skateboard. There wasn't anything else – it was just really pure: I only wanted to skateboard.
Would you say that skate is an antidote to the instant gratification problem we have now?
Yeah, if you enjoy it – if you love the feeling of falling off and getting back on and doing something and being really f*cking scared when you do it, or really related. If you love those feelings, then yes, it's an amazing antidote. 
If you like board sports and you're stuck in a city, or just want to learn something new, then it's perfect. There is that instant gratification, but then there's also this build up. For example. I've been trying to drop in for about four months now, but when I finally get it on my own I'm going to be so unbelievably stoked because I know that I've been working on it for ages and I know I've got it, and I know I can do it. But there is an element of fear to it and there are all sorts of different emotions. It is instant gratification along with a build up and after a long time you're going to be able to look back and see what you've achieved…. and I guess there's that gratification as well.
What motivates you to go out and practice?
Just knowing the feeling of being on a board – just seeing my skateboard and just wanting to be on it. It becomes an addiction. It's also a social thing – going out and skating with your friends or your boyfriend – it's a community thing.
I guess there's also that feeling that you have at the end – the feeling after you've pumped the mini ramp or you've gone down that big flat bank that you never thought you'd get down. Just being on the board: just the feeling of being on it and just doing it.
Would you say that skateboarding is a form of escapism?
I guess it is in a way. You're just in this little world and nothing else matters. I don't care what anyone thinks about me. The vibe of the skate park is that no one cares about anything superficial. They're all just trying to do a trick and then when they see you trying to do something they're all like "YEAH – you've got this!" Everyone is really encouraging and it's such a positive vibe. And I think that's what I love about it – I just feel like no matter who you are, you can fit in.
Living in london, you don't always the opportunity to go on holiday. You can't always go to where the surf is and every single weekend it is a concrete jungle. It is overwhelming and there's so much to do. Then, at the same time, it's so hard to have a hobby and have something that's relatively cheap as well, so, for me, skateboarding was just super cheap and just really fun. Plus, it's something that you can work on and that you can do on weekends.
How did it feel when you first stood up on a board or nailed a landing?
It just felt amazing – like, "oh my god, I'm free". As I was saying, even though I was so scared of putting it on pavement it's that whole thing of having that fear beforehand and then conquering it. It's that feeling of awesomeness. Even from that moment – the moment I pushed off on the board -it felt awesome. I felt free.
It's about overcoming something in yourself that's saying 'no, don't do it'. As an adult that's a hard thing to do. For children, it's easy because they don't have as much fear and they don't over-think things because they don't have enough experience to draw on to be really scared. So yeah, it feels awesome to be like "No brain, I can do this!"
You've talked about community. Where are the best places to go and find a skateboarding one?
I guess it's just once you start going to skateparks on a regular basis. You'll always start to recognise people. You'll start seeing the same people and then you'll just start chatting to them. It's quite easy to access these communities once you know what's going on. You just have to put yourself out there and just go to skateparks. The community is so welcoming, there's no reason to be shy.
I've always found it an absolute pleasure skating with guys. I love going to skate nights where there are just one or two girls there. I know why I'm there: I just want to skate. The guys that are there are normally really supportive or they just don't bat an eyelid and they'll just skate around you.
So do you find guys are actually really supportive of girls coming into the skatepark?
They're really positive! One of the guys at the front desk at Bay was telling me about how it's really good to see more girls getting into it and coming to more advanced skate nights.

What advice would you give to someone who's curious about skateboarding?
Just have a go! Don't be too scared and don't be afraid to look silly, because that's actually where you get respect – if you look stupid, you're not actually stupid, you're looking awesome. If you fall over on your face, people are like "YEAHHH, well done – now ,get up and try that again" and you come back a stronger person. So yeah, don't be scared. I know that's easier to say than do but even if you just find someone who will just go out with you and just have a go. Just get over that initial sacredness somehow… just try.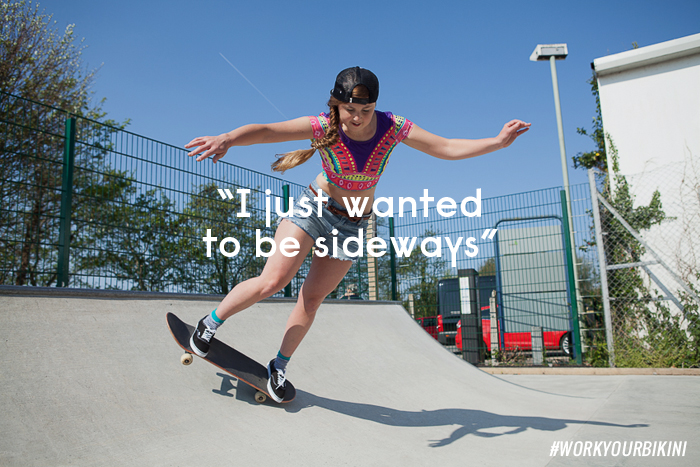 Louise wears: Vans Lawn Party trucker cap, Minkpink Bright Delight Rashie bikini top, Rusty Wonder Walkshort denim shorts, Maison Scotch Skinny Leather belt, Superdry Navy Stripe socks, Vans Authentic Lo-Pro shoes
Are there any female role models that you look up to?
Leticia Bufoni – I just thought that she was super cool, and because she's a little more curvy. Most skater girls are depicted as being tall and skinny, and obviously, I don't look like that, so I never thought that I could be a skater girl. But now, it's not about being a skater girl, it's not about the look– I don't care what I look like when I go skating, I look like an absolute dick when I go skating: I have my socks pulled up to a height that I'd never have normally and my jeans look stupid and I wear oversized t-shirts and I don't care because I just want to skate. So I guess Leticia done it for the girls with girl bums. 
Lacey Baker – She's also a type of street skater. She looks kind of boyish and she skates like a boy. Well, actually no, I shouldn't say that. I hate that. I hate when people say "she skates like a dude" because she's a girl, so she's skating like a girl. 
Elissa Steamer – she was one of the original skater girls in the 90's and she skated for Toy Machine and she's just got a really cool story and she just didn't give a f**k: she just wanted to skate. She wasn't like other girls and that was quite a brave thing to be in the 90's.
And then just other girls that I've seen around and other girls at the skatepark who I really respect. They may not be doing what Elissa Steamer did (at least not physically), but they're doing what she did in the way that it's challenging themselves.
You can still be girly and be a skater. My boyfriend showed me a video of when I was just tick tacking around Barcelona and I was like: "damn I skate like a girl" and he was like "well, you are a girl" because my hands are delicate. I just thought that I looked a bit cooler than that. But, I think it's definitely another way of showing you're a woman. Skating isn't about sexualising people.
Do you have any tips for women to take their bikini from the beach to the streets?
Just wear it! Wear it wherever and make sure it's comfortable for what you're doing. If you're going skating wear one that's going to support you, or if you're going to the office, maybe wear one that's going to look really cool under something, like stripes under a clear white t-shirt.
What's your favourite bikini type for your activities?
It's just what I feel comfortable in and what I feel sexy in. I don't like to cover things up, because when I try to do that, it just goes wrong. I've not always just worn the tie side bikinis because I'm super happy with my body. I don't mind it. I go to the gym, I work out. I'm happy with what I've got. That's it – I just make it work. And I love interesting back details.  I wear anything that's supportive as well because I don't want them to fall out – that's not great.
Even when you've got flaws, just flaunt them. Flaunt your flaws as they're just beautiful. They're what make you who you are. 
[su_carousel source="media: 36471,36473,36472,36477,36467,36469,36470,36466,36476,36474″ limit="21″ link="lightbox" width="700″ height="200″ title="no"][su_carousel source="media: 34345,34346,34347″ limit="10″ link="lightbox" width="700″ height="200″ title="no"] [/su_carousel][/su_carousel]