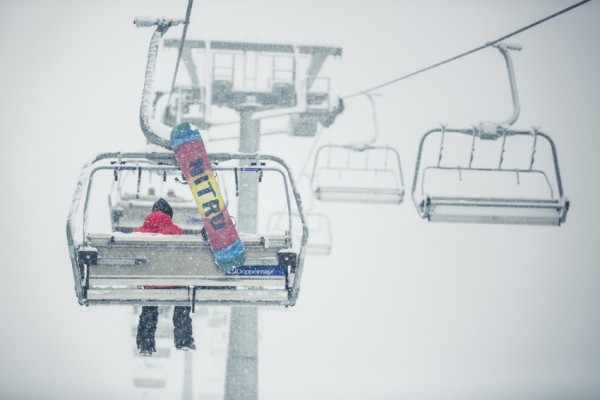 Sunday 31st – Feb 6th
Snow Forecast:
The snow across the Alps for the upcoming week is looking volatile to say the least. Before you think that's code for 'really bad', it also means that there's a strong possibility of some fresh snow for many resorts and some cooler temperatures to take conditions back to what we're used to for this time of year!
We've seen spring-like conditions over the past week with bright blue skies… and rising temperatures. The freezing temperature for many resorts is currently 4,000m, and will be for Monday…. that's absolutely crazy for this time for the year! Yet, changes and winter are finally coming with many weather forecasts predicting a new wave of unstable (and quite unpredictable) weather tracking its way across Europe from Sunday 31st and making a prominent North/ South split across the Alps.
This active weather front arrives from the northwest. This very well may see heavy snow over some parts of the Northern and Western Alps. However, we're sorry to say that the precipitation will not fall as snow in the majority of resorts, but as heavy, heavy rain. We know, not ideal – the freezing level will be around 2,000m before lowering to 1,000m by Wednesday. Although the rain will force you to go higher, there's also going to be extremely strong winds at altitude in the Northern Alps for Sunday and into Monday.
---
Austria: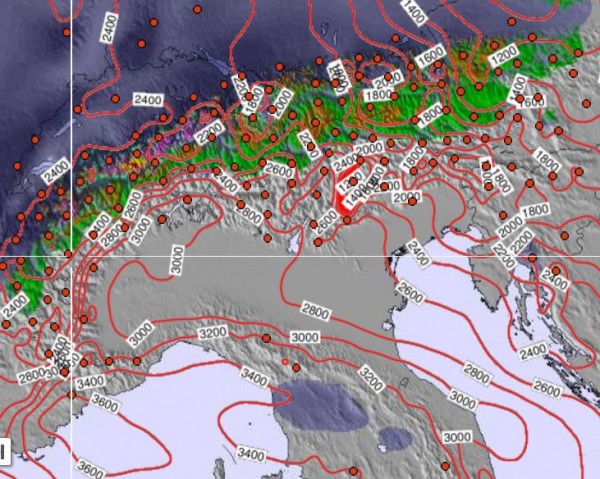 Sunday 31 Jan forecast (7pm)
Look out Austria: snow is possible above 1800-2000m! Although 20-40cm were originally predicted, it's looking like those figures aren't going to be so high for many resorts. St Anton and surrounding resorts are due up to 30cm by Sunday night, along with strong winds as the storm passes through (30km/h). Heavy snow is due again on Wednesday night (approx. 24cm) while the wind eases off and the temperatures drop around Thursday (we're talking maximum temperatures of -8 degrees Celsius).
Unfortunately, it's heavy rain forecast for the likes of Soll. Yet, things are looking to brighten up once the storm passes, with bright sunshine and even light snow due Wednesday/ Thursday once those temperatures drop.
---
France: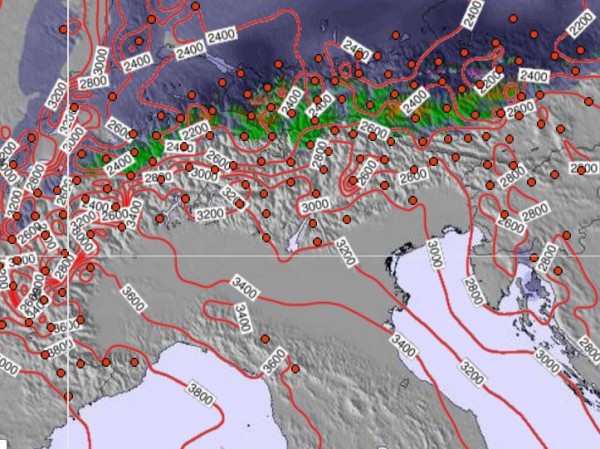 Monday 01 Feb forecast (7am)
France has seen the onset of spring-like conditions, with hard packed pistes in the 3 Valleys and Epsace Killy, as well as limited off-piste conditions. Those resorts in the Southern Alps, and below 2000m, suffered last week with the rise in temperatures and melting of snow.
However, temperatures on Sunday are looking to fall below freezing, with the possibly of some fresh snow over the Alps. Over the next week, the likes of Tignes and the Upper Tarantaise, Chamonix and Argentiere are looking at snow above 2,600 metres, with upwards of 20cm predicted throughout this week! As with all weather, the snow conditions are proving exceptionally unpredictable this week with anywhere between flurries of snow (0-5cm) and 20cm predicted up top of resorts in the Northern Alps. Yet, don't forget about those gusty conditions – those lifts may very well be closed due to the high winds that are coming in with the storm (up to 35 km/h at 2,100m) so check your local resort information website to see which lifts are open. It's looking to clear by early this week with lower temperatures kicking in Wednesday night and bringing a dusting of snow.
For the lower slopes of many resorts, it's looking like that snow may very well fall as rain, due to the high freezing point of around 2,000m.
---
Switzerland: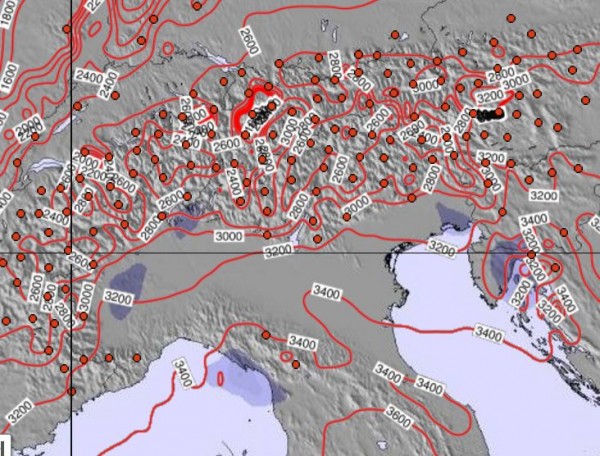 Wednesday 03 Feb forecast (1am)
With temperatures having fallen over the last week, conditions are looking better than the previous weeks, where the slopes have suffered and softened up from the warmer conditions.
And, to make news even better, fresh snow is forecast for this week with 10-20cm in many resorts such as Zermatt and Klosters! Yet, as with France, this will fall as rain on the lower slopes due to the high freezing level of around 2,000m, while the wind will definitely pick up. Lower temperatures kick in come Thursday (-14 degrees Celsius at the lowest for Zermatt).
---
Italy: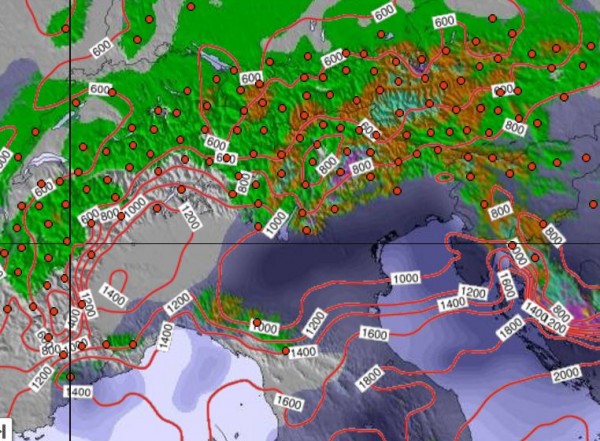 Thursday 04 Feb forecast (7pm)
Changeable weather is on the horizon for Italy. Light snow is expected with variable freezing levels of between 1,400 – 2,400m. Although this means rain in some resorts, the likes of Cervinia and Courmayeur will see around 10-20cm of fresh snow throughout the week – a nice top up to the hard pistes that had begun to soften.
Resorts in the Southern parts of the Alps, such as Sauze D'Oulx and the Milky Way, will see a dusting of new snow throughout the week.
---
Andorra: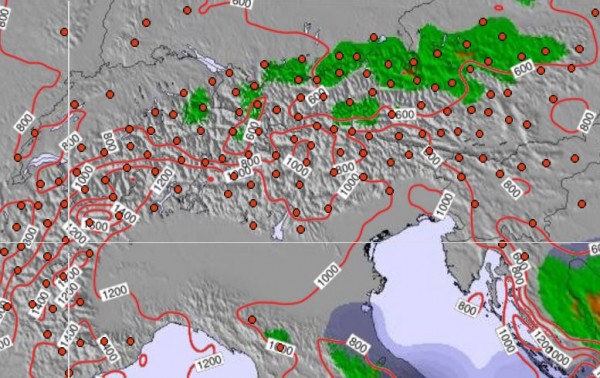 Friday 05 Feb forecast (1pm)
Bright sunshine is set to continue into the start of this week. The freezing level is predicted to sit above 2,500m so those spring-like conditions will stick around for a little while longer. Yet, a sudden change in temperature is forecast for Tuesday. We're talking a drop in temperature by 10 degrees… and some much needed snowfall!
---
Avalanche Risks
Please bear in mind that fresh snow (especially in heavy amounts) will definitely increase the avalanche risk. Even though the weather is particularly unpredictable this week, the avalanche risk will be particularly high if the strong winds and snowfall that are predicted go ahead, so please check the avalanche bulletin in your local area before heading out.
Images courtesy of Snow Forecast.
---
More from Surfdome >
Now you've got the forecast,  why not get the inside tracks on your favourite resorts? From the French Alps to the Italian Dolomites, we let you in on the best runs, top tips and secret places with our Surfdome Guide To…