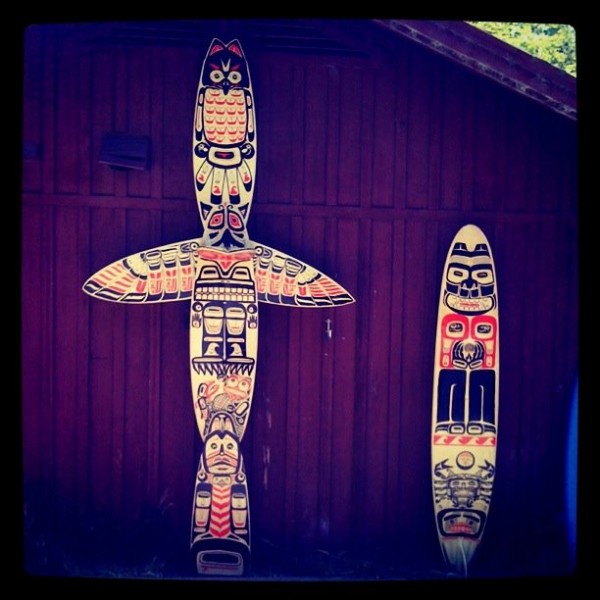 Not far north of San Francisco and near the sleepy Bolinas Lagoon is the 2 Mile Surf Shop. There you can see some of the most impressively unique and artistic use of old surfboards you're likely to find anywhere. They are the handiwork of the surfing, skating artist Walter Blair Tom. We caught up with the multi-talented Walter to find out more about his surfboard totem poles, his influences and his infamously cold, sharky but spectacular surfing grounds.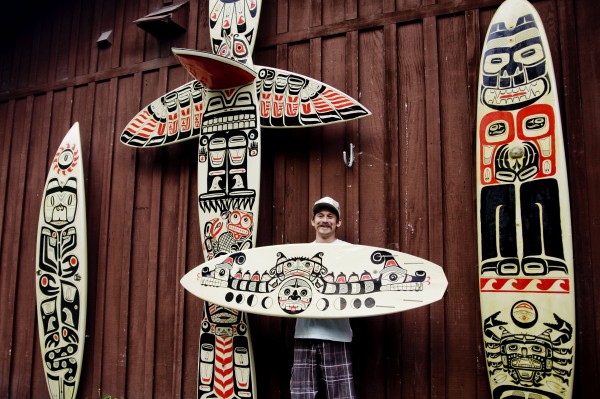 What inspired the totems? Do the animals signify anything specific?
Again, thanks for being stoked on the totems! The surf totems came about as an idea about a year ago between my boss at the 2 mile shop, Drew Reinstein, and another mutual friend Molly from Deeper Visions. I had been making Skateplane handplanes out of recycled skateboards for about a year, and a lot of the design work that I was burning into them was inspired by the first nations tribes of the Pacific Northwest like the Haida and Tlingit.
So eventually the concept of building totems seemed like the next suitable direction for repurposing boards and putting their energy back into the surf community. So, the animals that are featured in the totems tend to be influenced by original Pacific Northwest art, but with a personal and local twist.
I've got everything from owl bats to sea squirrels and crystal salmon voyagers…it gets a little confusing, but I just love the design qualities, the shapes and contours, simple color schemes and overall aesthetics. One of my personal favourites so far is my version of the mythical Sisiutl, or double headed sea serpent. I painted one called the Shaka-Sisiutl and Moon Guardian, bringing aloha and surf culture into the mix with the phases of the moon.
What's your story Walt? How did you get into surfing, skating and art?

How did I start surfing, skating and making art?

Dude, it's funny, I didn't even want to surf when I was a kid. I happened to be on vacation and my cousins were all taking surfing lessons so my parents told me to go, I was a dorky pimple faced kid with braces at 12 or 13, wasn't really into it, but that first wave I caught, I think I even have video of it, you could just tell that that was it. Game over. Surfing took over. I mean, I still studied, worked, and did all the ones, twos and threes, but it was all for the waves. Skateboarding came later as a way to surf when the waves were crap, which is often north of San Francisco.
And the art, well, I was probably doing my best Jackson Pollock impersonations while I was in diapers, but I've always been drawing and painting since I could hold a crayon. I've taken some art classes here and there, and always wish I could do more, but when it comes down to it I've always been the kind of person to dive in head first and figure things out in the process. Right now it seems that there are so many possibilities and avenues for creativity that I'm on permanent ADD mode when I'm not in the water.
 
Where are your favorite surf and skate spots?

I surf mostly in Sonoma and Marin county, with occasional forays to the north and south. My home break is Salmon Creek in Bodega Bay, populated mostly by fisherman, surfers and sharks. I really miss this little place I lived and worked at in Nicaragua, Gigante was so epic, and my buddy's place over in Sumatra has ridiculous waves.
I work for Drew at the 2 Mile Surf shop in Bolinas and teach surf lessons for Nick at Surf Bolinas. I love surfing in Northern California, I dig the beauty, isolation, and being able to search out waves with my friends, it's always an adventure and a great escape. Whether I'm riding a wave or helping push a kid into his first wave, the stoke is overwhelming and I am always thankful to be a part of it any way I can.
As far as skating goes, I'm always down to carve a street, slappy a curb, hit the Bolinas skatepark after work, I volunteer at the Sebastopol skatepark, or shred with the homies at the Santa Rosa park. Each place has its own character just like a surf spot, and variety is the spice of life. If I can surf, skate and create all in the same day then I'm in heaven!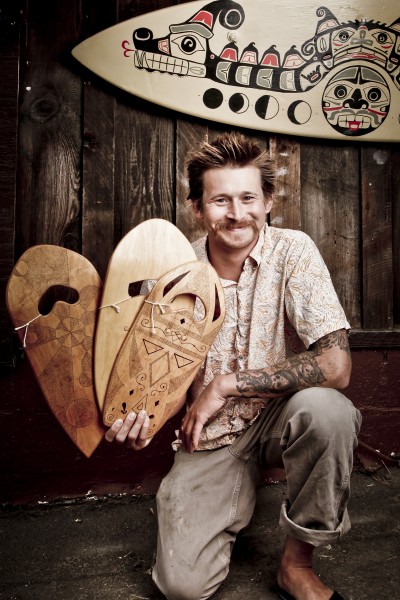 What's next for you? Any other projects we can look forward to?

Not really sure what is next, but I'm stoked to find out. I just finished my Master's in History from Sonoma State, wrote a little thesis on surf culture and immigration in El Salvador, Nicaragua and Mexico. But art seems to be the track that I'm own, whether it is functional, recycling, painting, litho, etching, sculpture…man, I just don't know! There are so many possibilities that sometimes I freak out just thinking about it, but I definitely want to keep making the totems and the skateplanes, maybe some more t-shirts or another totem installation somewhere? Honestly, I just hope that the energy keeps pumping and I keep getting the support and inspiration from my family, friends, and community to keep making stuff.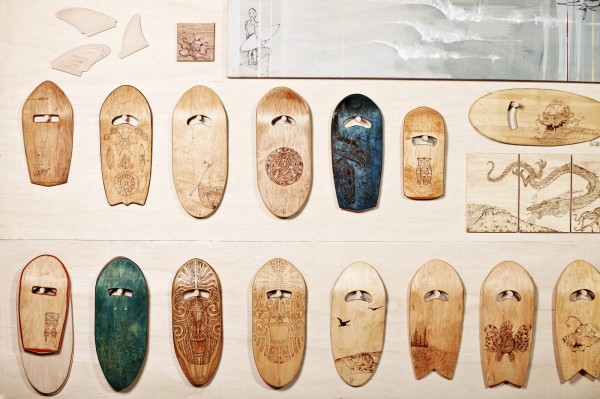 Shout outs.

A big thanks and mega shaka to my family, Mom and Dad! For putting up with my surf and skate hijinks. Drew for his support and a place that stimulates my creativity at Sonoma Coast Surf Shop and 2 Mile Surf Shop, Billy for his help with installing the totems, Craig for constant rocker and concave conversations. Molly and Deeper Visions for brainstorm sessions and support, all the surfers and skaters that have donated supplies to my art, to my friends for always keeping me stoked. Skyler and Gina Carr for always bringing smiles, sandwiches and brewskis, my whole surf and skate community that I can't imagine living without!!! All my homies in Bodega Bay, Sebastopol, Santa Rosa, Petaluma and Bolinas thanks! If I forgot anyone it's cause my brain is overstoked!
 
Thanks to Walt for his time, answers and images. Surfdome salutes you, your art and all your work in the community.
To check out more of Walter's work and projects take a look at his personal site and shop.