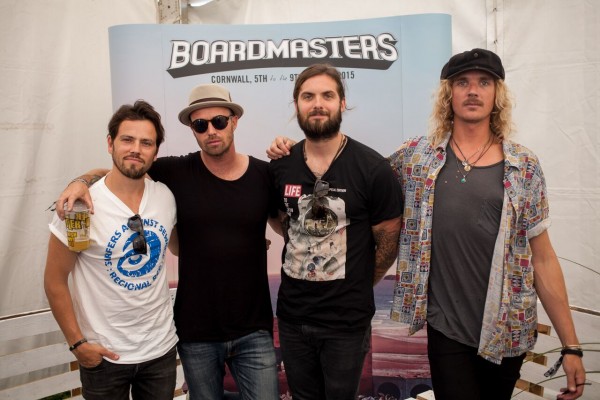 It's a sunny Saturday at Boardmasters and we've just watched Sunset Sons finish an acoustic set on the VIP stage, hosted by Surfers Against Sewage. For those of you not yet in the loop, Sunset Sons are a group of laid-back surfers with a touch of classic rock n' roll. Influenced by the likes of Bruce Springsteen, The Rolling Stones, Mototown and Queens of The Stone Ages, these are the guys bringing their own propulsive indie-rock and surf-soaked sounds to our ears, while still finding time to get in the water and out on the snow.
Sunset Sons definitely have big things ahead of them, (with some pretty spectacular stuff all lined up in the pipeline). With a 27-date tour throughout October and November supporting Imagine Dragons, (including 10 UK shows, two of which at London's O2 Arena), Sunset Sons are ready to take on the worldwide waves.
Flash back to the shores of Hossegor a few years back and Sunset Sons sprang from a bar called Le Surfing, where lead singer Rory sang cover songs. 'We basically got on the piss and Rory knew there was money to be made on top of the mountain', explains Newcastle drummer Jed.  Off they headed to the French Alps, where they formed a covers band that soon gained support and a loyal following from seasonsaires and mountain lovers alike.  Once they started to combine their love of writing their own songs, they knew that they were on to a recipe for success.
As Jed neatly sums it up, the reception that they received inspired them to head 'back to the beach, write some songs… and then we didn't need the money any more because we got a record deal!'  'And now we're buying a space ship', jokes Aussie bassist Pete.
That record deal was with Polydor Records and, after a phenomenal UK headline tour, the band are all set to hit the road once more on an arena tour, supporting Imagine Dragons. From Le Surfing to the O2, the only way is up for these guys.
We were lucky enough to sit down with them earlier in the year to talk about all things music as they were recording new tracks in Nashville, USA with Jacquire King.
At Boardmasters, we had the chance to catch up with the guys once again to get the low-down on their upcoming tour supporting Imagine Dragons,  their involvement with Surfers Against Sewage, and getting stung by jellyfish…
Sunset Sons are:
Rory – Vocals and keyboard
Rob – Guitar and BVs
Jed – Drums
Pete – Bassist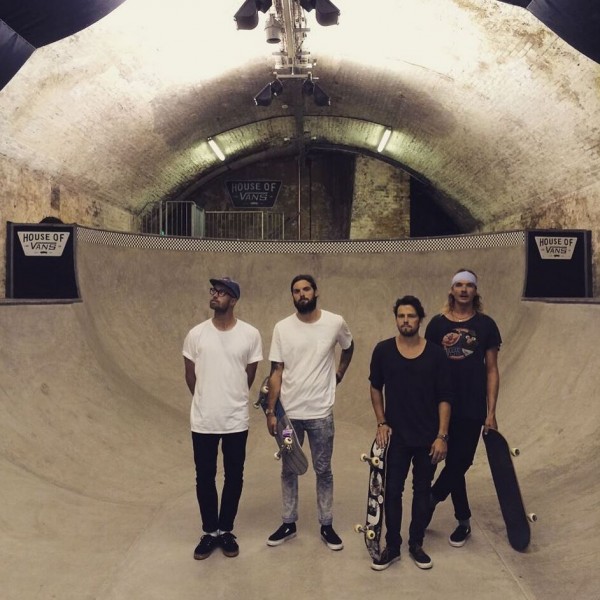 Photo: Sunset Sons Instagram 
So we saw your headline gig at London's House of Vans the other night. How was that for a venue?
Pete: Yeah, we played at House of Vans on Thursday. We super appreciate the effort that everyone put in to getting there with the Tube strikes.
House of Vans was awesome as we were there to play for their first birthday. We also got to skate in there for free for a couple of days which was really awesome.
Rory: It was fucking cool!
We spent three days there. The second day we could have skated, but we were done by the first day. Honestly, they looked after us really well. It was a bit like the old days getting a phone-call for a party!
Pete: Fancy a gig then? Naww alright.
Rob: We really wanted to do it because we just wanted to put something on in London. And there's our big tour coming up!
Jed: Yeah we wanted to put something on in London, Vans very kindly asked us to do it and they were also like 'Do you want to come and play in our skatepark?' It was just an absolute match made in heaven really!
Talking about a match made in heaven, Boardmasters has surf, sun and music, (minus the hurricane this year). Is this the perfect festival for you guys?
Rory: Yeah it's right up our street, but you missed one thing out: girls!
Pete: And don't forget the cider! It's all about the cider… and the surf of course!
Have you guys managed to catch any of the surfing competition  down at Fistral beach?
Jed: No we haven't actually. A friend of mine's competing, but we haven't been able to make it anywhere near the beach as of yet. I mean, it's a flat day today but it's looking like the waves are gonna pick up tomorrow afternoon… pretty much as soon as we're on the Main Stage!
Pete: But we're going to head down Monday and check it all out!
Jed: Yeah Monday's the day we're going to go down and get in the water ourselves!
And although we're nearing the end of the summer, what other festivals have you guys got coming up?
All: Reading & Leeds, Jersey Live, couple in Germany. We are coming to the end now!
Jed: Yeah we've played like 20 already this year.
 
And the best one?
Rory: Glastonbury without a shadow of a doubt. And we're not picking a favourite just because it stood out a mile… but it is Glastonbury. I mean, we've been like crazy -I don't want to say lucky, because I think you make your own luck – but these festivals have just been so good, just so good. And the crowds have come.
Jed: Yeah the European [festivals] have simply been amazing.
Rory: The word is definitely spreading!
So what does the future hold for you guys? Can you tell us more about the upcoming tour with Imagine Dragons?
Rory: Yeah we managed to get on a list. We heard that a lot of bands wanted that gig with Imagine Dragons, understandably, as it's the biggest tour of the year.
We managed to get on the Top 15, which meant that the band listened to us and from that the band actually got in touch with us personally and chose us. I mean it's really cool, and it makes us want to do it even more because it wasn't a label/ industry thing as in 'X wants to meet Y'.
Imagine Dragons actually picked us personally for the tour and that's a massive compliment… and we're gonna play one fucking hell of a show!
Pete: Yeah it's a massive pat on the back for us!
Rory: Obviously we're going to hold some stuff back as we don't want to make them jealous!
Rob: You know, we're gonna really make them up their game, in the nicest possible way!
Pete: I bought a 20 metre guitar lead so I've got lots of room to play!
Rory: Yeah we're just gonna keep them on their toes and it should be really cool. It's an arena tour… From little pubs to massive arenas is just amazing!
Pete: Straight to the O2 baby!
You guys just played a set that was introduced by Surfers Against Sewage. Can you tell us about how you got involved with them?
Jed: Yeah I mean it was awesome really. They just asked us if we'd like to get involved with the Beach Clean and we thought that as we spend a lot of time down at the beach it'd be pretty hypocritical if we didn't! Whenever we come near the beach they'd ask us if we'd like to do more stuff.
Pete: It's a good cause…
Jed: Yeah it's a fantastic cause and good to raise awareness of something that's really close to what we do. It was just a no-brainer to get involved with these guys and show our support. Plus, they're really good guys!
Rory: You find on the coast and by the sea that there's obviously a lot of people doing recycling and stuff. I think, [because of where they live], they're stronger and it's a more powerful community.
People on the coast want to get involved in the water and they notice the rubbish and all the crap that gets chucked around, and for us that's why we want to be a part of it.
You know, we love surfing and clean oceans and it's something that's important to us. Ideally it's a message that will spread inland over time and people can become more involved with keeping the areas that we love safe.
Pete: Yeah I mean fair to play to them, man! Their message is definitely growing!
Rory: And anything we can ever do to help, we'll do it!
Speaking of things in the ocean… After I got stung by a jellyfish in the water this morning, have you guys ever suffered any gnarly injuries in the water?
Rory: Ah yeah I've been stung loads!
Jed: Yeah a fair few bluebottles…
Pete:  I've had a few sets of stitches in my head from my board deciding to give me a whack.
Rory: Ah yeah and then you've always got weaver fish.. right in the foot!
Rob: I've got a scar from hitting a reef in Fuerteventura when I just shouldn't have been in the water.
Rory: And I've got a couple of scars from getting a fin to the face
Pete: I got a bloody nose the other week from when we were back in Hossegor
Rory: ….Yeah he pissed me off!
 
Now for some quick-fire questions:
One week surfing or one week snowboarding?
All: Surfing!
You've got two weeks off: Hossegor or Tignes?
All: Hossegor!
Sandcastles or digging holes?
Rory and Jed: Digging holes
Rob: Sandcastles!!!!
Pete: Ah yeah you've always gotta dig a massive hole!
Thanks guys!
And super quick: your EP's available now, but when's the album out?
Jed: Start of next year… We're still working on it just to make sure that everything's perfect! It's our little baby, you know?
We'll leave you with the guys's latest single 'She Wants'.
Their latest Ep, 'She Wants' is available now on iTunes. 
28 August READING FESTIVAL
29 August LEEDS FESTIVAL
31 August LIVERPOOL INTERNATIONAL MUSIC FESTIVAL
Tickets are available for their tour with Imagine Dragons here
You can also find out more about Sunset Sons via their social accounts below!
Instagram
Facebook
Twitter
YouTube
SoundCloud
Check out our Boardmasters Round Up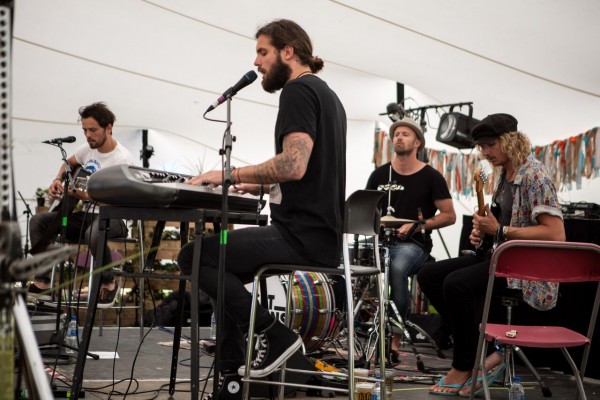 ---
More from Surfdome >