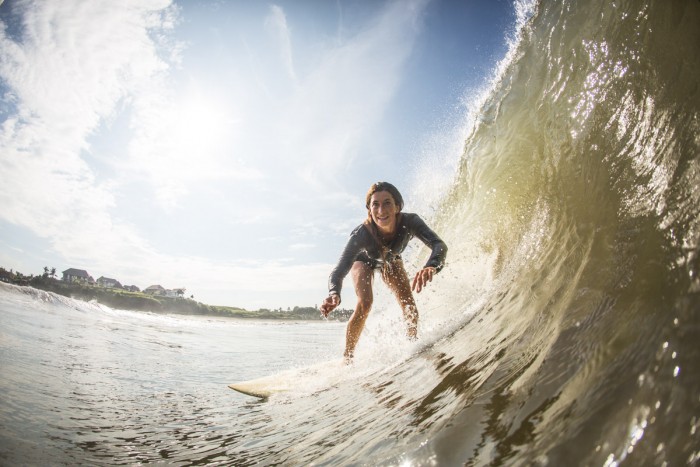 Photo credit: JP Slupik
I consider myself to be extremely lucky to be living and working in Bali where I can combine my two main passions: surfing and yoga. Both passions inform and relate to one another, teaching valuable life lessons along the way (and often tough ones at that). From sessions on the yoga mat in Uluwatu to surf trips in Balian, here are three lessons that I've learnt over the last couple of months through my search for waves…
---
Life lesson #1: Play
February – Uluwatu
At the most southerly tip of Bali is Uluwatu with jaw-droppingly beautiful cliffs that shape the end of the island and provide perfect wave-scouting platforms along the coast. After filming two of my yoga classes for surfers at Uluwatu Surf Villas in December, I realised that I simply had to spend more time exploring those stunning cliffs. So, when my family came over from the UK to visit, it gave me the perfect excuse to take them there.
When the surf wasn't happening, all six of us practiced yoga. One of the gems at Ulutwatu Surf Villas is their sea-view yoga shala, which makes you feel like you're practicing in the tree-tops while you peer through to the sea. Together, we chuckled if one of us fell over, we stretched out our surfing muscles in between sessions and we took the time to truly appreciate our surroundings.
Life lesson of the week? Play – play in the water, play on the mat (I love a bit of upside-down time), don't take life too seriously and enjoy sharing experiences with one another.
---
 Life lesson #2: Don't forget your Yin
March – Balian
When my friends invited me to a weekend in Balian – where there are regular sightings of sharks in the water, and even an attack recently – I jumped at the chance.  No really, I was stoked.  The spot is a wave magnet and I was itching for some fun-sized waves to practice on. With a big group of us surfers ranging from intermediate level to professionals who tour with the Qualifying Series, our weekend was filled with non-stop surfing, eating, playing in the pool and a spot of Frisbee.
On short surf trips like this it's easy to get carried away with the fun and forget to look after your body, especially with the beers and bbqs involved in between surfs. So, I was stoked when a few of the guys requested to have a Yin Yoga session by the pool one evening, and to my surprise it wasn't long before everyone was getting involved. It was a perfect way to end the day. While we stretched and let our bodies become still (holding the poses for 7 minutes sometimes to really allow the stretch to get into the joints and ligaments), I reminded myself again about how important it is to look after my body and give it what it needs so that I can carry on doing all the fun stuff in between.
"Don't forget the Yin in your life: give your body and mind some time out"
Life lesson of the week? Don't forget the Yin in your life: give your body and mind some time out and allow them to rest, repair and recover. Better still, get everyone involved to share the experience.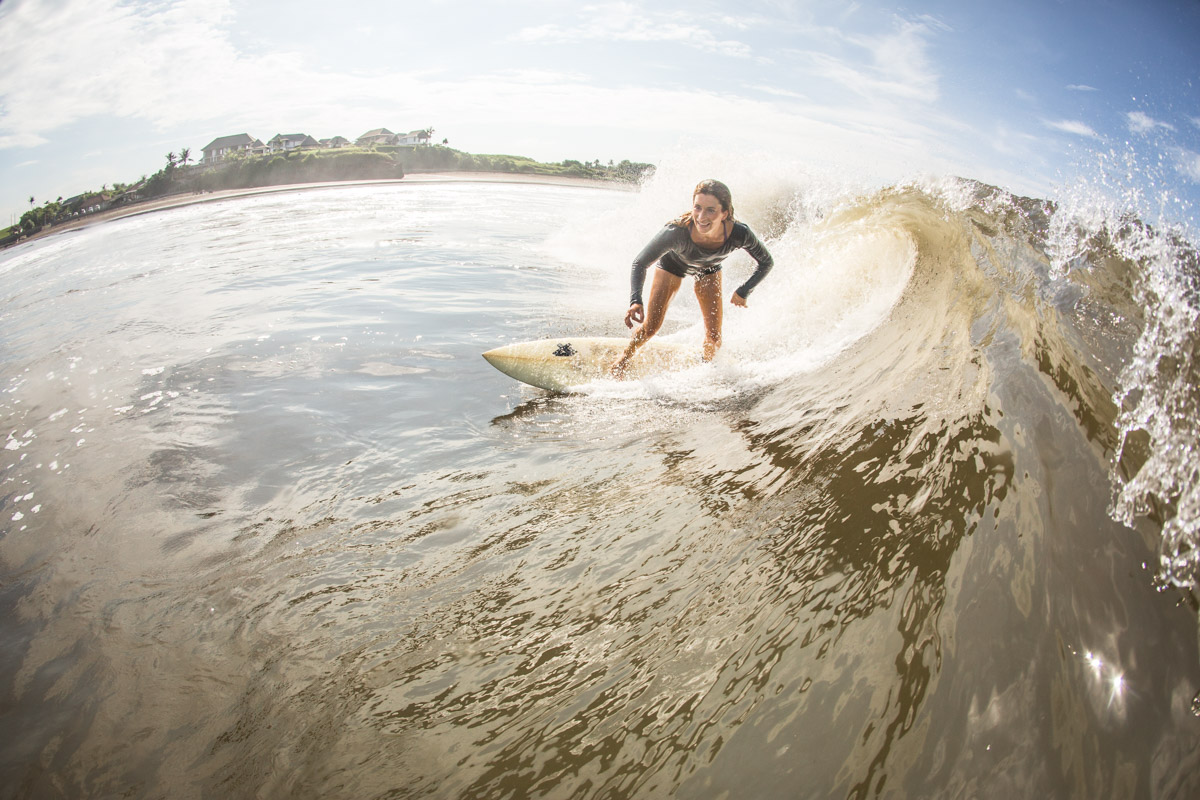 Photo credit: JP Slupik
---
Life Lesson #3: Surrender
March – Berawa
Recently, when a few sizable swells came in, I decided to surf a local spot that I have a bit of a love/ hate relationship with. Up until that point, I'd had a good run with my morning surfs. But, after over-confidently skipping into the sea, I soon realised that my run of good surf sessions was about to change. Following a few huge close-out sets later, a couple of lung-piercing hold-downs, a long fin cut on my arm and a 5-wave wipe-out that finally spat me out down the beach onto waist-deep water, I realised my life lesson: don't get over-cocky and expect things to always go your way.
It's fair to say that the morning wasn't a highlight of my surfing adventures by any means, but it was a relatively painless reminder that these low points make the highs feel even better – and I am happy with that.  Before I let the morning surf ruin my day, I let it go with a chuckle and a smile.
"Each day, each surf and each yoga session is different"
The same lesson is learnt on the yoga mat. You'll have days when you feel really calm and strong and others when you feel anxious and weak. Each day, each surf and each yoga session is different. Some sessions may be more gratifying and others may be a pain in the arse, but it's amazing what a smile and a laugh can do to save your day.
Life lesson of the session? Surrender. Things aren't always going to go to plan, but it doesn't have to ruin your day. Instead, ask yourself what you've learnt from the experience. And if you can't see a lesson to begin with (and you just feel downright shitty) just remember that you always have the power to let it go with a smile, rather than keep it with a frown.
Surf dreamin' : Wave searching, with @LucySurfYoga

Read > https://t.co/G0PThJtPSY <#surfing #Yoga #Surf pic.twitter.com/J8YS21loDv
— Surfdome (@Surfdome) May 8, 2016
More from Surfdome >