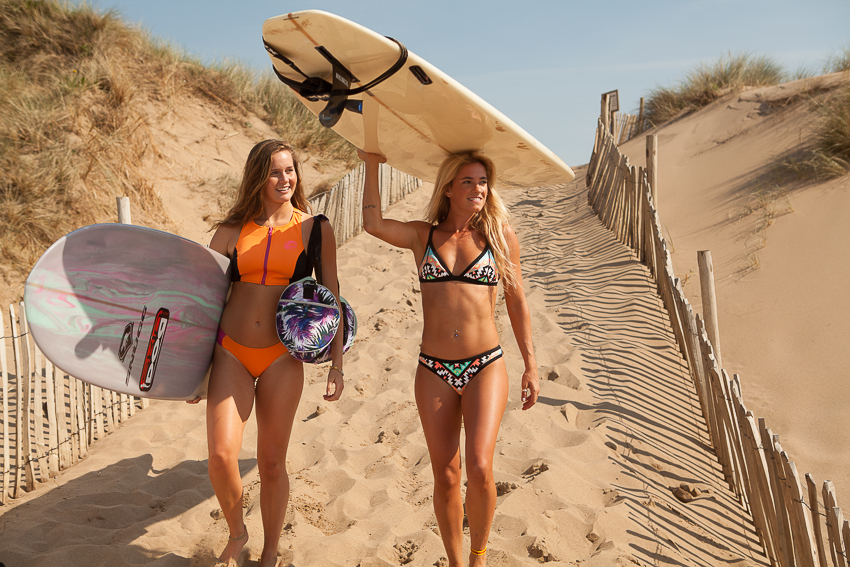 These women surf. They don't do it because they want to appear cool or catch a sweet tan. These women surf because it makes them feel alive, it makes them feel free. They wax it, paddle it, splash it and glide it because of an inner desire to ride longer, shred harder and smile inside and out. Surfing is about strength, sharing moments with friends, being at peace with the ocean and feeling the rush of adrenalin as they pop it and ride it.
And when it comes to bikinis, these women don't reserve them for digging their toes in the sand and frolicking in the dunes – they take their bikinis down to the shore, warm up with some high-intensity interval training, ride the waves, rock out at festivals – they work it. This is Sophie and Josie, and we caught up with them to find out more about what motivates them and their favourite bikinis to surf in.
Sophie E

Sophie wears: Seafolly Kasbah Scuba Tri Bikini Top
Where did the desire for adventure come from?
I grew up and have lived in different spots around the world and had that instilled in me from a young age. My parents are great adventurers and I really inherited that thirst for living, adventure and for life and that's something that I've carried with me into being an adult. The sports that I love the most are the reasons why I travel as well – it's about seeking waves, the adventure around it and new cultures and countries.
What was it that got you into surfing?
I've always been extremely into sports as a kid, running around, scampering. I started to wakeboard and snowboard and I just loved standing sideways. More than anything I just love the water, I'm a true water baby, and just being able to do a sport where you're connected to nature and also riding a board…it was a no-brainer for me.
Do you remember the feeling when you first stood up on a board or first nailed a trick?
YEAH! I started learning to surf in Portugal and it's hard. It's such a hard sport – you have to be committed and put in the hours. I don't think it comes easily unless you're a freak of nature. That sense of exhilaration and how stoked I felt from the first wave I got…I'll never ever forget that. And it's that same feeling each time when I get up – it never gets old.
How are you planning to make the most out of summer?
I've made a transition in my career, so I'm really focusing on being able to travel more. I work freelance, so I'm going to be running fitness retreats around the world. 
Equally, I see England as an amazing place to seek adventure every day. A lot of people don't know that, but there are some amazing surf spots within a 3-hour drive, so you can find me hunting adventure quite regularly every weekend. There are amazing waves to be found, there are amazing bike trails to hike. So, I'll be very busy in the summer – I'm outside 24/7.

Where should beginners head to when jumping on a board for the first time?
I think there are some amazing spots that are great for beginners because you want to be in an environment that's comfortable for you. I think that's really important when you're learning. The north of Devon is so easy to get to. The vibe in the town is amazing. I see it as a California of England… There's a lot of Aloha spirit as well!
Or, if you want to go down to Cornwall, there are some amazing places that you can go to for the first time and catch your first wave. 
What would you say to someone who wants to pick up a board for the first time but is a little bit scared?
I would say definitely don't be put off. I think that people can be very apprehensive and nervous, but once you get out there, you get the same feeling of amazing stoke whether you're in the whitewash and it's your first session or you're a pro – that feeling of stoke is exactly the same all the way through the learning process. You've got to take that leap and it can be a little bit frightening, but if you're somewhere you feel comfortable and with your friends and with an instructor you like, then it will be easy. Just be resilient and stick with it and you will have the time of your life.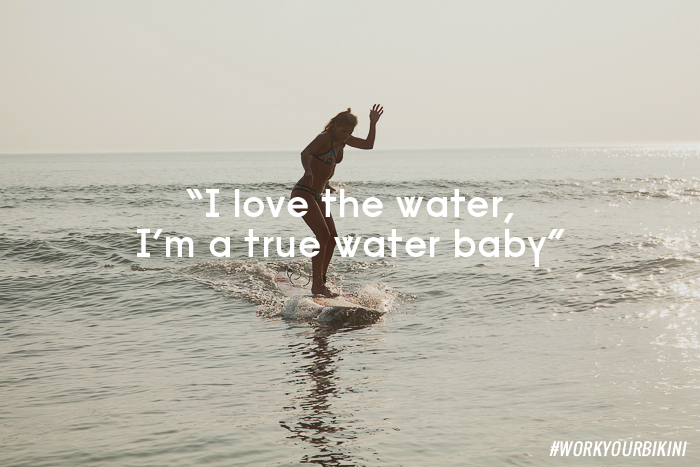 Are there any female role models that you look up to?
I think there are some incredible female athletes that are incredible role models for young girls right now, and I think that they're key to looking towards for inspiration rather than just some random person on Instagram with their abs out. I've always been a strong fan of Stephanie Gilmore, she was absolutely incredible (she still is) and she absolutely rips. Carissa Moore is amazing. Her messages on body positivity are super important and powerful.
Do you have any tips for women to take their bikini from the beach to the streets?
It's funny, you can find me in a bikini a lot of the time, even when I'm in London. I'm a big fan of one pieces: they're great for surfing and keeping everything in place. I like to pair it with a pair of worn-in loose denim shorts, which is cool to cruise around in on the beach or whatever town you're in. Likewise with a bikini – just add some fun high-waisted Levis, or some baggy, ripped-up and lived-in jeans, a couple of kicks or some flip flops.
What's your favourite bikini type for your activities?
I really love the new bra-style bikinis. I think they really hold you in, they're a great cut for girls and they look rad. Also one-pieces: they really protect your stomach if you're prone to getting it shredded on a surfboard.
---
Josie P

Josie wears: O'Neill Neoswim Crop Bikini
What motivates you to get out there on your board?
I'm competitive – I just want to get out there and be the best and beat everyone else. When I see people surfing I just want to get out and join them. I run and do HIIT classes for surfing, so that I can go out for four hours and the fun's not interrupted because it does take it out of you in your arms, legs and knees, so having that fitness really helps.
What's the surfing community like?
Everyone knows everyone here – there isn't a surfer I don't know. It's funny, because once you start to get to know people, it's such a small community that they pop up everywhere. I go to Barbados quite a lot and I've met three other families there that I knew from back home, so we get everywhere.
Why do you love to surf?
I can't really pinpoint it. I just get a feeling that I have to be out there. It's like I start feeling guilty if I'm not taking advantage of the waves.
What does surfing mean to you?
I surf alone quite a lot, so very often it's something that I do to get away from everything. It's me-time.
How are you planning to make the most of summer?
I'll be working, but it's all doing stuff that I love so it's not really working. I'll be a lifeguard and surf instructing, then in my spare time I'll be trying to push my surfing to the next level. I'll also be going to France as there's loads of surfing down south!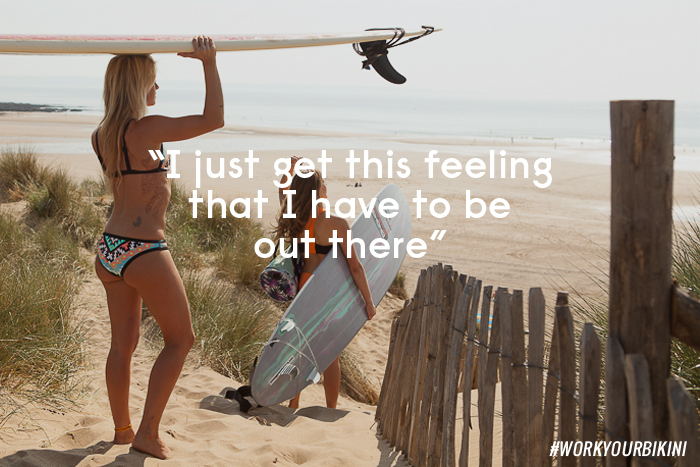 What's your advice to someone who might be curious about surfing but hasn't yet tried it?
It can be stressful, but that's good. If you embarrass yourself and fall off that's a good thing as well. The point is that it's difficult, but when you nail it, you feel awesome. If you do embarrass yourself and fall, you look around, check no one's seen you bomb ridiculously hard, and if they have, you laugh it off and get back on the board. Everyone falls off anyway, no matter what level they're at. The fun is in the challenge. 
Are there any girls out there that inspire you to surf?
Leah Dawson, she's a longboarder like me, so it's a little different to the shortboarder that does fast turns and tricks – it's more about cruising and going for as long as you can to make it to the shore, rather than the fancy stuff that a lot of surfing is normally known for. I don't really have many female friends who surf – I've always surfed with boys, but that's good because those are the people that I compete against. I want to surf like a guy, I want to be tough, so it's good to pit myself against them.  
Does it matter if someone is said to be 'surfing like a girl' and 'surfing like a guy'?
It's about different styles. But the most important thing is to just be the best that you can be, surf how you want to surf. It's not obvious to onlookers, but if you're a surfer you'll notice that everyone has their own style, depending on their body and what sort of board they use. It's just all about you and how you do things that counts.
Do you have any tips for women to take their bikini from the beach to the streets?
I love to wear a swimsuit as an alternative to a bodysuit under jeans, or a bikini under a massive, loose fitting t-shirt.
---
[su_carousel source="media: 36490,36506,36507,36509,36510,36511,36512,36513,36514,36515″ limit="21″ link="lightbox" width="700″ height="200″ title="no"][su_carousel source="media: 34345,34346,34347″ limit="10″ link="lightbox" width="700″ height="200″ title="no"] [/su_carousel]
---