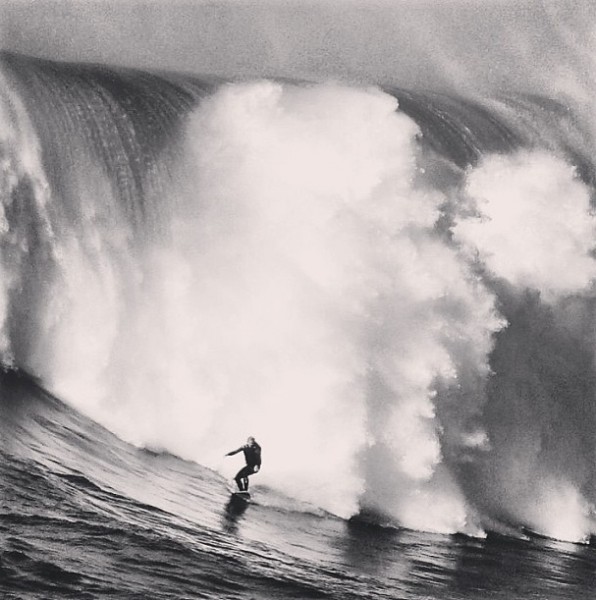 Andrew Cotton is a big wave surfer from the UK that may have snuck under your radar. Just in case he has, he was a nominee in the Biggest Wave category of the Global Billabong XXL Awards last year. Added to that, he was involved in one of the surfing events of 2012 by towing Garrett McNamara into one of the biggest recorded waves of all time off Portugal's coast. We always follow the ultra-talented, highly likeable Devonite on his
blog
and caught up with him recently to ask a few questions and see what makes him tick:

Thanks for taking the time to talk to us Andrew. Let's start off by making landlocked surfers jealous, when was the last time you were in the ocean?
I surfed today briefly but it was pretty shocking so you didn't miss anything!
Where was the first wave you caught?
I caught my first wave at Saunton Sands in Devon when I was about 8 or 9. My Dad bought me a board from Chapter surf shop in Braunton a couple of days prior. I think he now wishes he never had!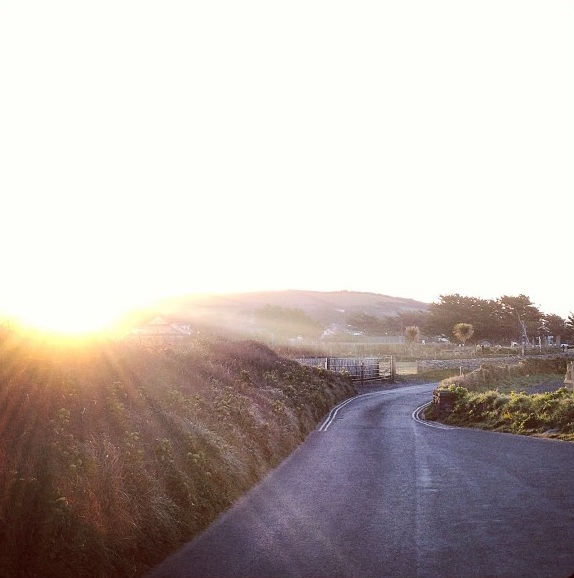 What inspired you to go after monster waves? Did you enter surf competitions beforehand?
Surfing big waves was just a natural progression for me, I'd always spent winters abroad from the age of 16 which included a couple of winters in Hawaii. That's where I first sampled some of the real big stuff and with heaps of power. Growing up I'd competed on a local level and dabbled in the odd BPSA contest but never really achieved in either.

What's your most trusted board?
I've had a few, I had an amazing Diplock, Mushy Pea (quad set up) which he made for me whilst I was re-habbing my knee better a few years back after surgery. That thing really made me love surfing again after I thought I'd struggle getting back into it after so much time out. But I'd also have to say my Gulfstream tow board, which I helped design with Jools. I worked for Gulfstream for about 10 years after I left school, glassing, sanding and even shaping boards towards the end of my time there. Tow boards are hard to get right and you don't want to take chances, Jools has nailed everyone he's made for me.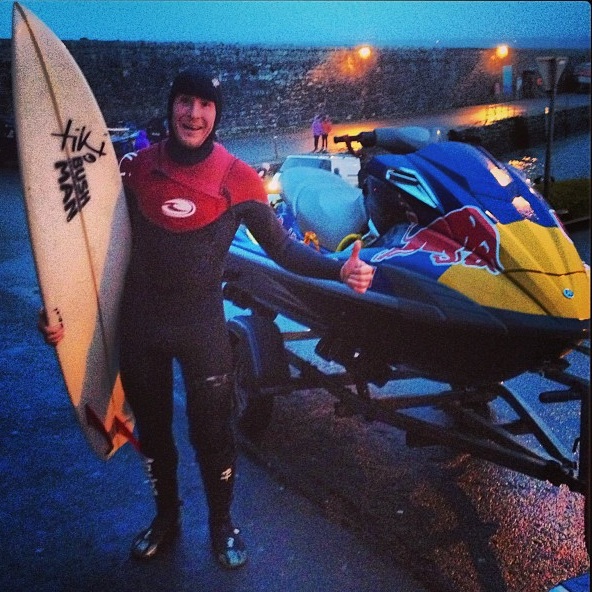 The big waves you chase seem terrifying. Do you go into a focused mental zone to help you or does it just become instinctive when you are on the wave?
All surfing is very instinctive whether its 2 or 20 feet so I'd have to say it's all about the zone. You have to really want it and commit 100%. I know if I'm in the spot I'm definitely going, no matter what.
Like many other big wave riders, fitness seems to be a big part of your life. What is your favourite exercise?
I love some of the free dive exercises I learnt when I did the FII Waterman's Survival Course down in Portugal last year. My favourite is where you swim 25m underwater then straight into 75m front crawl continuous x 4. The second and third set are horrific!
The worst one?
The one above! Haha!
You train people at the superb Bay Fitness in North Devon. Could you give us one fitness tip and one gem of nutritional advice that would help a budding surfer?
Andrew Blake at Bay Fitness has been helping me out for years and I've found his fitness programmes he's given me over the years have really helped my all round surfing not just the big wave stuff I do. This year we're doing retreats specifically designed for keeping surf fit and confident, taking some of the exercises we've learnt, tried and tested. Check it out
here
.
Would you rather have Bruce Lee's martial arts skills or Usain Bolt's speed?
I'm a terrible runner, so Bolt's speed would be pretty awesome.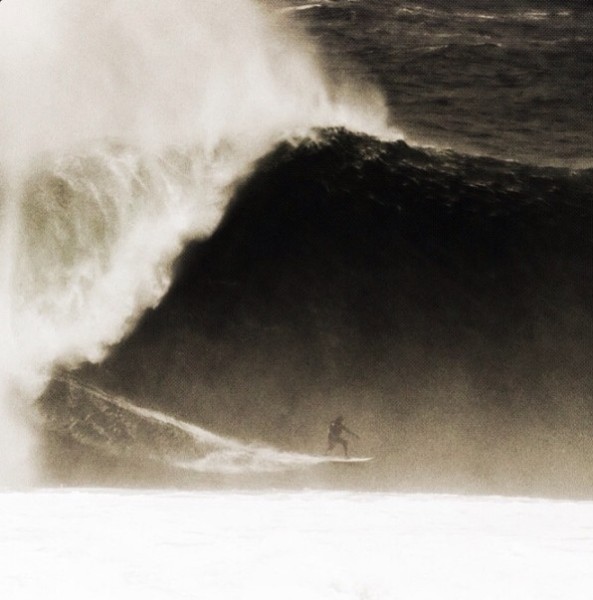 You've spent a lot of time catching big swells in Ireland, aside from the waves and relentless sunshine, what do you like about Irish culture?
They're always up for it and seem so happy and stoked on where they live, not just the surfers but everyone you meet there. Love the place and always look forward to spending time there.
You seem destined to chase after adventure on the high seas; do you think you were a pirate in a past life?
Maybe, but I hope I wasn't one of the bad ass ones with one eye and a missing hand who was ruthless and made young females walk the plank after capturing them. I could have some hidden treasures somewhere though.
You're also a family man, would you like your children to follow in your footsteps and be surfers too?
Ace is too young (1yr) but I did buy him a wetsuit the other week on impulse! My little girl Honey loves to surf but I'm happy for her to do whatever she enjoys, definitely not one of those pushy parents. If she's stoked on it then so be it, I'm stoked for her.
Any shout-outs?
Thanks to everyone who's supported my career, Big Al Mennie who's been my partner since the beginning and to my sponsors
Tiki Wetsuits
,
Sanuk
footwear and Lifedge. Be sure to read my
blog
, like my
Facebook page
, follow my
Twitter
and check out my 
Instagram
haha!
Thanks for the interview Surfdome, it's been great.
It was our pleasure.
As a final treat, check out Cotty's latest video below. See one of the UK's best big wave riders take on some very daunting conditions in a superbly cut bit of film: