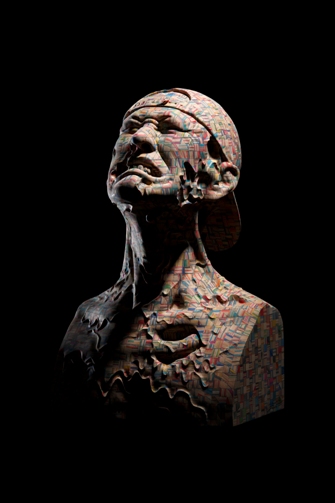 You've definitely seen those sick skate sculptures with endless details, colours and talent. So, you might already know
Haroshi
, the Japanese guy behind those artistic pieces. Here at
Surfdome
, we love such talented guys and gals and thus caught up with Haroshi to learn more about his sculptures, inspiration, collaborations and future plans. We're more than impressed by his work and we know you'll love it.
Hey Haroshi! When did you start skateboarding and how did you become a sculptor?
I started skating in middle school. I wouldn't say I became a sculptor, I started out by making accessories from
skateboards
, but those didn't sell well. To make them look better I started making objects. When I did that, everybody said that the objects were better. Before I realised it people were calling me an artist, it was a very strange feeling.
How did the idea of using skateboards in your art emerge?
I didn't have the money to buy materials, but I had a lot of used skateboards at home. My wife said to me,
'Why don't you use these?'
I never imagined that things would turn out like this.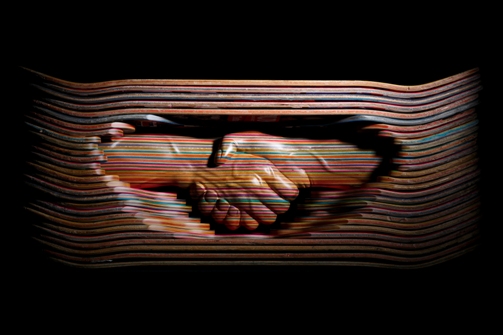 What's the skateboarding scene like in Japan now, compared to when you first started skateboarding?
It's hard to say, but it feels like it's become more like a sport now. When I first started, skateboarding was something delinquents did. Wasn't it the same in America? However, amongst them there were Japanese skateboarders who created their own style, like
Chopper
, who gained attention in America, and
Gou Miyagi
. Japan has always been good at developing foreign cultures into something unique.
Can you tell us more about the art process? How long does it take to finish a project; for example the Hammer head shark or the DUNK?
Basically I would peel off the grip tape and cut the decks, then join them together and carve out of it. Nowadays I can complete a piece in about a month, but
DUNK
took me three months. I had a lot of fun. I think Hammer Head took me around two months?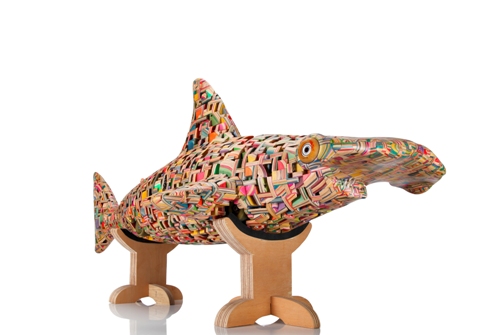 What are your favourite decks and where do you find them?
It's hard to answer this because there are so many, but I like the colour of
DELUXE
presses.
Did you study woodwork art or design, or are you self-taught?
I'm self-taught. I studied Jewellery, but that doesn't help me make my pieces. I've been making all sorts of things since I was a child, so maybe that's why I can do it.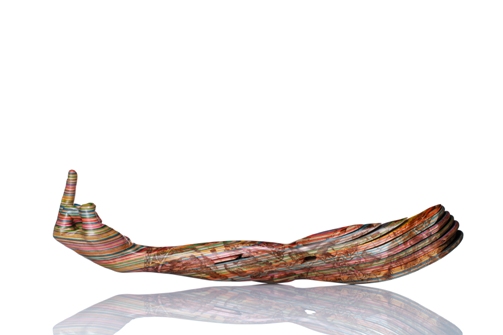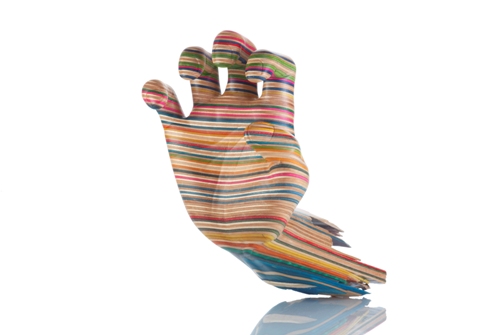 How do you decide on your next piece or project?
I have a lot of ideas that I want to make. From these, I'll combine and pick out concepts I guess. I only work on projects that seem fun. I have a lot of good offers, but I only take up those that I think will be worth doing, because I can only do so many.
You've collaborated with some incredible brands. Can you tell us more about your Nike collaboration and how did that happen?
The
Nike
project was more of a personal commission from the CEO, Mark, rather than a collaboration.
I got an e-mail from a guy named Mark. It was from a Nike e-mail address, and it said
'I would like you to make a sculpture of shoes'
. I thought it was just a prank. I was told I could ask for anything, so I asked for discarded decks by Nike professionals. These were sent instantly. Until I received them, I was always suspicious of the whole thing, but once I got them I knew it was the real deal. I sculpted for about three months, then I brought the sculpture to the Nike campus in Beaverton and passed them to Mark in person. It's a good memory.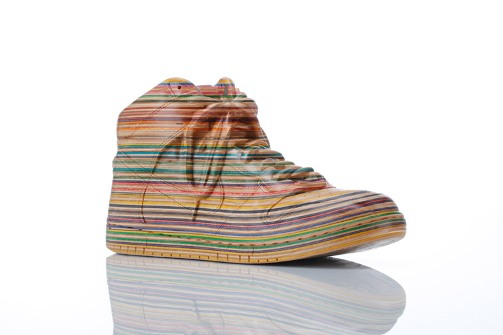 There's a palette that runs throughout your artwork. What is it about these particular colours that you find interesting?
I would you call it
'the potential of skateboards?'
. It's my job to bring that out in my work. It's not only the colours on the side of the deck that matter. The scratches, graphics, and the parts that are broken, they're all part of that potential.
What artists or movements inspire you the most?
I like a lot of artists. I guess my favourites are the ones who have been designing for skateboards or punk rock since I was in my teens, like Lance Mountain and Pushead. I want to become the sort of artist that doesn't fade away, just like them.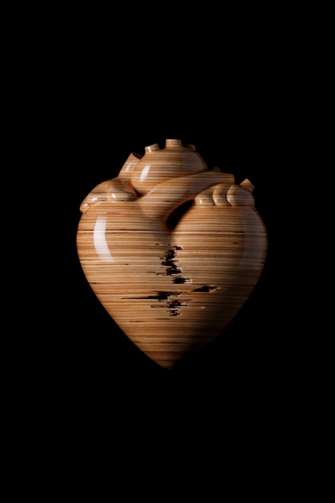 What's the main message you want to convey with your work?
What I'm doing is the same as skateboarding tricks. If someone does it, there will always be someone who improvises with it. That's how skateboarding tricks were developed, and I'm also a part of that. It's not really something cool like a message but that's what it feels like. That's why I would also like to become someone who could be called an OG someday.
Are there any other materials you'd like to use in your projects?
I've used concrete and clear resin here and there, but I would love to work with a whole lot of other materials. I can't tell you yet though. (laugh)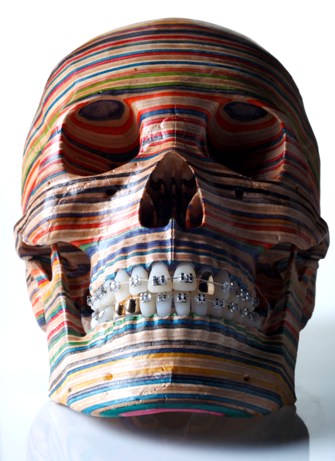 What's your favourite piece you've done so far?
There's not one piece that is more special than the others. I'm fond of every piece.
Will you reveal your next project to us? We'll keep it a secret…
I can't! If I do people will get mad at me. (laugh)
It's a little way off, but I'll be having another show in New York next year.
Are there any dream collaborations or artists you'd like to work with?
That's also a secret. I don't do many collaborations with other artists yet, but I do want to.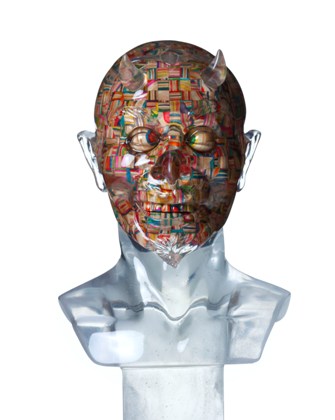 Will we have the chance to see your artwork in London any time soon?
I'd love to have another show in Stolenspace. London has become a very special city for me. Please look forward to it.
Find Haroshi:
Website
Facebook
Instagram
Huge thanks to
Haroshi
for this ace interview!
Surfdome
wish him luck with his future projects.