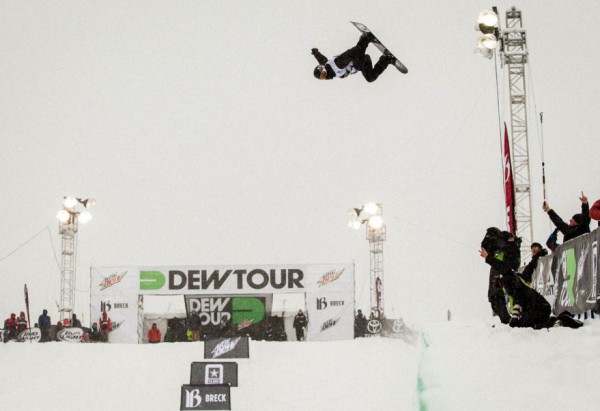 Photo Credit: Jeff Brockmeyer
When Dew Tour swings round, we know that winter has started! The world's best riders descend on Breckenridge from 10th- 13th December to take on the pipe and slopestyle courses for a place on the Dew Tour 2015 podiums.
And what a whirlwind of an event it was with whiteout conditions for heading into the pipe and bluebird skies for taking on the slopestyle course. With plenty of style and technical tricks, which snowboarders dominated the top positions? Did Shaun White even compete in the end? Check out our roundup of the event – who landed what and who was crowned Dew Tour champ 2015…
---
Halfpipe
Men
All eyes were on the one and only Shaun White again as he returned to the competition circuit. After all, it had been unsure as to whether he'd even compete. Yet, after smashing qualifications, he absolutely stomped the final, taking home the major title.
And who else could keep up with Mr White? A huge method was followed by a frontside double cork 1080 with a cab double cork 1080 back-to-back. He then casually threw in a double McTwist 1260 with his signature skyhook to finish and merged that faultless technicality with plenty of Shaun White style. With everyone's jaws on the floor, a clean score of 92.6 saw him top the podium and simultaneously squash any retirement rumours. Trust us, watching his winning run is a testament to his royalty-like status in the world of snowboarding.
Ayumu Hirano also bought the style with a Japan grab followed by a backside 900, frontside double cork 1080, cab double cork 1080 and a frontside 1080. Iouri Podlatchikov also included double corks, along with a cab 720 tail grab to finish and land him in third.
1st place – Shaun White – 92.60
2nd place – Ayumu Hirano – 89.40
3rd place – Iouri Podlatchikov – 84.20
Shaun White's winning run: 
Watch the men's pipe highlights:
---
Women

Photo Credit: Jeff Brockmeyer
With the women's pipe taking off, everyone expected a duel between Kelly Clark and Chloe Kim. Yet, it was Liu Jiayu who unexpectedly took top position, with Clark and Kim in 2nd and 3rd positions.
Chloe Kim showed off her effortless style with a backside air, backside 540, Mctwist frontside 720 and a cab 720. Kelly Clark seemed to have problems with speed but still landed a frontside air, backside 540, frontside 720, cab 720, frontside air, backside air to an inverted 720. Phew!
But what was it that gave Jiayu that edge? It most probably had something to do with dropping in with a super smooth frontside 900, followed by back 5 and into a back 7 from those first three walls! Her smooth blend of difficulty and amplitude saw her land 91 points from the judges and head straight for gold at the podium – even though her execution and control arguably weren't as strong as Kim's and Clark's!
1st place – Liu Jaiyu – 91.00
2nd place – Chloe Kim – 89.60
3rd place – Kelly Clark – 80.40
Liu Jaiyu's winning run: 
Watch the women's pipe highlights:
---
Slopestyle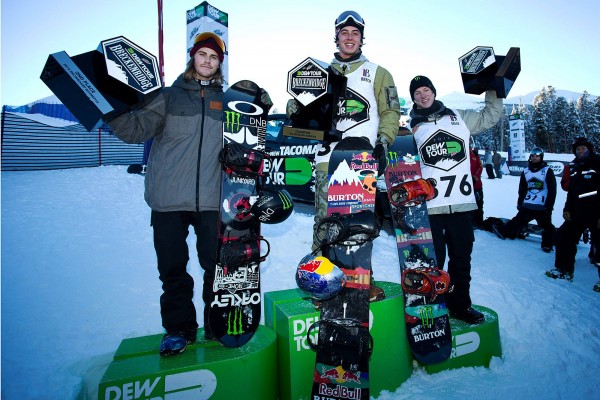 Photo: Dew Tour 2015
Men
With Stale Sandbech, Yuki Kadono, Sven Thorgren and Max Parrot in the lineup, it was clear that there'd be double corks and tough competition. Yet, there was no doubt as to who'd be topping the podium after Mark McMorris's run.
This was nothing short but showing off the true mastery of snowboarding with a backside 270 in and 270 out followed by a hardway cab 270 gap in the rail sections, cab double cork 900, frontside double cork 1080 tail grab, front board 450 out on the battleship rail, switchback backside 1260…. and finishing off with a huge backside triple cork off the last jump. Showcasing his effortless style, Mark McMorris went straight to first place – his third Dew Tour Slopestyle win in four years.
Stale Sandbech placed 2nd and Darcy Sharpe 3rd with all three men including huge methods in their runs, as well as the stylish combinations of back-to-back corks. Stale's best run put down a switch backside double cork 1080, cab double cork 1260 and a backside triple 1440 to name a few, but it just wasn't enough to get him that gold. Sharpe also landed a super smooth frontside 1080 off the toes, fresh from his win in the Snowboarding Streetstyle category!
1st place – Mark McMorris – 94.90
2nd place – Stale Sandbech – 90.00
3rd place – Darcy Sharpe – 87.00
Mark McMorris's winning run: 
Watch the men's snowboard slopestyle highlights: 
---
Women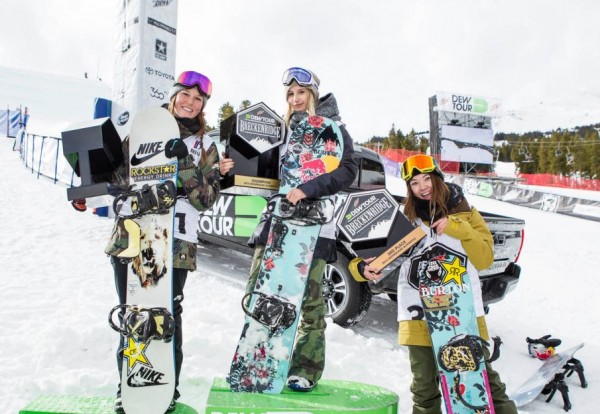 Photo Credit: Jeff Brockmeyer
It was anybody's race going into the women's slopestyle finals. Jamie Anderson wasn't competing and Silje Norenal was out due to injury, so who would take top place?
Of course, it was no surprise when Burton rider Anna Gasser took 1st position with her lashings of style. Gasser took it all with ease, landing a back five, cab five, switch back one and front seven as well as a big cab 270 to frontboard in the rail section in her first run. Anna has gathered plenty of style points with her videos, such as her Spring edit. Now, now she's all set to dominate the competition circuit this year – Dew Tour 2015 marks her first time on the podium at a major event. Watch this space.
Spencer O'Brien took 2nd place with a switch back 5, her signature front 7 off the toes and a tech frontflip pretzel in the top rail section. And, as if the girl's weren't showing enough talent as it was, 15-year-old Hailey Langland added plenty of style to a tweaked out switch back one and front three indys, landing her with 3rd place.
Repping Team GB was Katie Ormerod, who even landed her first-ever cab 900 in competition. She ended up in 5th place – an amazing achievement for the 18-year-old and an epic start to the season after also finishing first in this year's Pleasure Jam – and she's just been confirmed for this year's X Games! Check out our recent interview with Katie.
1st place – Anna Gasser – 91.20
2nd place – Spencer O'Brien – 86.60
3rd place – Hailey Langland – 85.60
Anna Gasser's winning run: 
Watch the women's slopestyle highlights:
---
Needing some style inspo from the pros? Why not check out our Top 11 Female Snowboarders to Follow on Instagram?
---