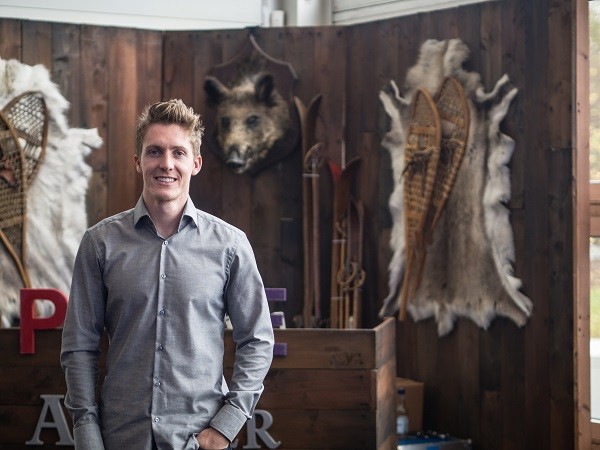 Photo credit: Matthew Chuen
He got his first taste of boarding on a family trip to the Scottish resort of Glenshee at the ripe old age of 9. After that there was no looking back for Ben Kilner. He claimed the 1998, 1999, 2000 and 2001 Rider Cup series and finished first in his first British Championship also in 2001.
Ben continued to make a reputation for himself when, at the age of 16, he gained entry to his first World Cup in Bardonechia, Italy with the British team. Kilner has now competed at both the 2010 Vancouver Olympics and the 2014 Sochi games where he finished a hugely respectable 16th. Ben has firmly established himself as one of the best and most exciting halfpipe borders in Europe.
---
How did you get into snowboarding?
It was just a crazy winter, I used to go down to the third hole at my local golf club and go sledging. I remember seeing these snowboarders turning up and I was like "I want to do what they're doing". I started standing up on my sledge – my mum was there at the time and suggested booking me a snowboarding lesson. It started very slowly but I loved it so much I was just pestering her all the time to get back up in the mountains!
How about slopestyle, how did you get into that?
I think that just came with interest. I loved hitting jumps and the guys I used to hang around with were always building them, so I guess it came to me without realising really! My main discipline is halfpipe. I remember being in my first halfpipe when I was 15 and I wanted to get to the top of the walls and was just determined to get higher and higher. Eventually I found that was my main interest.
Do you have a favourite trick?
I've got a favourite trick and a best feeling trick. One of my favourite tricks is a backside air in a halfpipe. Then my favourite trick to land would be a cab 1080 double cork. They both have good feelings and as long as my heart's in my throat then I know I get a big buzz off it!
Have you got any lucky rituals or good luck charms?
One of the things I've always done is put my left boot on before my right – I even do it with my shoes too! It's just something I have to start the day with. If I put my right one on, I have to take them both off and put the left one on. It's a bit weird but it's just the way I work. It's a weird superstition but it's something I just don't even realise I do now.

How are you training when you're not on the mountains?
I do a lot of fitness orientated stuff. I was injured all of last year so I've been recovering over this summer just making sure I'm back to full health, so yeah I've just been in the gym a lot and I play a lot of golf so that keeps me mentally stable. Sometimes forgetting about snowboarding at points but I am itching to get back on the slopes!
What do you think you'd be doing if you weren't a snowboarder?
I think I would be going through the Uni process. I'm quite a hands-on person, I like practical work. Probably something active because I was always into sport, but I also quite like school…
…A PE Teacher perhaps?
Maybe yeah! Maybe even golf. I've always been surrounded by friends who play golf, some of them professional now, so would've definitely been with them if I wasn't snowboarding.
Do you still play golf now?
Yeah, I play quite a lot. I have fallen behind though!
Finally, what are your plans for this winter?
This winter is a bit of a funny one. I'm going to compete in a couple of events, but I'm really focusing in the next Olympics, so this year is not even a qualification year so it's more about training and riding and improving to make the next couple of years easier. If I get some new tricks down, I've got more time to perfect them.
---